Rx Jump Rope Replacement Cables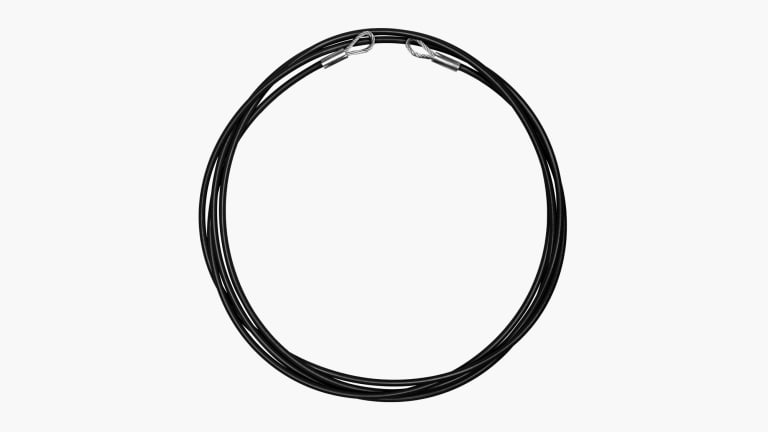 Rx Jump Rope Replacement Cables
Available only in CONUS 48 states & APO. Pick-up not available
Rx Ropes are custom made to order and are not able to be returned. If you do not get the perfect fit out of your cable the first time you may complete a one-time exchange within 30 days at no cost. Please fill out this
form
to initiate your return.
Product Description
Rx Jump Rope Replacement Cables
Rogue offers a wide range of Rx replacement cables, available here a la carte, for use with Rx Custom Jump Ropes. Customers can select their preferred cable weight, length, and color from the purchase area. Please reference the sizing breakdowns below and Rx's official sizing chart for more info before ordering.
Replacement cables make it easy to customize your existing jump rope for different training goals, different athletes, or to a new color scheme for a gym, team, school, etc.
Rx has provided a helpful sizing guide for jump rope length based on athlete height, from 4'11" beyond 6'3". Variances in optimal rope length can occur, however, based on certain factors, including an athlete's starting hand position (if you jump with your elbows out and hands out wide rather than close to the body, you may want to add a few inches to Rx's length recommendation). See the Fit Guide tab to determine the best rope length for you.
Recommend use on rubber or nonabrasive surface
Gear Specs
Specifications:
Assembled in USA
Aircraft Grade Cable with PVC Coating
Variety of custom color options
Multiple Cable Length Options
5 Cable Weight Options, from 1.3 ounces (on 9' cable) to 4.1 ounces
Browse More: Speed Ropes Available from Rogue
Fit Guide
CHOOSING YOUR CUSTOM ROPE LENGTH
Once you have a rope, the best way to determine if it's sized properly for you is to follow these steps:
Step on the rope with one foot, bring your feet together, and pull the rope tight.
Bring the handles together and point the top towards your chest.
Only check where the cable ends - do not include the handles with rope size.
Ideally, the cable should stop at your sternum or lower pecs.
Any longer than this will have too much rope over head, and will slap the ground excessively


Rope Sizing Chart:
| cable lengths | 7' 10" | 8' 0" | 8' 2" | 8' 4" | 8' 6" | 8' 8" | 8' 10" | 9' 0" | 9' 2" | 9' 4" |
| --- | --- | --- | --- | --- | --- | --- | --- | --- | --- | --- |
| User Height | < 4'11" | 4'11" - 5'1" | 5'1" - 5'3" | 5'3" - 5'5" | 5'5" - 5'7" | 5'7" - 5'9" | 5'9" - 5'11" | 5'11" - 6'1" | 6'1" - 6'3" | 6'3" > |
Key Custom Features of Rx Jump Ropes


1. MID-LEVEL CABLE WEIGHT OPTIONS
-Hyper Cable (1.3 ounces for 9' length) - Aircraft grade cable with PVC coating. Comparable to traditional speed cables. The PVC coating does not retain memory and therefore uncoils nicely. This cable produces the fastest cycle rate, so the athlete must be extremely proficient at double-unders.
-Ultra Cable (1.8 ounces) - Aircraft grade cable with PVC coating. Considered a "hybrid speed cable" due to its light nature, while offering more feedback to the athlete. The increased resistance allows the athlete to turn the Ultra cable at a slightly slower cycle rate than the Hyper cable, yet triple-unders are still plentiful. Recommended for advanced jumpers who can already turn 60+ double-unders.
-Elite Cable (2.6 ounces) - Aircraft grade cable with PVC coating. All around utility cable offering a nice blend of light weight + increased feedback and response. Its rigidity maintains a nice "horse shoe" shape while in motion. Recommended for jumpers who can already turn 50+ double-unders.
2. HEAVY CABLE OPTIONS
-Buff Cable (3.4 ounces per 9' length) - Aircraft grade cable with PVC coating. Dual Threat cable that provides tremendous feedback, allowing the athlete to jump with a broader range of tempos from very slow to super fast. Ideal for beginners to gain a better feel for timing while jumping at slower tempos. Also a fantastic training cable for advanced jumpers looking for greater resistance and intensity in their training.
-Beast Cable (4.1 ounces) - Aircraft grade cable with PVC coating. A bruiser cable that provides the pain that masochists seek in their high intensity training. Also great for bigger, stronger athletes needing more resistance and feedback than most typical jump ropes provide.
#RYOUROGUE
Tag your photos on Instagram and Twitter with #RYOUROGUE for a chance to be featured in our gallery
View Full Gallery