Squat Stand Wheel Bracket Set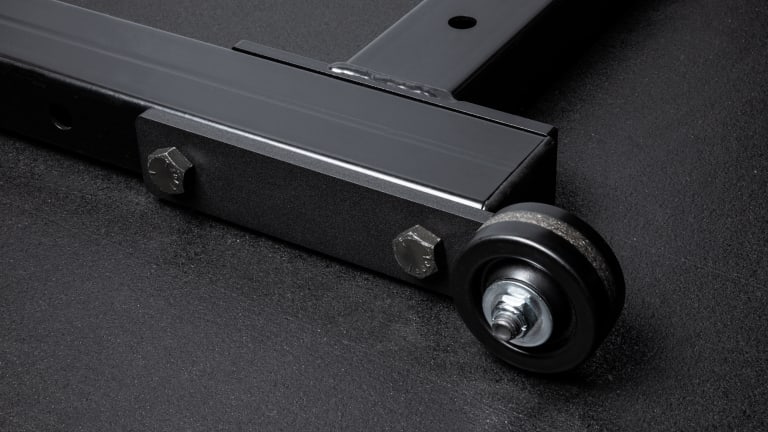 Squat Stand Wheel Bracket Set
Squat Stand Wheel Bracket Set
(1) Set of brackets
Gear Specs

Brand
Rogue Fitness
Made In USA
Yes
Product Weight
4LB
Diameter
Wheel Diameter: 3"
Steel Notes
3/8" Laser-Cut Steel
Other Product Specs
Optional Band Peg Pair available
Product Description
Compatible with Rogue's SML and S-Series squat stands (with the exception of the S-4 model), this convenient Wheel Bracket Set allows gym owners to maximize their floor space and roll a unit safely out of the way when not in use.
Read More
Squat Stand Wheel Bracket Set
Compatible with Rogue's SML and S-Series squat stands (with the exception of the S-4 model), this convenient Wheel Bracket Set allows gym owners to maximize their floor space and roll a unit safely out of the way when not in use.
The (2) brackets are Made in the USA from 3/8" thick laser-cut steel, and mount to the 5/8" holes at the base of an Infinity or Monster Lite squat stand. The durable wheels measure 3" in diameter. Customers have the option of adding a pair of band pegs to their order (selectable in the purchase area), which can be inserted into the front base tubes to serve as safety handles when moving the unit.
Important Safety Notes: The optional band pegs should be used ONLY for moving the stand; they could represent a tripping hazard when installed toward the inside of the rack and should be removed prior to using the stand for any workouts. Banded work should NOT be done on squat stands unless they are securely fastened to the floor. Make sure all bars, weights, and attachments have been removed from the stand before moving it. For optimal safety, Rogue recommends moving larger squat stands with the help of a second person.
Notes on Set-Up:
No hardware is included with the Bracket Set; customers will utilize their squat stand's existing hardware. A 15/16" Socket/Wrench is required for installing the Wheel Brackets. Customers will need to unscrew their stand's existing 5/8" bolt assembly (where the crossmember attaches to the base tubes) and discard the flat washers on the outside of the assembly. This will allow the Hex Bolt to properly engage the Hex Nut threads. Do NOT remove the Split Lock Washers on the inside of the assembly. The wheels should be oriented outward and slightly raised from the ground.
Browse More Infinity and Monster Lite Accessories Available from Rogue
Gear Specs
Specifications
Made in the USA
Sold as a set
Compatible only with Rogue Infinity S-Series or Monster Lite SML Squat Stands
(2) 3/8" Laser-Cut Steel Brackets
3" Diameter Wheels
Optional Pair of Band Pegs can be added to order to serve as transport handles
Assembly Required - Instruction Manual included
Color: Black
Shipping
Rogue Fast Shipping
The Rogue Shipping System allows you to track your order from the time you place it to the time it hits your door. Order today, track today.
Reviews
Solid product with some caution
Everything by Rogue is solid. Impeccable craftsmanship. The metal the wheel both feel premium. There are two improvements that I think will be good to have. The replacement bolt needs to be longer. It's the same length as the one it's replacing. Which means it's a bit too short with the added width of the metal plate. It's not long enough to go through the bolt all the way. Another improvement would be to have a cover over the wheels so someone cannot accidentally step on it and slip.
Yes, I recommend this product
Not as effective as I thought they'd be
I bought these to be able to move the rack around my garage and driveway, but I haven't really been able to use them. The rack is wider than my wingspan, so short of jumping up to the pullup bar and trying to tip the rack down onto the wheels (which seems dangerous, at best), I haven't had a good chance to use these. You'll probably need a partner to help you tip it up onto the wheel and maneuver it.
Great mobility, could use better hardware
First off, this is a great accessory to my squat rack. I forgot to order them with my rack, so I had to drag my squat rack around on pieces of cardboard for a couple weeks, so I only appreciated them more when they arrived. However, they arrived without the necessary hardware to install them. They came without bolts and the ones for the crossmember on the squat rack are not long enough. I have them installed but the bolts only engage several threads on the nuts, so it compromises the strength of the joint. I requested and received an additional hardware set but they are the same length bolts as my crossmember. They would be fine to install on the non-crossmember end of the rack, but I don't want my wheels or any protruding hardware on the non-crossmember end. This size bolt is extremely hard to source as a consumer so for now I'm stuck using it with my bolts only engaging the nuts with several threads. Otherwise, it's a great accessory and for a garage gym like mine, they're indispensible.
Yes, I recommend this product
Honesty time
So I bought these just to move my squat stand around if I ever needed to. I have not really needed to move it a lot but when I have I am glad that I have the wheel kit to assist with the transfer of moving my stuff around.
Yes, I recommend this product
Deal Maker
Without these, there was no way for me to have the SL-2 in the Garage. These wheels make it possible; I can roll the rack all the way to the back of the garage to park, then wheel it forward to work out. The rack is heavy but manageable. This is a brilliant accessory.
Yes, I recommend this product
Well made, but effectiveness is questionable
Bought this with my SML-1 rack out of impulse, but also wanted to see how well this works... and it kinda doesn't. Product is very durable and well made, as expected from Rogue. I was a bit disappointed because I tried to see how useful it was on my rack and it was just as easy for my buddy and I to just each grab a post and slide the rack around vs. tilting it and rolling it. By the way, IDK who has long enough wingspans to grab each post on their own, so even with wheels, you'll likely need another person to grab each post, tilt it, then roll it. I suppose if you have to move it quite some distance (garage to driveway) or something, then rolling it would be worthwhile.
Must have
Great for moving rack in garage. Well constructed.
Yes, I recommend this product
Don't work or me
Firstly, this isn't an installation issue. I contacted rogue in advance of purchase and asked about the bolts being to short - as is mentioned in previous reviews. They said to remove the washers because the wheel plate acts as a washer (this information should probably be included in the write up). Anyway I followed Rogue's advice and the wheels attached without a hitch. My issue is that my SML-1 rolls on the concrete area in my basement but dig into my rubber gym tiles. I think the suitability of these wheels for different surfaces should be made clear. Finally, only one of the two wheels rolls freely and the installation scratched them up so its unlikely i'll return them. Quite disappointed. This isn't a knock on Rogue generally. I have many Rogue products which I love and will continue to be a loyal customer.
#RYOUROGUE
Tag your photos on Instagram and Twitter with #RYOUROGUE for a chance to be featured in our gallery
View Full Gallery