Equipment
Making Of The Berg Hantel Bar
Of all the implements ever used in the long history of the development of physical strength, the globe barbell is probably the best single representative.  The familiar image of a Strongman or Strongwoman holding a barbell overhead with either one or two hands tells an instant story—a story of strength feats being performed in the circus, on a vaudeville stage, or in a competition of some sort.
One of the most interesting of the iron game's pioneering Strongman-entertainers was Henry "Milo" Steinborn, a German-born weightlifter-pro wrestler who emigrated to the United States in 1921 after spending five years during World War I in an Australian internment  camp with hundreds of other Germans. During those years Steinborn learned to lift and became the strongest man in the camp by hoisting his fellow prisoners as well as barbells made of concrete blocks, tree trunks, and concrete.
At the end of the war Steinborn was released and returned to Germany, whose economy had been devastated by the conflict.  Steinborn set several records in German weightlifting contests after his return but was struggling to find a way to make a living with his strength.    Undaunted, Steinborn sought out the legendary German Strongman Arthur Saxon, who told him he should go to the U.S., make his way to Herman's Gym in Philadelphia, and use his strength to open doors to a new life.  Following Saxon's advice, young Henry stowed away on a ship bound for the Americas, rode the rails to Philadelphia, and astonished Herman and everyone at the gym with lifts no one else in the country could match.  For example, during his first exhibition at Herman's,  he snatched 205 pounds with each hand and made a clean and jerk with 350 pounds at a bodyweight of approximately 205.  One of the people Steinborn impressed that day was Alan Calvert, owner of the Milo Barbell Company, who not only gave him a job but a lifelong nickname—"Milo" Steinborn.
It was not Steinborn's snatches and jerks, however, that would cement his name in strength history.  The lift that made him a legend was the Heavy Squat. At that time, although the full squat was a widely practiced exercise in the U.S. it was always done with relatively light weights.  The main reason for this is that the squat rack hadn't been "invented" yet.  Also, an average, untrained man could lift more in a full squat than he could lift from the floor and onto his shoulders with two hands, which meant that such a man would never reach his potential in that lift since he'd never be able to use weights heavy enough to produce significant gains.
By the Teens and early 1920s heavy squatting was becoming popular in Germany and Steinborn thrived on it during his years in the camp—without the use of squat racks.  Instead, the older lifters in the camp showed their young prodigy how to do what they called an "unassisted squat," which was done by lifting one end of a heavily loaded barbell until it was upright, standing on one side of the upended bar, bending down sideways toward the bar and grasping it one hand above the other with the widest possible grip, lowering his body, and then allowing the barbell to fall across his upper back and shoulders so that he was in a full squat position—at which point he completed the lift by standing up.  Once he was standing up of course, Steinborn had to reverse the movements he used so he could replace the barbell on the platform.
Almost from the beginning, the "unassisted squat" with heavy weights came to be known as the Steinborn Squat.  Besides that, Milo has been widely acknowledged for having been almost singlehandedly responsible for introducing the Heavy Squat to the U.S., where it quickly became the foundation of most free weight training routines used by competitive lifters, bodybuilders,  and athletes who wanted to increase their overall power.
An important aspect of this story is that in the 1920s Steinborn acquired a very particular barbell. For the remainder of his long life Milo kept it with him, used it in exhibitions, and trained with it until 1989, when he died at the age of 94. During the nearly 100 years since Steinborn introduced the unassisted squat to the Americas and established a personal record with his unique barbell, his record lift—approximately 550 pounds—remained unbroken. Until now.
In early 2018, Rogue — together with strength historians Terry and Jan Todd of the Stark Center for Physical Culture and Sports at the University of Texas at Austin — acquired the original globe barbell.  According to Terry Todd, "This is the mother of all barbells.  It was the first Olympic style barbell ever brought to the Americas."
The barbell was originally manufactured by the Berg Hantel company in Germany, then the world's leading barbell manufacturer. ("Hantel" in German means bar, as in "handle.")  In 1932 Steinborn loaned his Berg Hantel to Bob Hoffman, who had just founded the York Barbell Company, so Hoffman could replicate the basic Berg designs for York, which subsequently dominated the manufacture of "Olympic Bars" in the US for the next 50 years.
For the 2018 Rogue Record Breakers event at the Arnold Strongman Classic, it was decided that, rather than risk breaking the original Berg Hantel, Rogue would create a revamped version of Steinborn's barbell utilizing the same modern practices used in current barbell manufacturing.
"We built this with a lot of our current manufacturing techniques but we definitely wanted to capture the spirit of the original," said Nick Garcia, a senior product designer at Rogue who oversaw the design and fabrication of the barbell. "It really took the best of everything we had to get it done. I think it's one of the coolest things I've ever made here."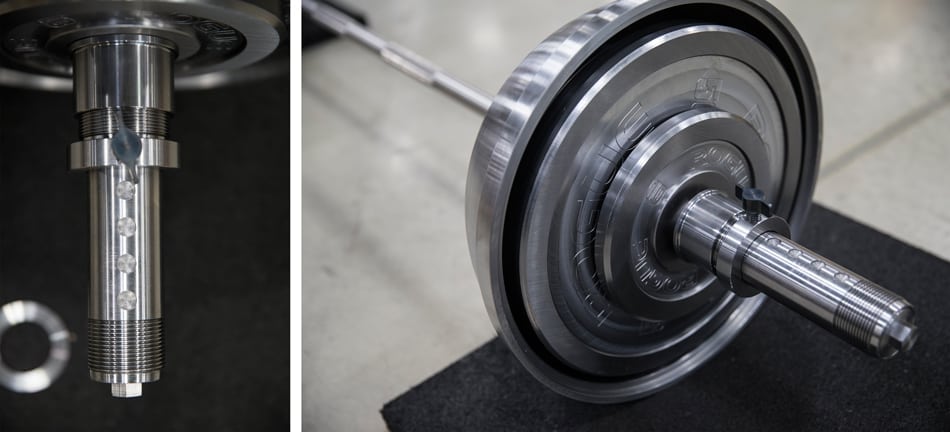 The barbell is comprised of four hemispheres which connect into two globes, and a custom, plate-loadable barbell shaft. Each of the globe's hemispheres is machined from a 17" wide, 9" thick brick of solid steel which, Garcia said, took "three full days of machining to carve smooth."
Once completed, the barbell was ready to be tested, and Latvian-born Strongman Martins Licis was chosen to make the official attempt to break Steinborn's record. Licis was chosen because of his exceptional overall strength, his flexibility, his youth, and his courage.  Many top lifters have tried to break Steinborn's record over the last century, but people found it daunting once the weight on the looming bar neared 400 pounds.
Even so, Martins accepted the challenge as soon as he was asked, which was approximately three months before his attempt would be made in Columbus, Ohio.  His training went well, but it was decided to bring him to the Rogue Headquarters in Columbus a week or so before the event so he could test himself against Rogue's replica.  During the test in Columbus—closely watched by Nick Garcia, Terry Todd, Jan Todd, Steve Slater, and Rogue's Bill and Caity Henniger—Martins did a 500-pound "Unassisted Squat" with ease (This was 60 pounds less than he needed to lift to break Milo's record.)  "I can't wait to see the crowd go wild if I break the record," Licis said. "I'm looking forward to the honor."
A few days later, on the Arnold Classic Expo stage in front of  an excited crowd of more than 8,000 people,  Martins completed a majestic 560-pound Steinborn Squat using the Rogue-made replica, and then, as the great throng roared and clapped, he repped out another easy squat just for show. After his second squat, Martins returned the barbell to its upright position, held it balanced with one hand, and screamed "Steinborn!" Martins' historic lift was a fitting conclusion to the acquisition of the Berg Hantel as well as to the talent of Nick Garcia and his team. The great Milo Steinborn's record may have been broken, but the record took a 325 pound professional Strongman and a hundred years to break.  It was and it will remain unforgettable.