Black Concept 2 RowErg Rower - PM5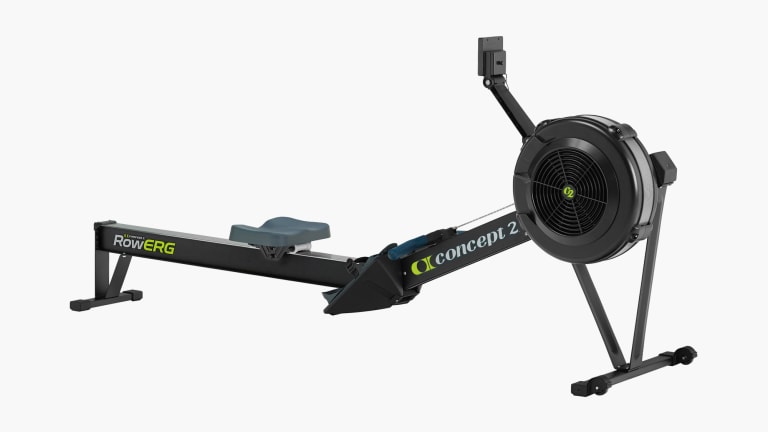 Black Concept 2 RowErg Rower - PM5
Gear Specs

Brand
Concept 2
Color
Black
Assembled In USA
Yes
Product Weight
Standard Legs: 57LB, 500LB max user weight Tall Legs: 68LB, 500LB max user weight
Length
96"
Width
24"
Height
Standard Legs: 14" (seat) Tall Legs: 20" (seat)
Foot Print
8' x 2'
Other Product Specs
PM5: Provides operating power when indoor rower is in use
Monorail length: 54"
Aluminum front legs, steel rear legs

Product Description
Easy set-up, simple storage, major results. The Black Concept 2 RowErg Rower has helped set the new standard for what a 21st-century indoor rowing machine can deliver.
Read More
Concept 2 Rowerg Rower - PM5
Easy set-up, simple storage, major results. The Black Concept 2 RowErg Rower has helped set the new standard for what a 21st-century indoor rowing machine can deliver.
The Concept 2 Rower provides one of the more comprehensive, full-body workouts of any fitness machine. Engineered to last a lifetime, it's low impact enough for use in physical rehabilitation centers, and intensive enough to be used by the world's fittest athletes.
Features an advanced PM5 Performance Monitor, improved ergonomically designed handles, adjustable foot-rests, and a flywheel designed for smooth movement with minimal noise. The RowErg has a standard 14" seat height with an aluminum I-beam monorail and stainless steel track for a consistent back-and-forth slide. When done training, you can quickly break down the rower into two segments for storage or use the included caster wheels for easy transport. Rogue offers an optional space saving wall hanger.

See Also: Concept 2 Slide - Pair
Rower Specifications
Rower Specifications:
Includes PM5 Performance Monitor**
Includes Device Holder
Flywheel design for a smooth feel and minimal noise
Spiral Damper with adjustable 1-10 settings
The ergonomic handle promotes natural arm and hand position.
Height: Standard (14" at seat)
Seat moves smoothly on aluminum rail / stainless steel track
Adjustable monitor arm and simple two-part separation for compact storage
Flexfoot footrests adjust for quick and easy sizing
Easy assembly with tools and illustrated instructions included
Caster wheels for mobility
Concept 2 Warranty: Frame Parts - Five Year Limited Warranty / All Parts - Two Year Limited Warranty.
Other Specs:
Nickel plated steel chain
Monorail Length: 54"
Welded steel support legs
Double powder coat finish plus clear top coat
Weight: Standard - 57LB, Tall - 68LB
500LB max user weight
Monitor Specifications
PM5 Performance Monitor Specifications
Monitor turns on when you start your workout
Tracks distance, speed, pace, calories burned, and watts
Manage a wide range of features such as preset workouts, games, and multiple languages
View force curve, pace boat, bar chart, large print, or all data
Screen illuminates automatically when you start your workout
Store performance data and/or transfer data to your Mac or PC via a USB Flash Drive
Using ANT+ and Bluetooth Smart with compatible heart rate monitors
Supports machine-to-machine racing, plus connectivity to computers and smartphones
Shipping
Rogue Fast Shipping
The Rogue Shipping System allows you to track your order from the time you place it to the time it hits your door. Order today, track today.
Frequently Bought Together
Black Concept 2 RowErg Rower - PM5
Vinyl Rower Mat
Concept 2 Rower Seat Pad
Black Concept 2 RowErg Rower - PM5 Features
"The PM5 is another leap forward in what a performance monitor can do. Track distance, speed, pace, calories burned, and watts—all presented on a clear, backlit display. Connects to wireless heart rate monitors and via bluetooth to the optional ErgData app to track detailed workout data. The monitor itself can be custom positioned using the adjustable monitor arm. USB flash drive compatible and built for machine-to-machine racing.
The Concept 2 uses air resistance generated by the fanned flywheel. To adjust how much air enters the flywheel housing on each stroke, the RowErg Rower, formerly Model D, includes a unique spiral damper adjustable from a setting of 1 to 10. This functions much like the gears on a bike, affecting how much energy will be needed to accelerate from one stroke to the next. 10 allows in the most air for more wind resistance. For most people the recommended settings is from 3-5.
Durable Construction, Comprehensive Warranty
Made in America, designed to last, the Concept 2 rowing machines offer a comprehensive fully transferable warranty. From home gyms, to Olympic training centers, to major professional sports teams, Concept 2 has been put to the test time and again.
The RowErg is mobile, and easy to store. You can quickly breakdown the entire unit into two compact sections using the quick release, framelock mechanism (no tools needed), and caster wheels enable the easy movement of the entire rower from one end of a gym to the other. To free up even more space add a Rogue Rower Hanger to your order.
The Concept 2 Rower includes everything you need for a quick set-up. The front legs are installed using 8 screws, and clear, concise instructions are included. Your machine will be up and ready to use within 20-30 minutes of opening the box.
Reviews
worth the money
I spent three months in cardiac rehab and this was the unit I used every day--they had 4 of them, my friend has owned his for 4 years or so---neither rehab or my friend has had any issues, and they are used every day. I use mine every day, longer and longer----worth the price, simple to set up--
Yes, I recommend this product
Rowing at home…Priceless!
As part of my continued recovery from a broken arm, I bought this rowing machine to continue my physical therapy at home. Assembly was easy and it came with all the tools you need. Setup was easy with the phone app. I signed up with their online community and really appreciate the daily workouts. I'm really excited about using this machine. I would definitely recommend buying one for a whole body workout.
Yes, I recommend this product
None Better
Concept 2 rower is one of the best investments I've ever made. First of all... if you're deciding between rowing machines just stop. Get Concept 2. Olympians and professional athletes train on this machine. The rowing community uses this machine. There are tons of great challenges / teams / an online community to be a part of. The construction is nearly indestructible: spring through fall it was often outside on a deck next to the salty and wet Atlantic air. The kind of air that rusts out car frames within a decade. And this thing was a champ with only minor maintenance using hardware and tools that aren't hard to find. It's the de facto machine for a reason and I'm so happy I didn't get some dumb fancy water rower. If you aren't familiar with rowing as an exercise, it can be a little awkward at first. But it's easy to find great instructional videos. I've rowed ~4-6 times per week for the last 5 years. I've played every sport and trained in nearly every way. Rowing is in the upper echelon of full body fitness... alongside combat sports and swimming. Rowing gives you everything: stamina, sustained explosive strength, USEFUL muscle mass, toughness and discipline. After a few years using a rower I also picked up the Concept 2 Ski Erg and highly recommend it. It's a perfect compliment to the rower because it trains anterior muscles and the rower trains (mostly) posterior.
Yes, I recommend this product
Too much styrofoam
Of course, we love the rower and it was not too difficult to assemble. We took away 1 star because there is so much styrofoam packing in the box. Can you try to work towards more ecological packing?
Yes, I recommend this product
My concept rowerg
Rogue is top notch. I've got quite a few great pieces and the concept rowerg is a great addition to my studio.
Yes, I recommend this product
Concept 2 Rowing Machine
Well made and easy to assemble, operates smoothly and is pleasure to use.
So far so great!
I've had this for about a week now and do not regret the purchase. Very easy to assemble. No major programming required to start with, just entering the current day and time and you are ready to go! Also feels like a quality machine so far. Nothing bad to say about it.
Yes, I recommend this product
Best torture
In the army, leadership used to make us row as punishment. Now years later and with a bum knee, it's the only cardio i can stay steady for thirty minutes straight. Five thousand meters for thirty is fun torture
Yes, I recommend this product
Response from Rogue Fitness:
October 31
Awesome work! We're glad to see you putting the RowErg to great use.
#RYOUROGUE
Tag your photos on Instagram and Twitter with #RYOUROGUE for a chance to be featured in our gallery
View Full Gallery