BUBs Naturals MCT Oil Powder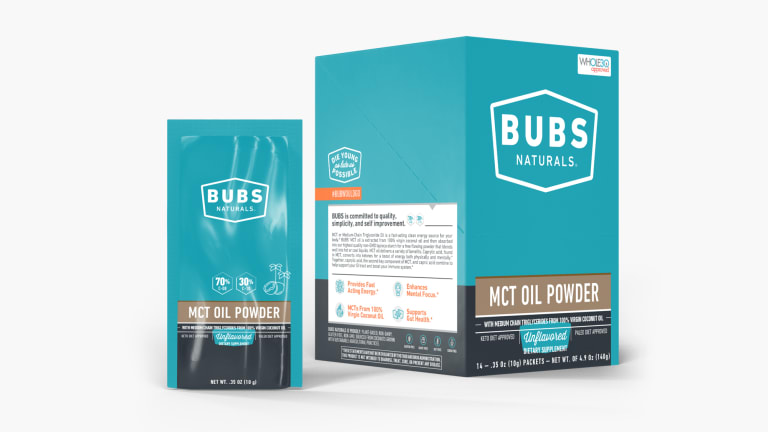 BUBs Naturals MCT Oil Powder

3 Ships Free Item
Buy 3 or More Items Marked "3 Ships Free" And They All Ship for Free
Product Description
Available here in 14 convenient, on-the-go serving packets, BUBS 100% virgin coconut oil provides a power-packed punch of health benefits, from elevated energy to sharper mental focus, appetite control, and improved gut health
Read More
BUBS Naturals MCT Oil Powder, 14 Ct
Available here in 14 convenient, on-the-go serving packets, BUBS 100% virgin coconut oil provides a power-packed punch of health benefits, from elevated energy to sharper mental focus, appetite control, and improved gut health
BUBS MCT (Medium-Chain Triglyceride) Oil is composed of 70% C-08 (aka caprylic acid) and 30% C-10 (aka capric acid). In combination, these ingredients help quickly convert ketones after ingestion (for instant energy) while reducing gut inflammation and keeping the GI tract and immune system at optimum performance. The formula is vegan-friendly, non-GMO, gluten-free and corn-free.
You can add BUBS MCT Oil Powder to your morning coffee, to your pre-workout routine, or to combat the mid-afternoon slump at work. Simply mix 1 packet (10g) of MCT Oil into your beverage of choice (smoothies, coffee, tea, hot or cool water, orange juice, etc.).
Gear Specs
Specifications:
Medium-Chain Triglycerides from 100% Virgin Coconut Oil
14 packets per box
Mix 1 packet (10g) with your favorite drink
70% C-08, 30% C-10
Vegan-friendly, non-GMO, gluten-free and corn-free
Shipping
Rogue Fast Shipping
The Rogue Shipping System allows you to track your order from the time you place it to the time it hits your door. Order today, track today.
Frequently Bought Together
#RYOUROGUE
Tag your photos on Instagram and Twitter with #RYOUROGUE for a chance to be featured in our gallery
View Full Gallery