Do-Win Weightlifting Shoes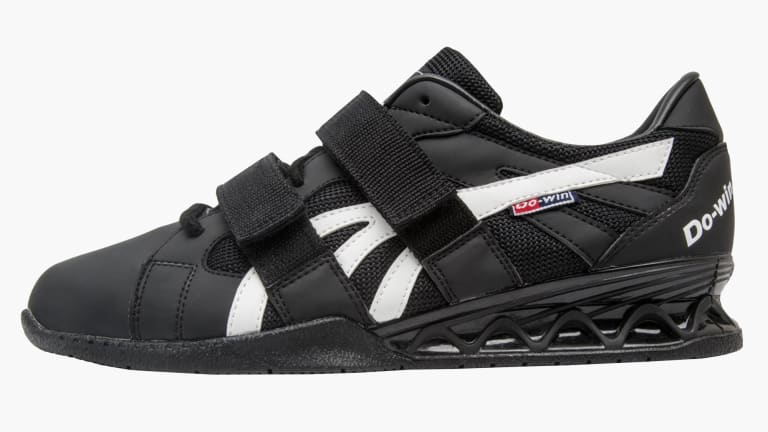 Do-Win Weightlifting Shoes
Gear Specs

Brand
Do-Win
Made In USA
No
Shoe Color
Black / White
Effective Heel Height
0.75"
Shoe Type
Men's
Product Description
The Do-Win brand is precision-tailored to the weightlifting community, with design elements directly inspired by years of experience and direct customer feedback.
Read More
Do-Win Weightlifting Shoes - Men's
The Do-Win brand is precision-tailored to the weightlifting community, with design elements directly inspired by years of experience and direct customer feedback.
Do-Win Men's Weightlifting Shoes feature a 0.75" hard plastic heel (the preferred height for Olympic lifting) with a leather upper, breathable nylon mesh, and an updated single sole construction for optimal durability and flexibility. Do-Wins are also noted for their wide profile—giving athletes with wider feet greater comfort and stability than possible with some other weightlifting shoes on the market.
Gear Specs
Specifications:
Men's Weightlifting Shoes
0.75" Plastic Heel
Synthetic Leather and Nylon Mesh
2 Metatarsal Straps
Do-Win Single-Sole and Toebox Design
Wide Profile
Color: Black w/ White Stripe
See More: Weightlifting Shoes Available from Rogue
Fit Guide
Do-Win Weightlifting Shoes
| US Men's | 4.5 | 5.0 | 5.5 | 6.0 | 6.5 | 7.0 | 7.5 | 8.0 | 8.5 | 9.0 | 9.5 | 10.0 | 10.5 | 11.0 | 11.5 | 12.0 | 12.5 | 13.0 | 14.0 |
| --- | --- | --- | --- | --- | --- | --- | --- | --- | --- | --- | --- | --- | --- | --- | --- | --- | --- | --- | --- |
| US Women's | 6.0 | 6.5 | 7.0 | 7.5 | 8.0 | 8.5 | 9.0 | 9.5 | 10.0 | 10.5 | 11.0 | 11.5 | 12.0 | 12.5 | 13.0 | 13.5 | 14.0 | 14.5 | 15.0 |
| EU | 36.5 | 37.5 | 38.0 | 38.5 | 39.0 | 40.0 | 40.5 | 41.0 | 42.0 | 42.5 | 43.0 | 44.0 | 44.5 | 45.0 | 45.5 | 46.0 | 47.0 | 47.5 | 48.5 |
Shipping
Rogue Fast Shipping
The Rogue Shipping System allows you to track your order from the time you place it to the time it hits your door. Order today, track today.
Reviews
Don't recommend buying shoes from Rogue
I recently purchased this shoe and made sure to review the sizing information in the description. Despite careful selection, the shoes didn't fit - they ran too small. When I attempted to exchange the shoes, Rogue informed me that their website has a malfunction and shoes can't be returned without calling them first. This is a long and drawn out process. The worst part is that you end paying shipping both ways; I would understand if Rogue were some discount store, offering cheap products, but they most certainly are not. At their prices, they should be covering some part of the shipping, especially if you're interested in an exchange. They also should fix their website so that returns are easier. All in all, just do yourself a favor and buy shoes elsewhere.
Response from Rogue Fitness:
3 weeks ago
We're very sorry for the issue, and are working to resolve it on the site. We apologize for any inconvenience this has caused. We do want to highlight that per our return policy, the customer is responsible for return shipping only, not the exchange back to you.
Should Have Purchased Sooner
Excellent shoes for squats. I normally wear a 9. I bought these in 9.5 and they are perfect. Had I bought 9's I think the toe box would have been a little too cozy. Highly recommend you order 1/2 size larger than you normally wear. Very sturdy soles and they feel indestructible yet comfortable. Had been squatting in running shoes (I know, stupid). These are so much better, can't recommend them enough.
Yes, I recommend this product
Love em
Order true to size. Cant beat the quality, and under $100?!? 10/10
Yes, I recommend this product
Not True to Size
Not True to Size. The shoes fit about a half or full size smaller than they should. They also haven't been able to figure out how to ship to Hawaii. Their shipping for a pair of shoes and knee sleeves was around $50. They seem to be under the assumption this is normal. It is not. I'm returning these and not shopping here again (as someone from Hawaii). I just bought TYR 1 lifters instead from the TYR website and shipping was about $10. Most products here are pretty nice, but their lack in competency brings it down to 1 star for my situation.
Small toe box,
I usually wear 10's bought a 10's. My pinky toe was getting crushed. I think they changed something because I don't have wide feet and these are crazy skinny. I feel a 10.5 would be too big elsewhere. For somereason the toe box on these new ones are crazy skinny. They charged me around $50 shipping to Hawaii. I contacted USPS and they said it should only be around $20. Whatever shipping method they're using isn't appropriate at all. My other review went missing for some reason so I had to rewrite it.
Good shoe but small toe box
Basically the toe box will squeeze your pinky toe in. Would not recommend.
Great squat shoe
Chose these instead of the classics, which I have a pair that have the rubber sole. These are a million times better and I loved my classics. Would buy another in a heartbeat.
Yes, I recommend this product
GREAT FIT!
This is my 2nd pair of these shoes and they are great because of the wide width and overall comfort and support! I've had many other Brand name weightlifting shoes that cost hundreds of dollars and none of them are as comfortable. I had bilateral total knee replacements in 2022 and at 63 years old, I've made my comeback so far in 2023 by winning 3 State Championships wearing these shoes!
Yes, I recommend this product
#RYOUROGUE
Tag your photos on Instagram and Twitter with #RYOUROGUE for a chance to be featured in our gallery
View Full Gallery