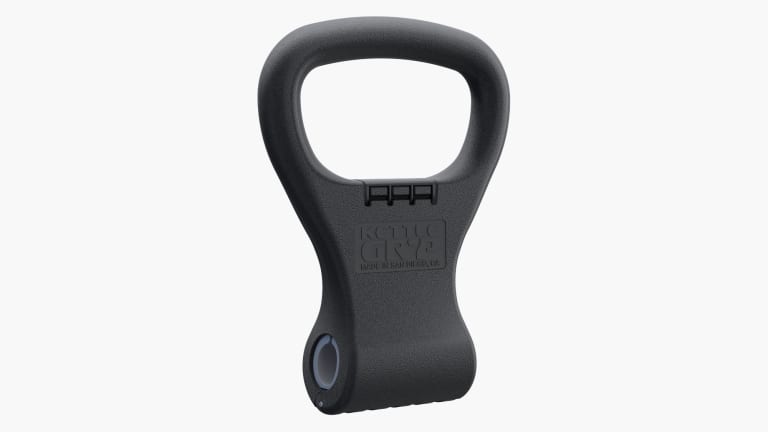 3 Ships Free Item
Buy 3 or More Items Marked "3 Ships Free" And They All Ship for Free
Gear Specs

Brand
Kettle Gryp ®
Made In USA
Yes
Product Weight
0.80LB
Diameter
1.15"
Material Type
ABS plastic & Stainless Steel hardware
Other Product Specs
Attachment portion: 4.5" long, 1.5" diameter
Product Description
Designed and manufactured in San Diego, California, Kettle Gryp is a portable grip accessory tool that instantly turns any standard dumbbell (up to 55LB) into a functioning kettlebell. This includes full compatibility with our own Rogue Dumbbells
Read More
Kettle Gryp®
Designed and manufactured in San Diego, California, Kettle Gryp is a portable grip accessory tool that instantly turns any standard dumbbell (up to 55LB) into a functioning kettlebell. This includes full compatibility with our own Rogue Dumbbells
Whether you're looking to save money and space in a home gym or to maintain your strength training regimen on the road, this is the simple solution.
Each Kettle Gryp is made from impact-resistant ABS plastic (Acrylonitrile Butadiene Styrene), with quality molded urethane foam inserts and stainless steel hardware. At less than one pound, it won't significantly affect the weight or feel of the dumbbell, and the design enables easy attachment and detachment from one dumbbell to another, making the grip adaptable for multiple athletes.
While the Kettle Gryp doesn't completely mimic the action of an actual kettlebell (due to weight distribution on a dumbbell), it can deliver many of the same benefits at a fraction of the cost.
Important Fitting Info:
A compatible dumbbell handle needs to be at least 4.5" long for Kettle Gryp to fit. Most dumbbell handles are approximately 6.0" from one head to the other, but some very light dumbbells might be less than the required 4.5" across.
The handle also needs to be less than 1.5" thick at its widest point. The foam insert inside the Kettle Gryp® will contour to both straight and curved dumbbell handles as long as the thickest part of the dumbbell handle is less than 1.5".
Gear Specs
Specifications:
Made in the USA
Portable Kettlebell System
Sold Individually
ABS plastic & Stainless Steel hardware + Urethane foam inserts
Attachment portion: 4.5" long, 1.5" diameter
Handle grip: 8.13" long, 1.15" thick
Weight: 0.80LB (fits in gym bag, carry-on)
Color: Black or Orange
Shipping
Rogue Fast Shipping
Orders placed before 3pm ship from Rogue HQ the same day. You can then follow the progress of your package online via the Rogue Shipping Tracker.
Reviews
Great for Barbell Seal Rows!
I looked for months for something to give me a greater range of motion for barbell seal rows. This is the perfect fit for my B&R bar. It works ok with my wife's Bella bar, but they're a little loose so the rotate to the ground when she sets it down (unless she balances pretty well).
Great product
With the pandemic causing issues for every manufacturer, getting kettle bells was a huge issue. This product allowed my wife and I to turn a barbell into a kettle bell, and they worked great. Easy to use and very robust. Just one suggestion: it would be great if the handle could rotate 90 degrees...but we are able to do our exercises just fine!
Yes, I recommend this product
Originally posted on roguecanada.ca
Easy to use
I have adjustable dumbbells. I bought it to be able to perform kettle bell swings and other kb exercises without having to purchase the kbs. Good value easy to use
Originally posted on roguecanada.ca
Exactly what I needed
I recently invested in a whole lot of new equipment - dumbbell set, adjustable bench, resistance bands etc - so I am looking for ways to maximize the use of what I've already purchased. Instead of investing a ton of money in a set of kettlebells, this proved to be a good alternative that added options to the way I can work with my existing equipment. Very solidly made and easy to use. Part of my regular workout routine already!
Yes, I recommend this product
Originally posted on roguecanada.ca
Good idea poor execution
Bought it and then returned it same day as it was not useful and impractical. Wouldn't recommend it.
Originally posted on roguecanada.ca
Pros and cons
Pros I like the fact that they are light to make the shipping cheaper. It's secure during the movement Cons I wish the dumbbell could be locked in forward/back position instead of sideways. When a bid dumbbell is locked in the stance has the be pretty wide to clear the knees. The smooth plastic handle can feel a little slippery when hands are sweaty. A rubber or touch area me get sort that out though. Overall they are a good addition to my business.
Yes, I recommend this product
Originally posted on roguecanada.ca
Just like a kettlebell
Bought this for my husband's birthday. He's an avid weight lifter and we have all the dumbbell you can imagine but no kettlebells. He says this product feels just like a kettlebell. I strongly recommend.
Yes, I recommend this product
Originally posted on roguecanada.ca
#RYOUROGUE
Tag your photos on Instagram and Twitter with #RYOUROGUE for a chance to be featured in our gallery
View Full Gallery