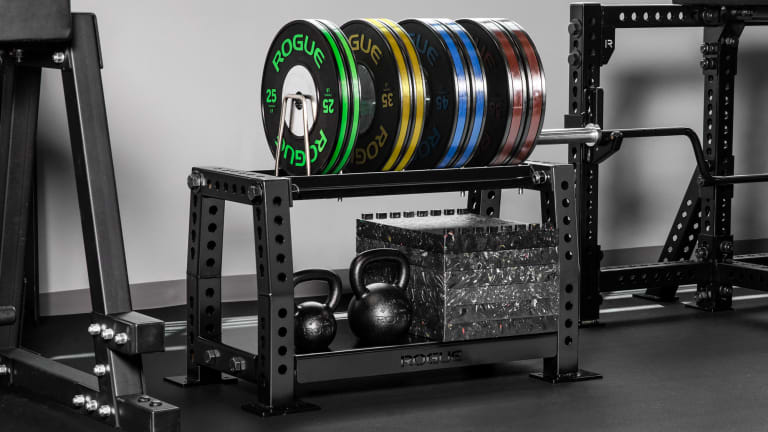 Gear Specs

Brand
Rogue Fitness
Color
Black
Made In USA
Yes
Product Weight
180LB
Length
44" overall, including footplates
Width
23.5" overall, including footplates
Height
24.375", 31.625" to approximate top of dividers
Foot Print
44" x 23.5"
Steel Notes
3x3" 11-Gauge Steel. Holes for 1" hardware
Other Product Specs
Laser cut Rogue branding, MG Black powder coat finish
Product Description
The Monster Bumper Rack is a compact, customizable equipment storage unit, made in the USA from the same 3x3" 11-gauge steel as our Monster Power Racks and Rigs. The patent-pending, 180 LB design includes an adjustable top rail and dividers for plates, with a flat, reinforced bottom shelf (40.5" wide x 20" deep) for other assorted gear.*
Read More
Monster Bumper Rack
Patent Pending
The Monster Bumper Rack is a compact, customizable equipment storage unit, made in the USA from the same 3x3" 11-gauge steel as our Monster Power Racks and Rigs. The patent-pending, 180 LB design includes an adjustable top rail and dividers for plates, with a flat, reinforced bottom shelf (40.5" wide x 20" deep) for other assorted gear.*
*The 40.5" wide x 20" deep bottom shelf is specifically designed to be large enough for storing two DC Lifting Block Sets, side by side.
Creating a total footprint of 44" x 23.5", the Monster Bumper Rack also gives gym owners the ability to store and organize any size/type of plate as they please, simply by repositioning the (5) stainless steel dividers along the 1" spaced holes in the railway tubing. Each unit comes with all required 1" hardware for set-up, along with laser-cut Rogue branding, an MG Black powdercoat finish, and a set of foot plates with ½" diameter holes (should you wish to mount the rack to the floor).
Please Note: These units ship disassembled. A 1.5" wrench is required for set-up and is NOT included.
Gear Specs
Specifications
Made in the USA
Patent Pending Design
3x3" 11-gauge steel, holes for 1" hardware
Unit Weight: 180 LBS
Length: 44" overall, including footplates
Width: 23.5" overall, including footplates
Height: 24.375", 31.625" to approximate top of dividers
Plate Storage Rail: 2x2" 11-gauge steel, 1" hole spacing
Includes (5) Stainless Steel Plate Dividers
Reinforced Bottom Shelf: 3/16" thick Laser-Cut Steel (40.5" x 20")
Medium Gloss Black Powdercoat finish
Shipping
Rogue Fast Shipping
The Rogue Shipping System allows you to track your order from the time you place it to the time it hits your door. Order today, track today.
KEY FEATURES OF THE MONSTER BUMPER RACK
Adjustable Plate Storage Rail
The parallel railway tubes at the top of the Monster Bumper Rack are made from 2x2" 11-gauge steel, and include holes with 1" spacing, creating endless ways to insert and line up the five included plate dividers; no hardware required. The dividers themselves are made of ½" solid round stainless steel, and measure 10.25" tall x approx. 7.613" at their widest point. They are equipped to safely bookend any size of standard plate, as the railway tubes are just 6" apart at their closest point.
Bottom Shelf - Heavyweight Storage
The bottom, flat shelf of the Monster Bumper Rack is made from 3/16" thick laser-cut and formed steel, with a 3x3" 11-gauge steel support tube underneath for extra reinforcement and structural integrity on heavier loads. The shelf measures 40.5" wide x 20" deep, and can be used for just about any type of small equipment, from KBs to medballs to a side-by-side set of DC Blocks.
Quality Rogue Construction - Made in the USA
All of our Monster Bumper Racks are manufactured in the USA, using the same 3x3" 11-gauge steel tubing and floor-mountable foot plates as our Monster Power Racks and Rigs. The unit is finished in an MG Black powdercoat, and the bottom shelf includes laser-cut Rogue branding. All 1" hardware required for assembly is included (customers will also need a 1.5" wrench for set-up, which is NOT included).
Reviews
Rock solid, functional and ascetically pleasing
I use this for Olympic lifting, and I love grabbing weights at this height. With the dividers, it keeps everything neat and tidy. Underneath, I store kettlebells. If I had one ask, it would be to include (or sell separately) a neoprene or rubber matt on the bottom shelf. It's bare metal, and over time will scratch if storing iron kettlebells. I used a neoprene pad, and it works great!
Yes, I recommend this product
Fantastic!
I bought the bumper rack to help with storage and organization in my hame gym and it has been fantastic!
Yes, I recommend this product
#RYOUROGUE
Tag your photos on Instagram and Twitter with #RYOUROGUE for a chance to be featured in our gallery
View Full Gallery