Rogue 28MM Training Bar - Black Zinc
Made in U.S.A. with US & EU Steel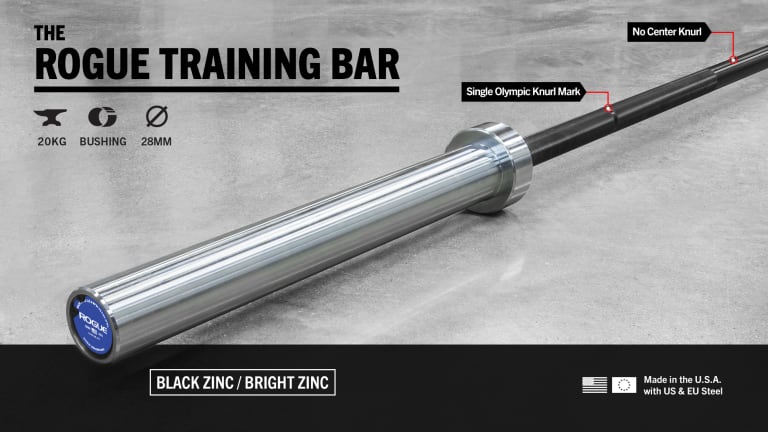 Rogue 28MM Training Bar - Black Zinc
Made in U.S.A. with US & EU Steel
Product Description
Rogue 28MM Training Bar - Black Zinc
The Rogue 28MM Training Bar is designed, machined, and assembled at the Rogue factory in Columbus, Ohio using the same steel shaft and uniform knurl pattern as our Olympic WL Bar. In place of the Oly Bar's bearing sleeves, however, the Training Bar is assembled with bronze bushings in the style of the Rogue Ohio Bar. The result is a more cost-efficient, intermediate bar for athletes who still want the look and feel of a competition-ready Olympic barbell.
The quality U.S. steel used in the 28MM Training Bar meets a minimum tensile strength of 190 KSI, and each shaft is individually tested for straightness to within 0.015" (0.38mm). The bar is finished with Black Zinc shaft with Bright Zinc Sleeves.
Browse more: Rogue Barbell Options here.
See Also: The Rogue Barbell Cleaning Kit
Patented
Gear Specs
Specifications
Made in the USA with US and EU Steel
Weight: 20KG
Diameter: 28MM
Knurling: Olympic Knurl Marks; Full uniform pattern for reduced sharpness; No center knurl
Bronze Bushing Sleeves
Coatings: Black Zinc/Bright Zinc
F6-R Rating
Lifetime Warranty Against Bending*
*Warranty against bending does not cover any bar which has been damaged due to negligent or faulty use, alteration, maintenance, storage or handling by the user. Negligent or faulty use includes abusive dropping of the bar (i.e., dropping the bar on a box, bench, spotter arms or pins in a power rack, excessive dropping with insufficient or damaged bumpers, or excessive dropping with iron plates, and similar usage). Any specific issues regarding a Rogue product with which a customer is not satisfied will be reviewed on a case-by-case basis. Rogue has a replacement rate of less than 0.0002 on bars. We have found that most problems with bars we replace are related to abusive use rather than manufacturing or materials issues.
Shipping
Rogue Fast Shipping
The Rogue Shipping System allows you to track your order from the time you place it to the time it hits your door. Order today, track today.
Gear Specs

Brand
Rogue Fitness
Guarantee/Warranty
Lifetime Warranty*
Made In USA
Yes, with US & EU Steel
Loadable Sleeve Length
16.25"
Bar Length
86.6"
Diameter
28MM
F Rating™
F6-R
Bar Type
Men's Bars
Bar Use
Olympic Weightlifting
Bushing/Bearing
Bushing
Bar Weight
20KG
Knurl
Olympic
Center Knurl
No
Knurl Mark
Olympic
Shaft Coating
Black Zinc
Sleeve Coating
Bright Zinc
Tensile Strength
190,000 PSI
F SCALE™
The F Scale™ is a durability scale for barbells based on functional testing at stresses similar to what barbells experience when being dropped from overhead. Bars that have been treated with Rogue Work Hardening (RWH™) are designated by having an R in their F Rating™. For more information on F Scale™ click here.
OXIDATION RATE
The resistance of a barbell to oxidation depends on the type of steel and the coating. Barbells at the lower end of the spectrum will require more care and maintenance to preserve their appearance than barbells at the upper end of the spectrum.
Reviews
Sexiest Bar Ever!!
Great feel, great look. I love the smaller diameter.
Yes, I recommend this product
Is Gud
I bought, is gud, I have nothing really else to say except is gud, you should buy.
Yes, I recommend this product
Great bar
Purchased the boneyard version , great training bar. The bushing provide decent rotation, the knurl is good for rep when doing volume work. Customer service is excellen. Made in Ohio..
Yes, I recommend this product
Amazing for Olympic lifts
I was previously using a barbell designed for power lifting but I needed to change it to do more olympic lifts. I absolutely love my training barbell. It makes the lifts so much easier. The knurling is very light, the way the bar moves is extremely smooth and accommodating. I honestly cant recommend this barbell enough, it is 100% worth the price and its also a very sexy barbell.
Yes, I recommend this product
Quality Product
The bar is solid as a rock. Used in my basement gym.
Yes, I recommend this product
Outstanding
Bought this bar 2 years back for my garage gym and I absolutely love it. Unless you are really particular about bar spin, you will not want for anything else. Customer service was also top notch. Bar came with some scratches and dents on the sleeves from shipping. Rogue exchanged the bar for a new one, the process was very easy.
Yes, I recommend this product
I Like it
Bar is similar to Ohio bar but different. It definitely has a better whip, this matters if you do a power clean and the bar lands on your shoulders in "rack" position, its a bit more comfortable. Knurling feels good, if your hands get sweaty then the Zinc will feel very slippery - add chalk. The knurling + chalk has a similar feel to my SS Ohio bar with no chalk. There is a difference in feel between 28mm and 28.5mm bar when doing hook grips, your thumbs will notice a difference. This bar uses bronze bushings, so dropping it is a bit loud, spin is better than my SS Ohio bar with composite bushings. Great bar, wish it wasn't as loud on drops, if you wear headphones, no big deal.
Yes, I recommend this product
A Great All-Around Bar
As the gyms were closed, I bought this bar about 3 months ago as an all-around, do everything bar to begin building my home gym, and I've been really satisfied overall. The bar itself is really nice. The knurling is quite grippy, but not overly aggressive, and the 28mm diameter is perfect for me as someone who's 5'7" (170cm). After 3 months of constant use, the black zinc finish on the shaft still looks and feels great. Some minor gripes: The bushings were a bit stiff and didn't spin very much when I first received the bar, but after a short break-in period they seemed to improve a lot and they spin pretty well now. After 3 months, the sleeves have some very minor discolouration. I imagine it's either oxidation or humidity from being in my garage, but it seems like it's just an aesthetic difference. Overall if you're looking for an all-around barbell, this is a solid option, especially if you're someone with smaller hands, or are specifically looking for a 28mm bar.
Yes, I recommend this product
Originally posted on roguecanada.ca
#RYOUROGUE
Tag your photos on Instagram and Twitter with #RYOUROGUE for a chance to be featured in our gallery
View Full Gallery