Rogue Freedom Bar - 28.5MM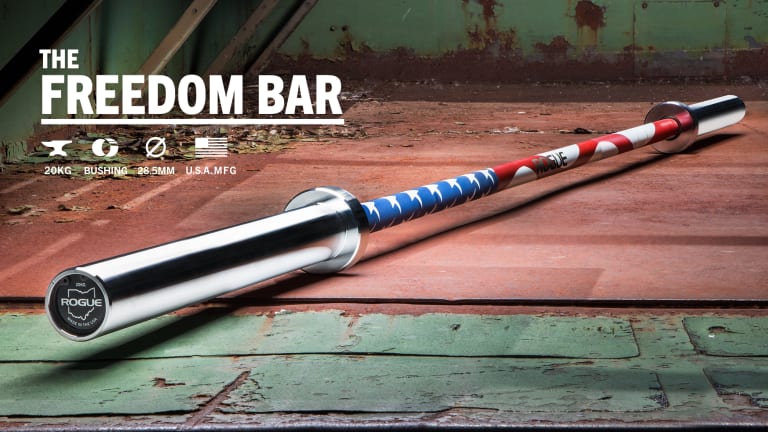 Rogue Freedom Bar - 28.5MM
Product Description
The Freedom Bar is a special edition colorway of our Ohio Cerakote Bar, featuring a red, white and blue shaft finish in an exclusive stars-and-stripes American flag pattern.
Read More
Rogue Freedom Bar
The Freedom Bar is a special edition colorway of our Ohio Cerakote Bar, featuring a red, white and blue shaft finish in an exclusive stars-and-stripes American flag pattern.
Like the Ohio Bar, the Freedom Bar is fully machined and assembled in Columbus, OH, and includes a 190,000 PSI tensile strength shaft, dual knurl marks, black composite bushings, and a lifetime warranty against bending.*
See Also: Women's Freedom Bar
Patented
Gear Specs
Specifications:
Manufactured in Columbus, OH
Diameter: 28.5MM
Weight: 20KG
Dual Knurl Marks for Oly and Power lifts
No Center Knurl
Tensile Strength: 190,000 PSI
Black Composite Bushings
Exclusive Cerakote finish in patriotic, Red/White/Blue American flag design
Bright Zinc Sleeves
Lifetime Warranty Against Bending*
Shipping
Rogue Fast Shipping
The Rogue Shipping System allows you to track your order from the time you place it to the time it hits your door. Order today, track today.
Frequently Bought Together
Gear Specs

Brand
Rogue Fitness
Color
Red / White / Blue
Guarantee/Warranty
Lifetime Warranty*
Made In USA
Yes
Loadable Sleeve Length
16.40"
Bar Length
86.75"
Diameter
28.5MM
F Rating™
F8-R
Bar Type
Men's Bars
Bar Use
Multipurpose
Bushing/Bearing
Bushing
Bar Weight
20KG
Knurl
Multi
Center Knurl
No
Knurl Mark
Dual
Shaft Coating
Cerakote
Sleeve Coating
Bright Zinc
Tensile Strength
190,000 PSI
ADDITIONAL KEY FEATURES OF THE FREEDOM BAR - 28.5MM
Cerakote Strength + Custom Colors
This version of the Ohio Bar is distinct for its use of an advanced ceramic-based coating, originally established in the gun industry for its remarkable durability in thin applications. This unique finish can deliver superb abrasion/wear/corrosion resistance over time—100X that of standard black zinc—and it's available to order in a range of exclusive colors, with the Rogue logo branded on the center of the shaft.
This steel is manufactured in the US and has proven to be one of the best steel variants for a multi-purpose barbell.
Each barbell shaft is ground and polished prior to machining which allows the bar to have a very smooth finish.
Every bar shaft is machined in Columbus, Ohio, with painstaking attention to detail. The knurling has been carefully refined over the years, as well, for a firm but non-abrasive grip (there is no center knurl). We assemble the Ohio Bar with a snap ring design and quality composite bushings, which act as bearing surfaces between the bar sleeve and bar shaft, producing normal "whip" during Oly weightlifting but enough stiffness to hold for heavy powerlifting.
F SCALE™
The F Scale™ is a durability scale for barbells based on functional testing at stresses similar to what barbells experience when being dropped from overhead. Bars that have been treated with Rogue Work Hardening (RWH™) are designated by having an R in their F Rating™. For more information on F Scale™ click here.
OXIDATION RATE
The resistance of a barbell to oxidation depends on the type of steel and the coating. Barbells at the lower end of the spectrum will require more care and maintenance to preserve their appearance than barbells at the upper end of the spectrum.
*Warranty against bending does not cover any bar which has been damaged due to negligent or faulty use, alteration, maintenance, storage or handling by the user. Negligent or faulty use includes abusive dropping of the bar (i.e., dropping the bar on a box, bench, spotter arms or pins in a power rack, excessive dropping with insufficient or damaged bumpers, or excessive dropping with iron plates, and similar usage). Any specific issues regarding a Rogue product with which a customer is not satisfied will be reviewed on a case-by-case basis. We have found that most problems with bars we replace are related to abusive use rather than manufacturing or materials issues.
Please Note: Cerakote has an excellent resistance to corrosion, but metal-to-metal contact, particular on the sleeves, can still cause wear over time. For the best long term results, some cleaning and maintenance may be required. See our Ohio Bar Care Page for more info.
Reviews
Poor finish
I've had the bar for almost 4 years and has only been used inside and never dropped. The finish started flaking within a year, to include the chrome on the sleeves. Now the finish flakes off in large pieces during every use. This isn't up to rogues typical standards and isn't covered by their "lifetime" warranty. Not worth the premium price for sub par finishes. Seems to be a theme with the bar and rogue isn't standing by it. Do not buy.
Response from Rogue Fitness:
4 weeks ago
We're sorry to hear about the issues with the Freedom Bar you currently have. Our warranty team has reviewed this and provided you with your best options as you are not the original purchaser and warranties are non-transferable.
Spray Paint
Delivered July 28th, so barely 2 weeks into moderate usage on plastic covered J Cups the coating on both contact points are wearing off. What a joke Rogue, there's no way this is baked cerakote, some sort of cheap, save a dollar alternative but still charge a premium compromise. Very disappointing.
Response from Rogue Fitness:
August 16
We stand behind the manufacturing of our bars and are very sorry to see this blemishing in the Cerakote. We have issued a replacement bar to you and will do a full inspection of this bar to see what may have gone wrong here.
Freedom isn't free
The Freedom Bar is a bar fitting for true patriots. Great addition to my home gym. I highly recommend it. Semper Fidelis.
Yes, I recommend this product
Great bar but lacks longevity
As per usual with Rogue the bar is made very well. Sturdy and you know the bar will last far longer than I. I love the US flag design but the problem is that after minimal use the flag paint has scratched and come off making the bar look cheap. I'm thinking of offloading it due to that. I would have liked to see the same build quality with the bar finish as the bar itself. Overall a good product just be aware the flag won't last sadly. Save the money and go with a stainless bar as the flag pattern doesn't hold up.
Response from Rogue Fitness:
July 6
Thank you for posting a review of your Freedom Bar. It looks like these are being used with steel rollers, which could result in damaging metal on metal contact. We are reaching out to you now to gather more information on how this is being used.
Great durability
Bought for my husband for Father's Day and he LOVES this bar. He trains with it every day. The feel, durability, look of it is everything and more than he expected.
A thing of beauty and healthy reminder!!
The freedom bar is everything and more! It's a thing of beauty and reminds me of my inherent freedoms everyday! It's a possession you wanna see everyday and inspires me to be better mind, body, and soul! MADE IN THE USA! Thank you Rogue Fitness!
Yes, I recommend this product
This Bar Just Screams Freedom!
My 2nd Ohio bar and the finish on this far exceeds my older one. Have always wanted the freedom bar and finally pulled the plug. Bar is amazing !
Yes, I recommend this product
I lake but the quality no good
I'm waiting for the bar but I am disappointed quality, not good row say is only cosmetic. But I pay for quality
Yes, I recommend this product
Response from Rogue Fitness:
May 9
We're very sorry to see your bar arrived with this blemishing. Our team is reaching out to you now to make this right.
#RYOUROGUE
Tag your photos on Instagram and Twitter with #RYOUROGUE for a chance to be featured in our gallery
View Full Gallery