Rogue USA Nylon Lifting Belt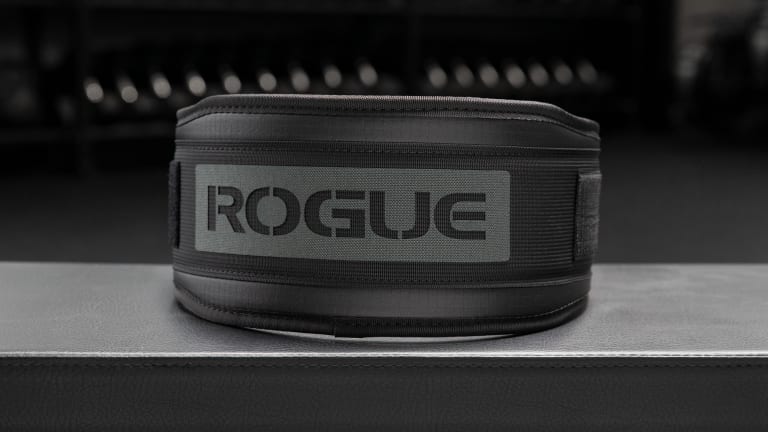 Rogue USA Nylon Lifting Belt
Rogue USA Nylon Lifting Belt
Gear Specs

Brand
Rogue Fitness
Color
Various Colors
Made In USA
Yes
Width
5" w/ taper down to 4" in the front
Material Type
0.25" thick Foam Frame
Ripstop Exterior w/ Antimicrobial Inner
Smooth Buckle + Roller
Other Product Specs
Co-developed with 2x CrossFit Games champ Mat Fraser
Product Description
Now fully designed and manufactured in the USA, our latest Nylon Lifting Belt was co-developed with Rogue athlete Mat Fraser, who has personally used it during his run to five straight CrossFit Games titles.
Read More
Rogue USA Nylon Lifting Belt
Now fully designed and manufactured in the USA, our latest Nylon Lifting Belt was co-developed with Rogue athlete Mat Fraser, who has personally used it during his run to five straight CrossFit Games titles.
The USA Nylon Lifting Belt is equipped for optimal support and a customized contoured fit, and it's available here in four exclusive colorways:
Black: Black foam frame with laser-cut Rogue logo on grey panel
Camo: Black foam frame with Multicam 3" webbing piece and Desert Tan laser-cut Rogue logo
Gray/Red: Black foam frame with Grey 3" webbing with Red laser-cut Rogue logo
Gray/Blue: Black foam frame with Blue 3" webbing with Gray laser-cut Rogue logo
Pink: Black foam frame with Pink 3" webbing with Black laser-cut Rogue logo
Other upgraded features with this latest design include a blacked-out buckle and roller for smoother adjustments, a 0.25" thick foam frame (with ripstop exterior), and a 3"x2" section of hook & loop for attaching a Rogue patch or your own custom patches. We've also updated the end of the strap with an easy-to-find, folded-over portion, allowing the wearer to quickly loosen or remove the belt as needed mid-workout.
The back of the USA Nylon Lifting Belt measures 5" in width, tapering down to 4", with a 3" webbing support strap. There are seven different length options to meet the needs of any size athlete. Please note that the sizes below are based on the dimension of the area where the belt is worn and not waist dimensions.
See More: Weightlifting Belts Available from Rogue
Patented
Gear Specs
Specifications
Designed and Manufactured in the USA
Co-developed with 2x CrossFit Games champ Mat Fraser
5" back panel, tapering into 4", with 3" nylon support strap
1/4" thick Foam Frame with ripstop exterior and anti-microbial interior
Smooth buckle + roller and easy-to-find end of strap = quick and easy adjustments
3x2" Hook & loop section for custom patches (patch not included)
Laser-cut grey kordura Rogue logo on back panel
Overall Color: Black, Camo, Red/Gray, Gray/Blue, Pink
Size Options: XS-XXXL (see Fit Guide)
Fit Guide
ROgue USA Lifting Belt Fit Guide:
| Size | XS | S | M | L | XL | XXL | XXXL |
| --- | --- | --- | --- | --- | --- | --- | --- |
| Measurement | 26"-29" | 29"-32" | 32"-35" | 35"-38" | 38"-41" | 41"-44" | 44"-47" |
How to Measure:
Measure with your clothing on around the area the belt will be worn (NOT pants waist size).
Shipping
Rogue Fast Shipping
The Rogue Shipping System allows you to track your order from the time you place it to the time it hits your door. Order today, track today.
KEY FEATURES OF THE ROGUE USA NYLON LIFTING BELT
Co-Developed with Mat Fraser
Backed by a year of research, testing, and refinement, the USA Nylon Lifting Belt was designed with assistance from Rogue athlete and CrossFit Games champion Mat Fraser, who used the very same belt en route to winning the 2017 Games. If it's up to the standards of the Fittest Man on Earth, it's ready for anything.
The new blacked-out buckle design is paired with a roller for smoother, more precision adjustments. We have also updated the end of the strap with a small, folded-over and sewn-down portion, allowing users to more easily loosen/tighten or remove the belt when transitioning from light/body movement exercises to heavy lifting exercises.
Quality Construction, Made in the USA
Along with the new design, our Nylon Lifting Belt is also now manufactured entirely in the USA, using quality nylon + a 0.25" thick foam frame with a laminated ripstop exterior and antimicrobial interior. The back panel of the belt measures 5" in height, tapering into 4", and includes a laser-cut grey Rogue logo emblem. The durable nylon webbing support strap measures 3" across.
Hook & loop for Custom Patches
Another brand new feature is the 3" long x 2" tall hook & loop section, which gives athletes and gym owners the ability to customize their belts by attaching a patch, similar to how people use custom patches on hats, jackets, and backpacks. Rogue offers a wide range of compatible patches, which you can add to your order here. Customers can also add any of their own existing patches that meet the size standard. (Note: Patch not included)
Whether you're a weightlifting beginner or an experienced competitor, regular use of a quality lifting belt like this one can offer critical support for both the lower back and abdominal muscles, often helping to prevent both serious injuries and nagging muscle strains and discomfort over time.
Reviews
Plan to buy annually
Very poor quality Velcro that will likely not last beyond a year with average use. I received mine last Christmas (but my wife purchased in late September), and the Velcro started to fail this past summer. I could get by, by firmly applying it, but now in November, it is completely useless. It pops under almost any stress, and since the warranty is only one year from purchase, it went in the trash. Most members at our gym confirmed similar experience and have moved onto other manufacturers.
Good starter belt
Velcro is holding up, provides support, but the roller is separating at one end. Don't know if it will tear into the strap eventually.
Yes, I recommend this product
Highly recommended!
After I had a minor back injury from trying to squat heavier than I normally would, I knew I needed to get a belt for support. I was very impressed with the quality and comfort of this belt. After wearing it I have been able to smash my previous PR for squatting and my back has felt great! 5/5
Yes, I recommend this product
Good item
Good product thus far, does what it's supposed to do
Yes, I recommend this product
Velcro Does Not Last
Same experience as several others. Really like the fit of the belt. The Velcro gets "frayed" quite quickly. I have taken a blade to trim the frayed velcro and that does help. However it is very disconcerting when the belt blows open during a lift.
Velcro fails
It was a good belt until the Velcro started failing. It has come undone multiple times during lifts. At first I thought it was user error so I really paid attention to getting it set and it still keeps happening. It's basically unusable now.
Response from Rogue Fitness:
October 17
Thank you for this feedback on your USA Nylon Belt. The team is reaching out to you to gather more information and assist in making this usable again.
This was terrible
Really was expecting better quality, velcro is a disaster, why would you sell this??
Response from Rogue Fitness:
October 6
If you are experiencing issues with your USA Nylon Belt, the team is happy to look into this with you. Please reach out to us here: https://www.roguefitness.com/contact-us
Decent belt but Velcro issues
I was looking for an affordable belt to wear for weightlifting and it served me well for awhile. Like others had said the Velcro is not functioning properly, the belt sometimes will come undone mid lift which is dangerous especially when I'm squatting. Its a comfortable belt and I've been pleased with for the most part but I'm not sure how long these belt are supposed to last?
Response from Rogue Fitness:
September 15
If you have any concerns with your belt, our team is happy to take a look and evaluate from there. We are reaching out to you now.
#RYOUROGUE
Tag your photos on Instagram and Twitter with #RYOUROGUE for a chance to be featured in our gallery
View Full Gallery