Two Rogue Fitness collections are now available for streaming on Netflix.
STRONGLAND features three films, Fullsterkur, Stoneland and Levantadores, that explore strength culture around the world, connected specifically by the ancient tradition of stone lifting.
LEGENDS OF STRENGTH features two chapters, Apollon and Sandow, that uncover the lives of strength legends and their influence on modern sports and health.
Search "Strongland" or "Legends of Strength" to watch!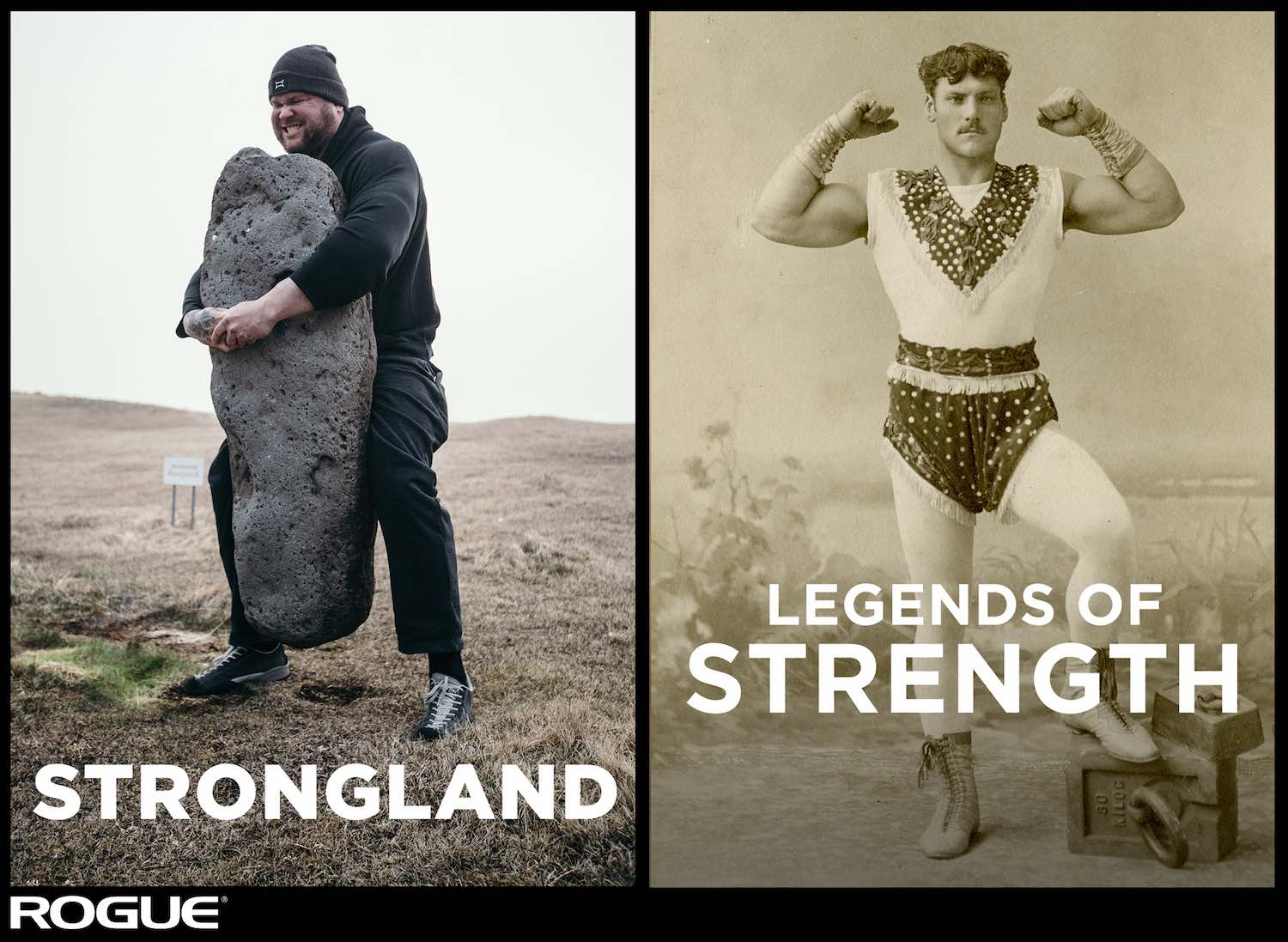 Available in countries and territories listed below.
Afghanistan
Albania
American Samoa
Angola
Anguilla
Antigua and Barbuda
Armenia
Aruba
Australia
Australian Antarctica
Azerbaijan
Bahamas
Bangladesh
Barbados
Belarus
Belize
Benin (Dahomey)
Bermuda
Bhutan
Bonaire, Sint Eustatius and Saba
Bosnia and Herzegovina
Botswana
British Guyana
British Indian Ocean Territory
British Virgin Islands
Brunei Darussalam
Bulgaria
Burkina Faso (Upper Volta)
Burundi
Cambodia (Kampuchea)
Cameroon
Canada
Cape Verde Islands (Cabo Verde)
Cayman Islands
Central African Republic
Christmas Island
Cocos (Keeling) Islands
Cook Islands
Croatia
Cuba
Curaçao
Cyprus
Czech Republic
Democratic Republic of Congo
Dominica
East Timor (Timor-Leste)
Equatorial Guinea
Estonia
Ethiopia
Falkland Islands
Faroe Islands
Fijian Islands
French Guiana
French Polynesia
Gabon
Gambia
Georgia
Ghana
Gibraltar
Greece
Greenland
Grenada
Guadeloupe
Guam
Guernsey
Guinea
Guinea-Bissau
Heard Island and McDonald Islands
Hungary
Iceland
India
Indonesia
Iran
Ireland
Isle Of Man
Israel
Ivory Coast (Cote d'Ivoire)
Jamaica
Jersey
Kazakhstan
Kenya
Kiribati
Kyrgyzstan
Lao People's Democratic Republic
Latvia
Lesotho
Liberia
Liechtenstein
Lithuania
Luxembourg
Macedonia
Madagascar
Malawi
Malaysia
Maldives
Mali
Malta
Marshall Islands
Martinique
Mauritius
Mayotte
Micronesia
Moldova
Monaco
Mongolia
Montenegro
Montserrat
Mozambique
Myanmar (Burma)
Namibia
Nauru
Nepal
New Caledonia
New Zealand
Niger
Nigeria
Niue
Norfolk Island
North Korea (Democratic People's Republic of Korea)
Northern Mariana Islands
Pakistan
Palau
Panama
Papua New Guinea
Philippines
Pitcairn Islands
Puerto Rico
Republic of the Congo
Réunion
Romania
Russian Federation
Rwanda
Saint Barthélemy
Saint Helena, Ascension and Tristan da Cunha
Saint Kitts And Nevis
Saint Lucia
Saint Martin
Saint Pierre and Miquelon
Saint Vincent And The Grenadines
Samoa
Sao Tome and Principe
Senegal
Serbia
Seychelles
Sierra Leone
Singapore
Sint Maarten
Slovakia
Slovenia
Solomon Islands
South Africa
South Georgia and the South Sandwich Islands
South Sudan
Sri Lanka (Ceylon)
Swaziland
Tajikistan
Tanzania
Thailand
Togo
Tokelau Islands
Tonga
Trinidad and Tobago
Turkmenistan
Turks And Caicos Islands
Tuvalu
U.S. Virgin Islands (St. Croix, St. John, St. Thomas)
Uganda
Ukraine
United Kingdom (Great Britain)
United States
United States Minor Outlying Islands (Baker Island, Midway Atoll, Wake Island)
Uzbekistan
Vanuatu (New Hebrides)
Vietnam
Wallis and Futuna
Zambia
Zimbabwe