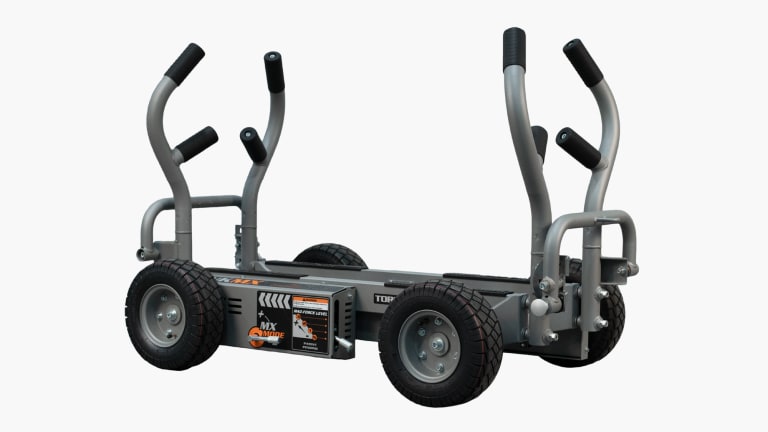 Available only in CONUS 48 states. Pick-up not available
Torque Fitness Tank Weight Horns and Stacking Kit
Torque Fitness Tank V Strap
Torque Fitness Tank Tow Rope
Torque Fitness Tank Tow Strap & Harness
Torque Fitness Tank Strap/Harness Tow Kit
Torque Fitness Tank Group Accessory Kit
Torque Fitness Tank Bumper Kit
Torque Fitness Cover Tank Top
Torque Fitness MX Wheelbarrow Handles
Torque Fitness Tank Swivel Attachment for M4/MX
Gear Specs

Brand
Torque Fitness
Color
Silver
Made In USA
No
Product Weight
244LBS
Length
55.35"
Width
33.39"
Height
37.32"
Product Description
TORQUE FITNESS TANK MX
The TANK™ MX from Torque Fitness is another variation on Torque's game-changing push sled on wheels. Rather than relying on friction-based resistance like most weighted sleds on the market, the TANK™ operates more like a fan bike, with a magnetic + flywheel design that automatically increases resistance as the sled is pushed faster; with no need to stop and load or unload plates. Because the TANK's steel frame sits on four oversized, all-surface tires, the sled can also be used indoor and outdoor, from turf to pavement, producing far less noise than friction sleds and no gouging! The unit's electrostatic paint finish also protects it effectively from the elements.
Like the TANK M4, the MX is bi-directional, eliminating the need to turn the unit around, which also reduces path width reserved for TANK™ runs. New features introduced with the MX include:
25% More Resistance with MX Mode
Larger Tires
Redesigned, Removable Handles with Multi-Position Tow Bar
Optional Weight Horn (for athletes who want to performance more intense towing exercises)
Stackable Storage - 3 units high with optional Stacking Kit
Silver Color Scheme
The patent-pending design weighs 244LBS (111kg) and measures 55.35" x 33.39" x 37.32" (1406 x 848 x 948 cm), with the durable frame and welds backed by a 10-year warranty. The TANK™ MX is optimized for all types of push and pull sled training, with functionality across all skill levels, convenient portability, and High Intensity Interval Training (H.I.I.T) potential (14 minutes of a TANK™ workout = an hour on a treadmill).
Compatible Torque Accessories:
Gear Specs
Specifications:
4-Wheel Push Sled
3 Standard Resistance Level Settings + MX Mode
Magnetic Variable Resistance means resistance increases the faster you push/pull
Indoor/Outdoor Use
Stackable Storage for multiple units
No Need to Load Extra Weights
Resistance Brakes for Safety
Suggested Tire Pressure: 30 PSI
Color: Silver
Shipping
Rogue Fast Shipping
The Rogue Shipping System allows you to track your order from the time you place it to the time it hits your door. Order today, track today.
Frequently Bought Together
Torque Fitness Tank MX
Torque Fitness Tank V Strap
Torque Fitness Tank Tow Rope
Reviews
Other observation
MX mode doubles the versitility of the Sled as you have twice as many levels, the jump from level 2 to 3 is a lot and MX mode as a half step is key. My two kids 12 and 14 are using the tank for dryland training (ice hockey players) and their friends who play football come over to train too. I feel the backwards dragging is crucial for knee health and strength. I have not been able to measure any change in resistance or any mechanical problem despite hard use. Regular sleds can be a pain if training alone as the different exercises require weight changes and there was never consistency as the condition and moisture of the truf/grass change the resistance.
Yes, I recommend this product
Tire Flat
Within six months of using it the tire has already been deflating and I can't get it to hold air. I hadn't done anything crazy with it just sled pushes in my garage. Disappointing because for how much I spent I would expect a better product.
Response from Rogue Fitness:
October 9
We're very sorry to hear you have had issues with your Tank. We are getting your tire replaced now.
Hard to find reviews of this product, here u go!
I have not had a big yard for years and missed sled work so I finally got the Tank MX. First time using a torque product. The questions I could not really answer prior to this purchase were: 1) Do you really need the MX mode? Is it worth the extra money? Yes and Yes. I use highest resistance for all my forward pushes, rows and side stepping work. if you are a bigger athlete you will use and want all that resistance. 2) are the drop in handles secure? Do you need the lower handles? Yes, Yes...the handles are Awesome, heavy duty and perfectly angled. 3) does it track straight? Yes I have a pretty narrow 150foot walkway that I use and tracking has not been a problem. I have a 44lb kettlebell in the bed to keep the wheels from slippling (which they barely do) and easy to tug on the bar and get it on track. It would be really cool if they had some kind of a watt/output meter but this is just GPP for me and if you have to know you could time set distances. Heavy duty, great quality for the price of a mid-range treadmill. I love it.
Yes, I recommend this product
#RYOUROGUE
Tag your photos on Instagram and Twitter with #RYOUROGUE for a chance to be featured in our gallery
View Full Gallery