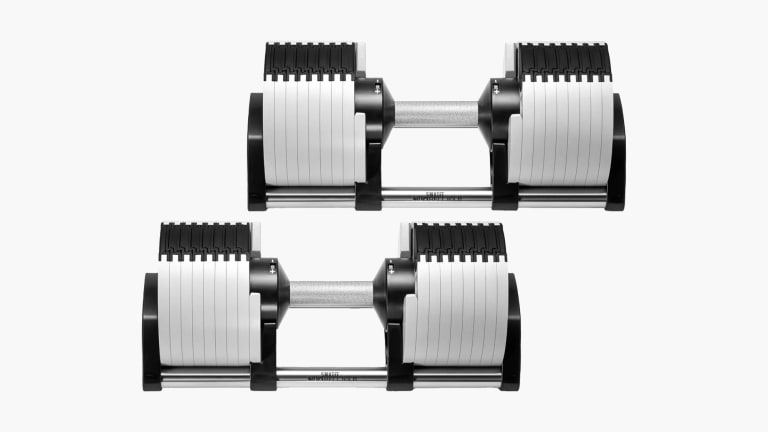 Available only in CONUS 48 states. Pick-up not available
SMRTFT NÜOBELL Dumbbell Set
SMRTFT NÜOBELL Dumbbell Stand
$665.00
Gear Specs

Brand
SMRTFT
Made In USA
No
Product Description
Known as the "World's Smartest Dumbbell," NÜOBELL from SMRTFT is a Swedish-designed, all-in-one adjustable dumbbell that uses real, machined steel weight plates rather than a selector dial, creating a natural feel with optimum durability.
Read More
SMRTFT NÜOBELL
Known as the "World's Smartest Dumbbell," NÜOBELL from SMRTFT is a Swedish-designed, all-in-one adjustable dumbbell that uses real, machined steel weight plates rather than a selector dial, creating a natural feel with optimum durability.
Sold in pairs and available in 50 LB and 80 LB models, each NÜOBELL is adjustable by 5 LB increments, with a simple twist of the handle establishing your preferred custom weight. Now, rather than needing an entire rack of traditional DBs to tackle different workouts or serve multiple athletes, one set of these innovative new training tools does the job on its own.
NÜOBELL sets are available in three standard colorways (Black, Ash White, or Tactical Green). Customers can also choose to upgrade to a Matte Black model, featuring rust-resistant aluminum handles and cradles.
Note: Matte Black sets feature an upgraded aluminum handle and cradles.
Optional SMRTFT NÜOBELL Stands:
Customers can also add a specially designed NÜOBELL Floor Stand to their order at an additional price. There are 3 different stands to choose from; all compatible with both the 50LB and 80LB sizes, keeping the DBs well supported and easily accessible.
NÜOBELL High Performance Stand - Black
NÜOBELL High Performance Stand Steel - Graphite
NÜOBELL Heavy Duty Stand (Added Cost) - Black
Gear Specs
Specifications:
Adjustable All-in-One Dumbbell System
Sold in Pairs
Patented Swedish Design
Steel and Plastic Construction w/ knurled handle (Handle upgraded to aluminum in Matte Black version)
Available in 50LB and 80LB max weight versions
Adjustable by 5LB increments by flexing handle
2 Portable Cradles included
Color: Black, Ash, Tactical or upgraded to full Matte Black w/ aluminum handles and cradles
SMRTFT offers a 2-year warranty on NÜOBELLs



Browse More: Traditional, Loadable, and Adjustable Dumbbells Available from Rogue
Shipping
Rogue Fast Shipping
The Rogue Shipping System allows you to track your order from the time you place it to the time it hits your door. Order today, track today.
Reviews
Great Weights, terrible service from Rogue
Great weights but terrible service by rogue. Wish I would have bought from someone else. Took two additional requests for information until the OEM just sent me the weights. Not happy at all with Rogue
Cheap internal components. Poor warranty.
I've had my 80lb Nuobells for a year and a half. I use them fairly regularly and am always sure to handle them with care (no dropping, slamming, or even setting down forcefully). About a month ago, one handle's numbers became misaligned and the other handle wouldn't move at all (both happened on separate occasions over the course of a month or two). When I contacted support, they said it was essentially my fault due to "dropping the weights" and would not cover cost of replacement even though they were still under warranty. After much back and forth, I got one handle covered under warranty, but the other would need to be purchased at nearly $200 plus S&H. After more research, I've found there are cheap plastic internal components that wear out over time no matter what. It seems both handles will need to be replaced after a certain time just based on normal usage, and I will be forced to purchase replacement handles, because the company will not cover their own poor quality product even when under warranty. It's unfortunate, because otherwise it is a very good product. But I will not spend $400+ every 2 years to replace the handles. Unfortunately I'll likely be looking for a different dumbbell set.
Nuobell stand and misc observations about dumbbell
I bought the 80 lb Nuobells, and so far so good. The reviews here seem to be fairly evenly divided between "the greatest thing since sliced bread" and "they broke and now I have 2 new (expensive) boat anchors". Many have adamantly sworn they haven't dropped them, and yet the handles failed to dial in/out. Having spent many years in a commercial gym I do know that guys love to drop dumbbells and deadlifts (I was always taught that if you can't control the entire movement, you've got too much weight on). I did watch a YouTube video by Average Joe Innovations where he tore down a Nuobell handle and showed how the internals work. He pointed out that the guide cam (slides along the groove drilled into the shaft to extend/retract the shaft) is plastic and probably the "Achilles Heel" of the dumbbells, as they can break if dropped. He suggested a metal cam button. At any rate, you shouldn't drop ANY adjustable dumbell, as they are more fragile than fixed ones (and I've even seen fixed dumbbells broken from abuse). One other thing - if you're buying the Nuobell stand, spend the extra $10 and get the two legged one vs the one legged stand. Much more stable and almost zero wobble.
Yes, I recommend this product
Best piece of equipment in my gym!!
Have had mine for three years, have worked flawlessly!! no I don't throw mine around like regular gym dumbbells and have never drop them, I would not recommend dropping any adjustable dumbbells,
Yes, I recommend this product
Handles are JUNK
If you or someone who lifts heavy into exhaustion, these are not for you. The slightest bump against your leg or on the floor will snap the plastic inside of the handles and you'll know we will longer be able to adjust the weight throughout the full range. Customer service will blame everything on improper use. The warrantee is virtually covers nothing. I would absolutely not recommend these. Super disappointed.
Handles stopped working after 5 months and hardly
Looks great! Mine lasted 5 months and barely got a chance to use them before both handles wont allow adjustment below 25 pounds any more. Now I have $600 junk, what a waste
Plastic and weak. Trash dumbbells....
After spending $800 on dumbbells I thought they were going to great. Well months later what happened to everyone else happened to me. The weak plastic separated and when I contacted the company they told me to pay $185 plus shipping they will send me a new one! No warranty even mentioned. They said I was too rough with them. These are weak and terrible. Don't waste your money like I did.
Great!
Couldn't have asked for better weights. Worth every penny
Yes, I recommend this product
#RYOUROGUE
Tag your photos on Instagram and Twitter with #RYOUROGUE for a chance to be featured in our gallery
View Full Gallery