OSO Magnetic Rogue Barbell Collars
Made in U.S.A. with imported magnets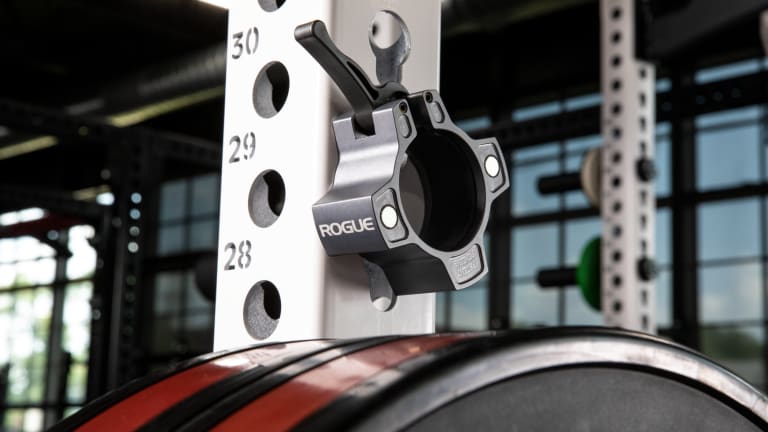 OSO Magnetic Rogue Barbell Collars
Made in U.S.A. with imported magnets

3 Ships Free Item
Buy 3 or More Items Marked "3 Ships Free" And They All Ship for Free
Gear Specs

Brand
OSO
Color
Gun Metal
Made In USA
Yes, with imported magnets
Product Weight
0.45LB (single) / 0.9LB (pair)
Width
1.5"
Material Type
6061 Billet Aircraft Grade Aluminum
Product Description
The exclusive Rogue OSO Barbell Collar is now available with (4) built-in, high-strength magnets, allowing athletes to simply stick the collars directly to the rack in-between uses. It's an easy solution to an age-old collar storage problem, and offers convenient arm's reach access to the OSOs when you next need them.
Read More
OSO Magnetic Rogue Barbell Collars
Gunmetal
The exclusive Rogue OSO Barbell Collar is now available with (4) built-in, high-strength magnets, allowing athletes to simply stick the collars directly to the rack in-between uses. It's an easy solution to an age-old collar storage problem, and offers convenient arm's reach access to the OSOs when you next need them.
Like the standard Rogue OSO Collars, these magnetic collars are machined in the Rogue factory from aircraft-grade aluminum with a gun metal gray anodized finish and industrial, gear-style design. Compatible with any standard 50mm Olympic barbell sleeve, each Rogue OSO MAG Collar measures 1.5" in width and includes a lock/unlock lever for a secure hold and a rubberized interior lining to protect your bar.
There are two magnets on each face of the collar, and they are mechanically pressed into specially machined pockets (rather than glued) to ensure their stability. All of our MAG Collars are backed by a 2-year warranty.
Patented
Gear Specs
Specifications:
Magnetic Barbell Collars - Sold in Pairs
Made in the USA with imported magnets
Designed to be used on 50MM Olympic Bar Sleeves
6061 Billet Aircraft Grade Aluminum construction
(4) High Strength Magnets enable storage of collars directly on side of rack/rig
Width: 1.5"
Black Rubberized interior lining to protect bar
Locking clamp mechanism for secure hold
Color: Gunmetal Gray w/ Rogue branding
2 Year Warranty*
Patented
See More: Barbell Collars Available from Rogue
*Rogue Fitness will warranty this product from defects in material, functionality and workmanship for a period of 2 years from the date of purchase of the product. The warranty applies only to the original purchaser of the product for so long as the original purchaser owns the product, and is non-transferable. Warranty may be voided for any product which has been damaged due to negligent or faulty use, alteration, maintenance, storage or handling by the user. Any specific issues regarding a Rogue product with which a customer is not satisfied will be reviewed on a case-by-case basis.
Shipping
Rogue Fast Shipping
The Rogue Shipping System allows you to track your order from the time you place it to the time it hits your door. Order today, track today.
Reviews
Too Snappy
I've had several sets of collars, these consistently when you unlock snap back and have got me a few times pretty good. Also the extra back click to lock, overall I like the old ones better. I won't be buying these again. Also need more color options, got to have drip as my 13 year old would say!
Weak Plastic Levers Don't last long
I have 14 pairs of these and the plastic lever to clamp it shut breaks easily. They should make metal levers to solve this problem. I have had to pay to replace this same part on 5 different clips. Other than this issue I really like the product.
Response from Rogue Fitness:
January 23
Thank you for posting and we're sorry to hear of any kind of issues with your Oso Magnetic Collars. Our warranty team is reaching out to you now to take a look at them.
Weakest Link
I purchased these collars for their magnetic capabilities. While I am please with that, I am disappointed with the overall quality. As we all know, a chain is only as strong as its weakest link, and these collar's weakest link is the plastic levers. I really need to know how/why Rogue thought these levers were going to withstand the stress they're expected to endure. Why wouldn't Rogue manufacture the levers out of the same materiel as the collars themselves? Be it known that these levers did not fail as a result of the barbell having been dropped whatsoever.
Response from Rogue Fitness:
Dec 2022
Thank you for posting your feedback! Our team has sent out your replacements.
Magnets are too Weak
The Collars work well on the Bar, but the magnets aren't strong enough. When I put them flat against my Rogue Monster Lite rack they often slide right down the side.
Response from Rogue Fitness:
Nov 2022
We're very sorry to hear this! Our team is reaching out now to look into this.
Magnets work great
Purchased these and two other Rogue collars. So far these are the only pair not broken. Magnets are a neat idea. Kinda heavy and bulky but they hold tight.
Yes, I recommend this product
Way too tight when open
It's really hard to get it on my Rogue EZ curl bar nor on my normal barbell (and no it was not closed). Once closed it's not gonna move, that's for sure. I tried leaving them closed for a couple weeks and it did slide a bit better but not to a degree that is acceptable for a Rogue product, and it is wildly outperformed by the spring clips that came free with my barbell. I was gonna put two stars because maybe for some people, the fact that once closed, it is absolutely sure to not move would compensate for the fact that it's so hard to get on the bar. But no, they could have made it somewhat like the HG collars with a hinge. So because it seems like a downside that is not necessary, one star.
Originally posted on roguecanada.ca
Response from Rogue Fitness:
Jun 2022
Our OSO collars utilize a lock/unlock lever feature, and it is possible these are not all the way open. We will have our team reach out to make sure there is not a further issue here.
Could be better
I ordered these with my RM4 rack and have been using them for a few weeks. Within a week a magnet pulled right out of the collar and stuck to the plate…Not a big deal since a little super glue fixed the issue but for 75 I shouldn't have to deal with that. Also, these are tight so when you put them on/off you need to make sure to turn the handle as far as it can go to the loosened side in order for it to slide on well. I'm guessing this is what's leading to some failures in the collars. Personally I would have liked to see a small piece of aliminium used instead of the plastic for the leaver. In all honesty the magnetic feature is handy however for the price and what I'm seeing for failures in the collars I think I would have been better off just getting the regular OSO collars. Live and learn…
Response from Rogue Fitness:
May 2022
We apologize for the issue with the magnets! Our team is reaching out to get this resolved now.
Nope
Magnetic, dope looking, sounds like they are built like a tank, reviews are hit or miss on these, and finger slapping is a real thing. I'm here to add to it and tell you these are not good. My entire gym is Rogue and I would not recommend these to my fellow Rogue purchasers. I just can't wrap my head around why so much of Rouge's equipment is built like a tank and then they go ahead and use grabage plastic finishes on pieces. This one lever broke after one month of medium, not hard, use.
Response from Rogue Fitness:
Apr 2022
We apologize for any issues with these collars. Our team is reaching out now via email to resolve this!
#RYOUROGUE
Tag your photos on Instagram and Twitter with #RYOUROGUE for a chance to be featured in our gallery
View Full Gallery