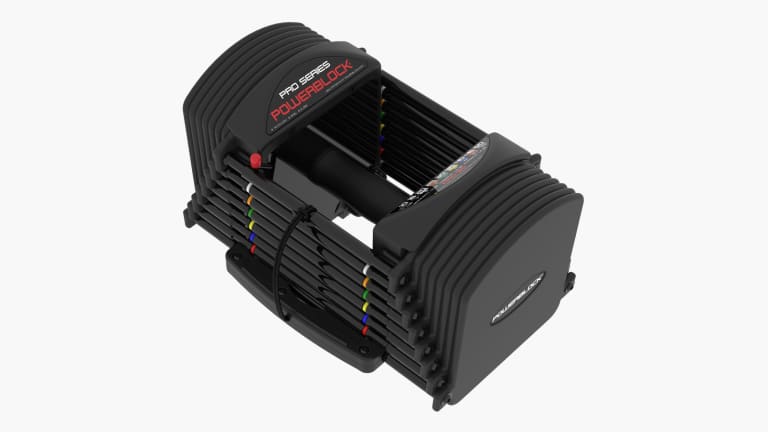 Available only in CONUS 48 states. Pick-up not available
Gear Specs

Brand
PowerBlock, Inc.
Color
Black
Made In USA
No
Length
13"
Width
7"
Height
7.25"
Other Product Specs
Grip Diameter: 1.5" / 38mm
Product Description
POWERBLOCK PRO DUMBBELLS
One set of PowerBlock Pro 50 Dumbbells can replace 20 pairs of traditional DBs (the equivalent of 1049 LBS of free weights), as users can adjust the weight in 2.5 LB increments all the way up to 50 LBS on each hand. This innovation can save gyms dramatically on both purchase costs and storage space.
Please Note: The Pro 50 is not an expandable unit. More PowerBlock variations can be found here.
Each PowerBlock Pro 50 features urethane-coated steel weight plates and color-coded side rails that correspond to a clear weight reference chart on the handle. To change the weight in just seconds, slide the provided selector pin into the rails at the weight you want; the durable polypropylene pin is magnetized to ensure it stays locked in. Then reach inside the "core" and grab the ergonomic, rubber-grip handle. When you lift the handle, the weight you selected is lifted along with it.
Want to make micro-adjustments as you train? The 'Auto-Lock' lever on the handle enables the removal of two chrome ballast weights within the lower tubes of the block. To remove the inner weights, tilt the handle back so the weights don't spill out, then pull the lever down. Carefully remove the inner weights and put them aside or in your PowerBlock Stand or PowerBlock Cart. Then drop the handle back in the weight stack to close the lever, or do it manually. To add the weights back into the handle reverse the process.
Note: For home use only

PowerBlock Storage Options:
Gear Specs
Specifications:
Sold In Pairs
Dimensions : 13″L x 7" W x 7.25″ H
Steel Weight Plates - Black Urethane molded
Weight Increments : 2.5, 5, 7.5, 10, 12.5, 15, 17.5, 20, 22.5, 25, 27.5, 30, 32.5, 35, 37.5, 40, 42.5, 45, 47.5 and 50 LBS (per hand)
Rubber Grip Handle with Auto-Lock feature
Contoured TPR Grip / 1.5" Dia (38mm)
Color-Coded Weight Bands + Polypropylene Selector Pin
1 Pair Replaces 20 pairs of traditional dumbbells, the equivalent of 1049 LBS of free weights
Shipping
Rogue Fast Shipping
The Rogue Shipping System allows you to track your order from the time you place it to the time it hits your door. Order today, track today.
Frequently Bought Together
PowerBlock Pro Dumbbells
Rogue PowerBlock Cart
Reviews
I love it
Great product, I use it practically everyday, multiuse
Yes, I recommend this product
#RYOUROGUE
Tag your photos on Instagram and Twitter with #RYOUROGUE for a chance to be featured in our gallery
View Full Gallery