Rogue 25MM IWF Olympic Weightlifting Bar - Cerakote
Made in U.S.A. with US & EU Steel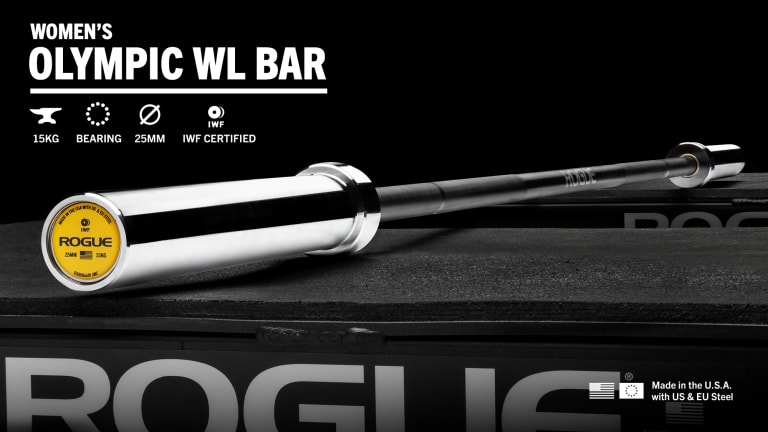 Rogue 25MM IWF Olympic Weightlifting Bar - Cerakote
Made in U.S.A. with US & EU Steel
Product Description
This edition of the Rogue 25MM Olympic Weightlifting Bar includes a Black Cerakote finish with official International Weightlifting Federation (IWF) branding on both the center of the shaft and the endcaps. This denotes the bar's approval from the IWF for use in women's competition.
Read More
Rogue 25MM IWF Olympic Weightlifting Bar - Cerakote
This edition of the Rogue 25MM Olympic Weightlifting Bar includes a Black Cerakote finish with official International Weightlifting Federation (IWF) branding on both the center of the shaft and the endcaps. This denotes the bar's approval from the IWF for use in women's competition.
Each 15KG bar is machined and assembled in Columbus, Ohio, and features a 215,000 PSI steel shaft, quality needle bearings, and chrome sleeves with 12.5" of loadable length. The exclusive Rogue knurl pattern (there is no center knurl) is precision-cut for a firm grip without the sharpness or abrasiveness of many import bars.
We firmly believe the Rogue Olympic Weightlifting Bar ranks among the best bearing bars in the industry for feel, durability, and performance. Its approval from the IWF further proves the high standard to which it's held.
Please Note: Cerakote has an excellent resistance to corrosion, but metal-to-metal contact, particular on the sleeves, can still cause wear over time. For the best long term results, some cleaning and maintenance may be required. See our Ohio Bar Care Page for more info.
See Also: The Original 25mm Oly Bar - Bright Zinc
See More: Women's 15KG Barbells
Patented
Gear Specs
Specifications
Made in the USA with US and EU Steel
Women's Bearing Bar (International Weightlifting Federation standards)
Bar Weight: 15KG
Shaft Diameter: 25MM
215,000 PSI Tensile Strength EU Steel
Olympic Knurl Marks (no center knurl)
Bar Length: 79.14"
Distance Between Sleeves: 51.50"
Loadable Sleeve Length: 12.50"
Black Cerakote Color Finish w/ Chrome Sleeves
F6-R Rating
Official IWF branding on center of shaft and endcaps
Shipping
Rogue Fast Shipping
The Rogue Shipping System allows you to track your order from the time you place it to the time it hits your door. Order today, track today.
Frequently Bought Together
Rogue 25MM IWF Olympic Weightlifting Bar - Cerakote
Rogue OSO Barbell Collars
Rogue Barbell Cleaning Kit
Gear Specs

Brand
Rogue Fitness
Color
Black / Chrome
Guarantee/Warranty
Construction Warranty
Made In USA
Yes, with US & EU Steel
Loadable Sleeve Length
12.50"
Bar Length
79.14"
Distance Between Sleeves
51.50"
Diameter
25MM
F Rating™
F6-R
Bar Type
Women's Bars
Bar Use
Olympic Weightlifting
Bushing/Bearing
Bearing
Bar Weight
15KG
Knurl
Olympic
Center Knurl
No
Knurl Mark
Olympic
Shaft Coating
Cerakote
Sleeve Coating
Chrome
Tensile Strength
215,000 PSI
Black Cerakote Finish w/ IWF Logo
This version of the 25MM Olympic Weightlifting Bar features a Black Cerakote shaft finish; a ceramic-based coating commonly trusted by firearm manufacturers for its remarkable durability in thin applications. Cerakote can deliver superb abrasion/wear/corrosion resistance over time—100X that of standard black zinc—and it enables more variety in color and design, including the inclusion of the official IWF logo, in gold, on the center of this shaft. The IWF logo also appears on both endcaps, denoting the bar's approval for use in IWF sanctioned women's competitions.
215,000 PSI Tensile Strength Steel
Our Women's Oly Bar is made exclusively from high-grade EU steel, producing a shaft with a minimum tensile strength of 215,000 PSI. Each shaft is ground and polished prior to machining (to ensure a smooth finish), and individually tested and straightened to within 0.015" (0.38mm). The sleeves are machined from a single piece of steel, with a chrome finish. The goal is to create just the right amount of "whip" or "flex" needed for competitive Olympic lifting.
There are 10 sets of needle bearings, 5 sets per sleeve—same as the Men's Oly Bar. These high-quality bearings produce a smooth, reliable spin across high-intensity, day-to-day use; a trait hard to find in many women's bars on the market.
Every Oly Bar is machined in Columbus, Ohio, on new Haas machines that are built in the USA. For the Olympic knurl, we experimented with several knurling patterns before choosing the full but minimally aggressive texture that top weightlifters responded to best. Rather than relying on visibility alone, each bar is then manually tested to ensure the actual "feel" is up to Rogue standards. Note: There is no center knurl on the IWF Cerakote model.
Part of the Rogue Woman's Arsenal
Designed to IWF specifications for the competitive female Olympic lifter, the Cerakote Oly WL Bar weighs in at 15KG with a diameter of 25MM. It's part of a growing line of Rogue barbells that are engineered specifically for the high-performance female athlete. This includes the Rogue Bella Bar 2.0, the Women's B&R Bar and the Women's Training Bar. We also offer a wide array of exclusive Rogue women's training apparel to keep you moving free and easy through your regimen.
F SCALE™
The F Scale™ is a durability scale for barbells based on functional testing at stresses similar to what barbells experience when being dropped from overhead. Bars that have been treated with Rogue Work Hardening (RWH™) are designated by having an R in their F Rating™. For more information on F Scale™ click here.
OXIDATION RATE
The resistance of a barbell to oxidation depends on the type of steel and the coating. Barbells at the lower end of the spectrum will require more care and maintenance to preserve their appearance than barbells at the upper end of the spectrum.
Reviews
Coating Flaking/Chipping - Defective Bar
Not long after I got this bar I noticed some of the Cerakote was wearing away in a spot. After about four months' use I had several spots of cracking, flaking, and chipping. I only use the 360 Barbell Brush that I purchased with the bar, I rarely use chalk, and I'm the only one who uses my bar. I lift in a properly-equipped gym with padded J-cups. When I contacted Rogue, they stated that it was damage sustained from metal-on-metal contact. This is impossible, especially at the handful of parts inside the rings where the bar can't meet the J-cups. Rogue refused to replace the bar. I will be looking elsewhere for my equipment, which is sad as they are a local business for me. I am hugely disappointed over the progressive worsening of this defective bar over the first four months of use and Rogue's handling of the situation.
Great whip smooth spin poorly made
I've been using this bar for about 7 months now. It has smooth spin and great whip the only problem I have with it and the men's bar that I purchased is the crome is coming off the collars and my girlfriend has cut her finger on it and we have both received crome splinters in our fingers
Response from Rogue Fitness:
Nov 2021
We are glad to see that you are satisfied with the performance of the bar. We apologize for the chrome issue and are following up with you regarding this now.
BEST PURCHASE EVER
I love my bar. I use it every time we have lifts in the workout, it's so smooth and makes everything feel so effortless.
Yes, I recommend this product
Wish I would've bought a different one
Bought this for my daughter for Christmas. It's not what I expected. The spins not very good and there's next to no knurling. Makes it hard for hand positions. I asked about exchanging it but was told since she used it I couldn't. That said Rogue makes great products
#RYOUROGUE
Tag your photos on Instagram and Twitter with #RYOUROGUE for a chance to be featured in our gallery
View Full Gallery