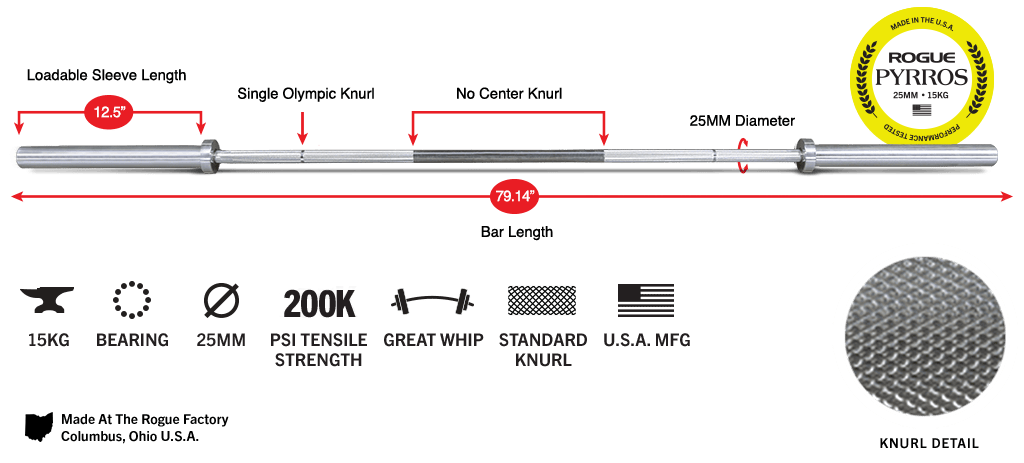 Gear Specs
| | |
| --- | --- |
| Brand | Rogue Fitness |
| Bar Type | Women's Bars |
| Bar Use | Olympic Weightlifting |
| Bar Weight | 15KG |
| Diameter | 25MM |
| Knurl | Olympic |
| Center Knurl | No |
| Knurl Marks | Olympic |
| Shaft Coating | None - Stainless Steel |
| Bar Length | 79.14" |
| Loadable Sleeve Length | 12.50" |
| Sleeve Coating | Chrome |
| Bushing/Bearing | Bearing |
| Tensile Strength | 200,000 PSI |
| Guarantee/Warranty | Construction Warranty |
| Made In USA | Yes |
ROGUE PYRROS STAINLESS WOMEN'S OLYMPIC WL BAR
Combining a stainless steel, 200K PSI tensile strength shaft with chrome sleeves and quality needle bearings, this version of the Rogue Pyrros Women's Olympic WL Bar ranks among the best in the industry for feel, durability, and performance. Each 15KG bar is machined and assembled in Columbus, OH, and includes an exclusive Rogue knurl pattern that's precision-cut for a firm grip without the sharpness or abrasiveness of many import bars.
Rogue spent months researching and testing high strength stainless steel alloys, culminating in the creation of the world-record setting Elephant Bar used at the 2016 Arnold Strongman Classic. This bar handled one of the greatest loads in history due to the length of the shaft and sleeves as well as the use of 1,000 pounds of 2-inch thick steel plates. That very same steel went into making our 25mm Pyrros Stainless Steel Women's Olympic Bar, and it's a difference you can instantly feel.
Rogue also offers the Women's Olympic WL Bar in Bright Zinc or Polished Chrome finish, available here.
Additional Specifications:
Made in the USA
Women's Bearing Bar (International Weightlifting Federation specifications)
5 Needle Bearings per sleeve
Olympic Knurl Marks (no center knurl) in non-aggressive pattern
Tensile Strength: 200,000 PSI
Dome-tag Endcaps

Key Features of the Women's Pyrros Bar:
1

The Difference of Stainless Steel

The Pyrros Oly Bar is made from a high-strength, stainless steel alloy, producing a shaft with a minimum tensile strength of 200,000 PSI. Selected for its optimal "whip" and "flex". With no plating, the knurl is left exactly how we machined it, providing a natural feel that is less reliant on chalk, with better corrosion resistance than bare steel. Please Note: Rogue recommends using a synthetic bristle brush, NOT a steel brush, to clean a stainless steel shaft. Steel on steel can cause rusting over time. See more tips here: Bar Care & Maintenance.

2

Precision Machining

Every Pyrros Bar is machined in Columbus, Ohio, on new Haas machines that are built in the USA. Each shaft is ground and polished prior to machining and individually tested and straightened to within 0.015" (0.38mm). Each sleeve is machined to our exacting standards from a single piece of steel. After machining, all parts are gauged to ensure optimum performance.

3

Built to meet International Weightlifting Federation (IWF) Specifications

In our Barbell Assembly Department, the shaft is again tested and straightened and the components of each bar are weighed together. Once the weight standard of +15 g/-7.5 g is met, the bar is assembled by hand followed by an individual test for straightness and reliable spin.

4

A LEGEND'S INPUT

A national hero in Greece, Pyrros Dimas owns three World Weightlifting Championships along with three gold medals from the 1992, 1996, and 2000 Olympic Games. He has few equals in the sport, so designing a barbell up to his standards was both a privilege and a great challenge. The bar includes an original end-cap design that pays homage to Pyrros's Greek heritage and Olympic triumphs.

5

A New Addition to Your Rogue Arsenal

Rogue offers a wide range of additional equipment and accessories to potentially combine with your Pyrros Bar. This includes our Competition Bumper Plates, Competition Collars, and exclusive barbell storage options.

6

Fast Rogue Shipping

Orders placed by 3PM ship the same day. The Rogue Shipping System allows you to track your order from the time you place it to the time it hits your door. Order today, track today.
Add to Registry

Please choose the registry you want to add this product to: