Rogue Adjustable Bench 2.0 - Accessories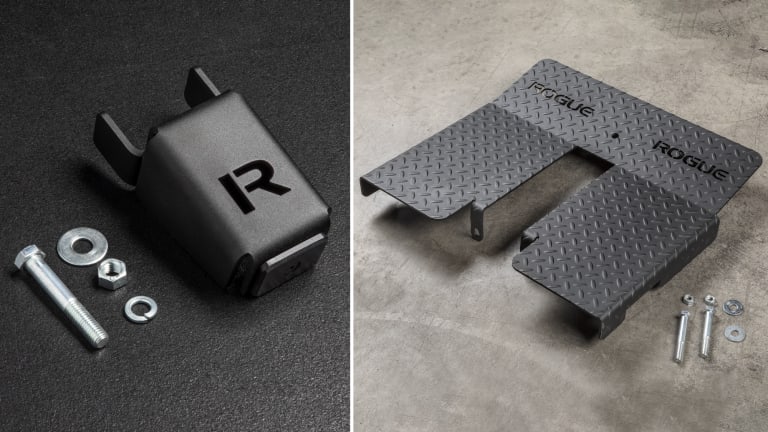 Rogue Adjustable Bench 2.0 - Accessories
Adjustable Bench 2.0 Spotter Deck
Spotter Deck Only - Bench Not Included
Adjustable Bench 2.0 Vertical Storage Bracket
Storage Bracket Only - Bench Not Included
Gear Specs

Brand
Rogue Fitness
Made In USA
Yes
Product Weight
29LB (Spotter Deck) / 4LB (Storage Bracket)
Steel Notes
2x3" 11-gauge laser-cut steel
Product Description
Important: The Rogue Adjustable Bench 2.0 has been discontinued as we have shifted production entirely to Version 3.0. Accessories for the 2.0 bench can still be ordered from this page, but customers looking for our latest adjustable weight bench can now find it here: Rogue Adjustable Bench 3.0.
Read More
Rogue Adjustable Bench 2.0 - Accessories
Important: The Rogue Adjustable Bench 2.0 has been discontinued as we have shifted production entirely to Version 3.0. Accessories for the 2.0 bench can still be ordered from this page, but customers looking for our latest adjustable weight bench can now find it here: Rogue Adjustable Bench 3.0.
Gear Specs
Specifications:
Made in the USA
(6) Adjustment Positions: 0-85 degrees
Pad Height:
Pad Width:
Length:
Virtually No Gap between Seat/Back Pad
(2) Seat Positions: Flat or Upward Angle
Wheels and plastic-lined handle for mobility
Rubber caps on legs to prevent sliding, protect floor
Optional Spotter Deck (can be added via dropdown menu)
Optional Vertical Storage Bracket
Color: Black
Shipping
Rogue Fast Shipping
The Rogue Shipping System allows you to track your order from the time you place it to the time it hits your door. Order today, track today.
Optional Spotter Deck Add-On
Whether you're ordering a new Adjustable Bench 2.0 or want to upgrade an existing one, Rogue is now offering an optional 0.1875" thick, diamond-tread steel Spotter Deck, which you can mount to the unit using the provided hardware. The deck is finished in our signature black powder coat and measures 23.5" across with 9.75" of width on each side for users to stand. When installed, it has a total depth of 21" and sits 3.75" above the floor. We've also designed the deck with a slight upward incline so spotters can get more leverage when assisting with a lift.
Optional Vertical Storage Bracket Add-On
This 3/16" thick laser-cut and formed steel bracket is designed to bolt onto the Rogue Adjustable Bench, enabling users to store the bench vertically when not in use. The bracket includes a laser-cut Rogue "R" logo and a UHMW pad on the end to prevent metal from making contact with the floor when stored. User assembly is required: a 5/32" allen key and 7/16" wrench are needed to attach the plastic and a 3/4" socket / wrench are needed to tighten the bracket to the bench frame. Tools are not provided. PLEASE NOTE : Early versions of the Adjustable Bench (purchased prior to 2015) may not include the bracket mounting hole. Instructions are included for users to drill their own hole into the frame.
Reviews
Should of came standard
Allows me to store my bench vertically. It's over built and very sturdy.
Yes, I recommend this product
Should come standard with bench
Great addition to the 2.0 adjustable bench, however it should've come standard. Makes it very simple to stand and store vertically for space saving.
Yes, I recommend this product
Good Bench…but doesn't hold up…
I've had this bench for a bit over 2 years. It's been a good bench. I have been disappointed in the quality as others have mentioned. The handle on my bench broke off and the rubber end caps have slowly been tearing after moving around my home gym. Nothing crazy, just normal use that you'd think this tank of a bench could handle. After contacting customer service to check on replacement parts, I was told they could not replace the rubber end caps on the bottom of the bench, that they were not available. However, I was told I could purchase a new plastic handle cover to replace the one that broke off. Sorry, I buy from Rogue so pieces don't fall apart. You'd think with the price of this product, it would last a bit longer and pieces like this would be covered. This interaction has dinged my trust a bit in Rogue's quality in their adjustable bench and others should be aware of issues as well as how they are handled before purchasing.
Cheaping out on the details
While the general build quality of the item is good, some of the components--especially the handle--are cheaply made. The handle on my unit came loose, despite light use, due to a poor fit between the screw and the handle itself. The problem is that the screw seats into the plastic handle, which is not durable. This could be corrected by having a metal insert to screw into. I have contacted Rogue customer service, and they have told me that: 1) they do not cover this part under warranty, and 2) they cannot sell me a replacement part. I would hope that, as a premium brand, it would be covered, or that it woult otherwise be possible to get a replacement piece. While it can be used/moved without the handle, my wife (for whom the bench is heavy to begin with) has found it very uncomfortable to move, without having a handle attached. I have attached photos of the handle assembly, which show the screw itself, and the plastic hole it's intended to screw into.
Response from Rogue Fitness:
Jul 2022
Thank you for taking the time to submit your feedback. We had our team review this again and apologize for any issues here. We are getting your replacement handle components shipped out now.
Love my new bench
So glad I made this purchase it's so well made very sturdy
Yes, I recommend this product
Best adjustable bench I've used!
This flat bench is built like a tank! I liked that it shipped fully assembled and yes, the shipping is expensive, but you're getting a rock solid piece of steal ready to go, out of the box. Personally, I like that it's not bolt-together, per-say and I think it's rock solidness can be attributed to that. This bench replaced another very popular adjustable bench from that 'Colorado' based retailer. You all know the one! The Rogue bench is so much better than that 'other' adjustable bench. The 'other' bench had to be assembled upon delivery and though it was solid in the flat position, as soon as you set it at an incline, the back portion swayed back and forth worse than a tree in a hurricane! There is a DIY fix for this issue, but I don't feel like I should have to do work myself to improve a bench that expensive. Sure, the Rogue costs more, but I wanted something STABLE and I don't think there's an adjustable bench out there more solid than the AB-.2.0. Though the seat and back don't have as many adjustable settings as the 'other' bench, the trade off for heft and stability wins out and there are enough positions that I can hit every angle I need during my workouts. I cannot overstate how stable this thing is when doing seated OHP or incline benching. There is no rocking and no swaying. It would be nice to have one more additional seat incline setting, but honestly the one you get works great. I've never slid off the bench when in incline. You remain very secure. If there was one con, I would say it would be nice to have a textured grip to the pad covering. It's a personal preference, but I like having the pad grip to help lock the body in place. It's not a deal breaker, but would be nice if Rogue offered an option like what they do for their flat benches with the Thompson/Competition pads.
Yes, I recommend this product
Very heavy duty
Extremely heavy duty worth the money. Love it!!!!!
Yes, I recommend this product
Stout fella
This thing is rock solid and very comfortable. I and my cleints love it. I highly recommend.
#RYOUROGUE
Tag your photos on Instagram and Twitter with #RYOUROGUE for a chance to be featured in our gallery
View Full Gallery