Durometer Rating
Softer = More Bounce
Harder = Less Bounce
Rogue Echo Bumper Plates V2
A budget-friendly bumper plate.
Rogue Echo Bumper Plates have an IWF standard 450MM diameter, minimal surface imperfections, and a weight within 1% of its target. Combined with stainless steel inserts and quality virgin rubber, the Echos offer a dead bounce and durability rarely seen in an economical plate.
Echo Bumpers are available in pairs or as sets. Fully equip a new garage gym or save money supplying a school weight room or large training facility. If you're looking for plates that will be reliable workhorses at a reasonable price, the Echos will not disappoint.
Approved for the new Army Combat Fitness Test (ACFT)
This product has been officially approved for use with the United States Army's Combat Fitness Test, a 6-event readiness assessment that's replacing the previous 3-event Army Physical Fitness Test in 2020. The grueling new ACFT is neutral across all genders and age groups, and includes a strength deadlift, standing power throw, hand-release push-ups, sprint/drag/carry, leg tuck, and a 2-mile run.
See more: Plates available at Rogue.
Shipping Zone Map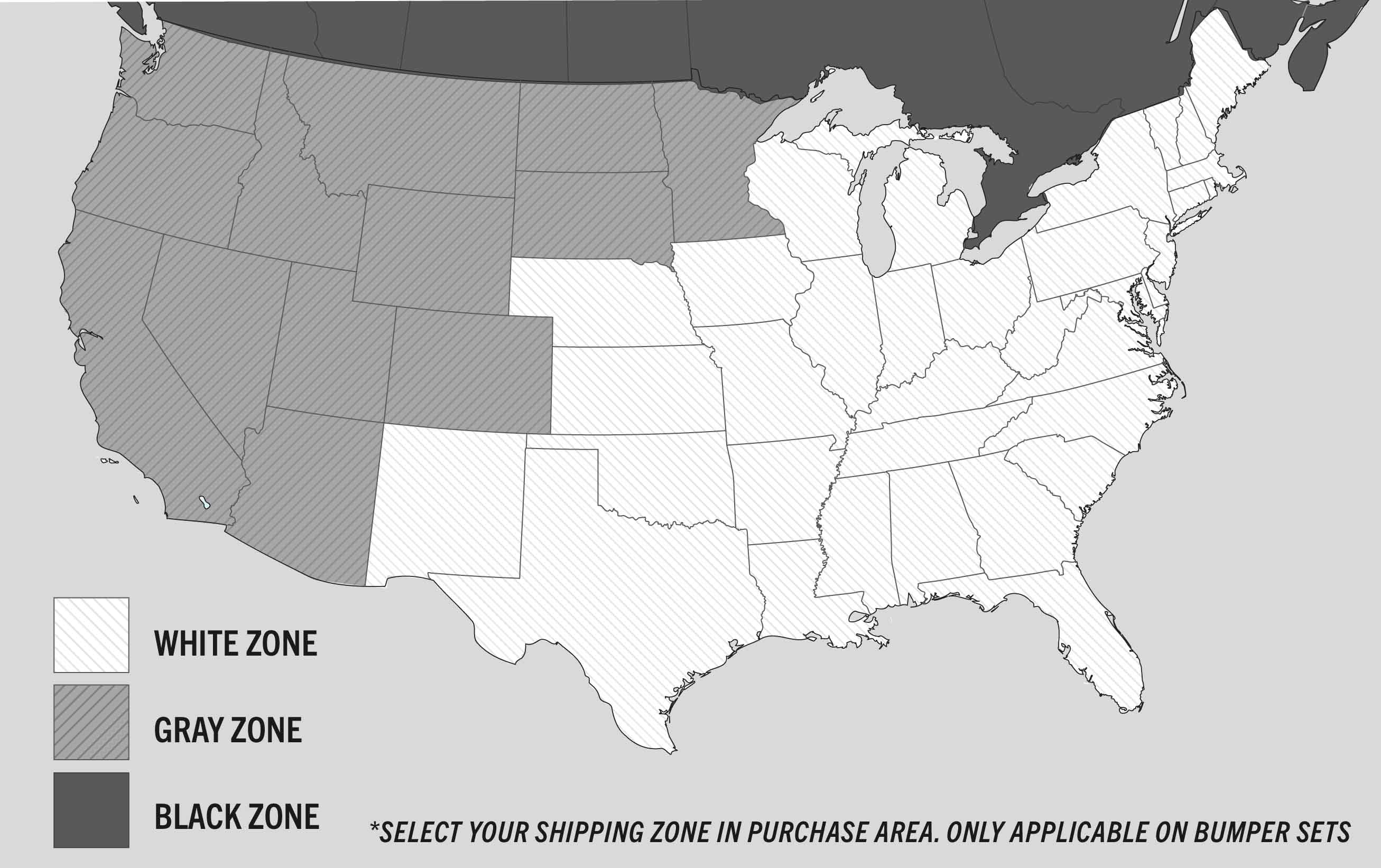 Specifications:
Diameter: 450MM (+/- 3MM) / 17.72" (IWF Standard)
Collar Opening: 50.6mm +/-0.2mm
Stainless Steel Inserts
Weight Tolerance: +/- 1% of claimed weight
Minimal Bounce
Imported from China
Warranty: 10-15LB variant plates are warrantied for 90 days and are not intended or warrantied if dropped on their own. The 25-45LB variants are warrantied for 3 years.
Add to Registry

Please choose the registry you want to add this product to:
Rogue Echo Bumper Plates V2
is rated out of
5
by
485
.
Rated

5

out of

5
by
rickfish
from
Awesome
Incredibly high-quality bumpers for a really reasonable price, will be buying more in the future for sure!
Date published: 2021-01-12
Rated

5

out of

5
by
mromero3
from
Great bumper plate for an affordable price
A simple, yet well constructed bumper plate. I work at a military facility where these are used and abused constantly and they are holding up really well. I have a pair of these for my home gym as well. No doubt these plates will last longer than I will. As long as you're using these correctly they will out last you too. The only knock I have on these budget friendly plates is the shipping costs. When you compare the total price of these plates to some of the free shipping plates Rogue offers you'll notice the price is almost similar
Date published: 2021-01-11
Rated

5

out of

5
by
Atty
from
Great quality and consistency.
I purchased approximately 400 pounds of Echo bumper plates recently, and the quality of the materials is outstanding. Additionally, I measured each of the plates on a shipping scale and was surprised by the consistency. The 10-pound and 25-pound plates each weighed in at exactly 10 and 25 pounds, respectively. The six 45-pound plates that I purchased each weighed in at 44.8 pounds. That is half of Rogue's claimed variance, and it gives me confidence when loading up the barbell that I need not worry about imbalances on heavy lifts.
Date published: 2021-01-07
Rated

5

out of

5
by
jlr24601
from
Amazing
Just got the 10# plates love everything about them. Great quality!!!!
Date published: 2021-01-06
Rated

5

out of

5
by
Overland Minded
from
Good quality
I'm happy with the product, wish the shipping was cheaper.
Date published: 2021-01-06
Rated

5

out of

5
by
DGRANT3
from
Great Quality!
I bought these about 2 months ago due to COVID. I waited for a very long time because they were sold out but I will tell you they were worth the wait.
Date published: 2021-01-05
Rated

5

out of

5
by
Daaave
from
2015 vs 2020 plates
This is a comparison of the Color Rogue Echo plates. I bought these plates previously in 2015, and some in 2016. The older ones (pictured on the left) were a bright vibrant red when I got them, but have faded over the years from age and use. The old plates were like conventional bumpers: thick with a medium bounce. The biggest different is the NEW plates are quite a bit thinner (obviously), but other differences that you can't get from the website are: -thinner bevel, I'm guessing to reduce the overall thickness of the plate. This would make it harder to carry one handed. However. -much grippier. The old 55s are quite slick (not as slick as the 2016 plates), but the grippy rubber makes the 2020 plates easier to pick up. I have not dropped them extensively, but with the increased density (same weight, but smaller size) I expect them to be a little louder and less bouncy. I'm considering getting another full run to replace my other plates from 2015/2016.
Date published: 2021-01-01
Rated

5

out of

5
by
Bcamp
from
Perfect fit
I have the tens and forty fives. Replaced cheap plate with these and couldn't be happier. Snug fit and no banging. Tighter tolerances give me the confidence that everything is balanced too. Can't wait to get off of the waiting list for some of the other sizes.
Date published: 2020-12-27