Durometer Rating
Softer = More Bounce
Harder = Less Bounce
Rogue Echo Bumper Plates
A budget-friendly bumper plate.
Rogue Echo Bumper Plates have an IWF standard 450MM diameter (10LB Plate is 446MM), minimal surface imperfections, and a weight within 1% of its target. Combined with stainless steel inserts and quality virgin rubber, the Echos offer a dead bounce and durability rarely seen in an economical plate.
Echo Bumpers are available in pairs or as sets. Fully equip a new garage gym or save money supplying a school weight room or large training facility. If you're looking for plates that will be reliable workhorses at a reasonable price, the Echos will not disappoint.
See more: Plates available at Rogue.
Shipping Zone Map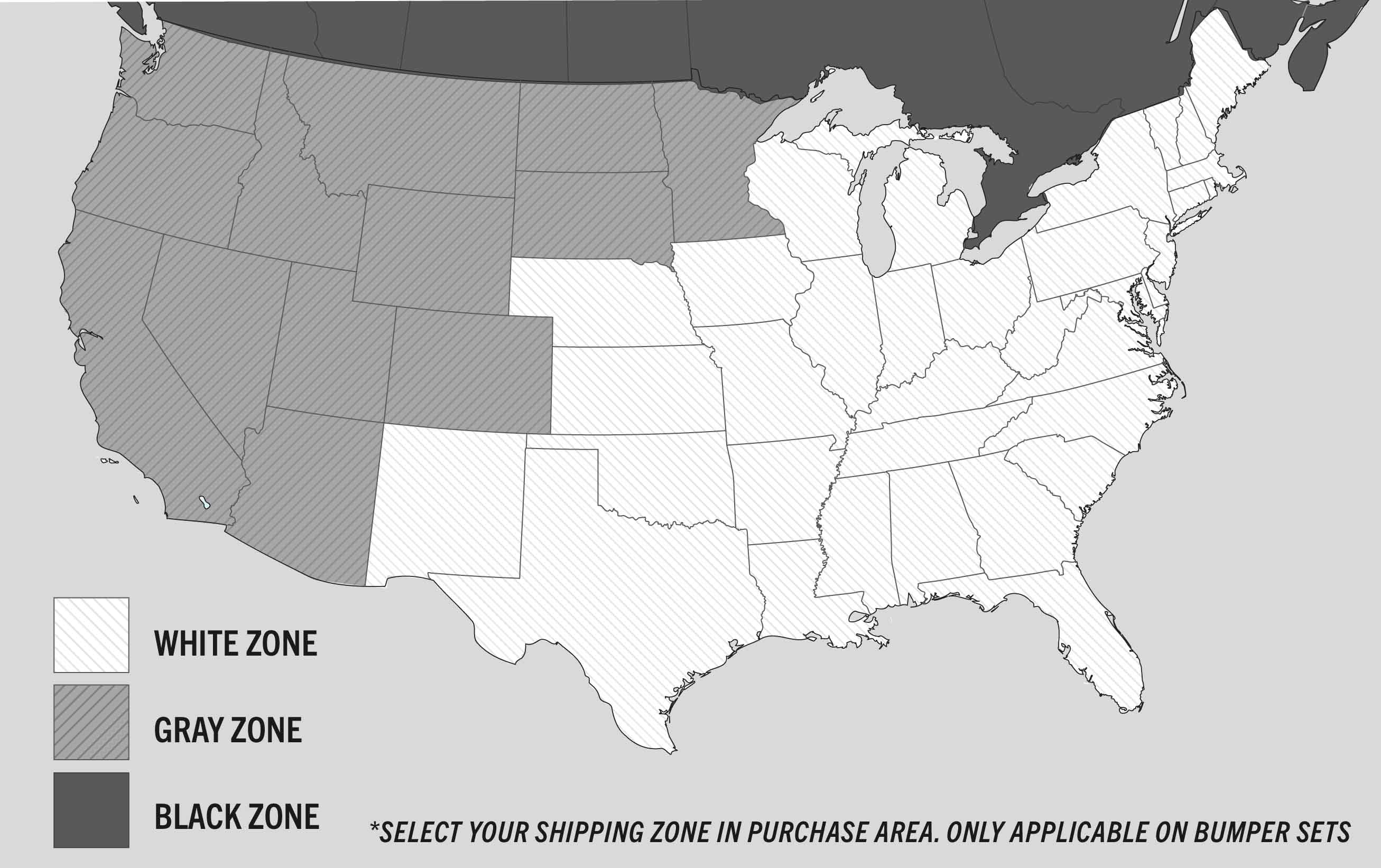 Specifications:
Diameter: 450MM (+/- 3MM) / 17.72" (IWF Standard). 10LB Plate is 446MM
Collar Opening: 50.40MM / 1.98".
Stainless Steel Inserts
Weight Tolerance: +/- 1% of claimed weight
Minimal Bounce
Imported from China
Warranty: 10-15LB variant plates are warrantied for 90 days. The 25-45LB variants are warrantied for 3 years.
Add to Registry

Please choose the registry you want to add this product to:
Rogue Echo Bumper Plates
is rated out of
5
by
285
.
Rated

5

out of

5
by
Shamus210
from
What smell?
About me. I am 52 years of age and just completed my first home gym build. I spent many weeks going over my options, trying to maximize my spending dollar. The most thought went into which power rack was best for me and which bumper plates would accommodate my needs. After considering all of my options, I went with the Echo Bumper Plates. After reading all of the reviews about the smell and slipperiness of the plates, I felt I was prepared to handle these "side affects" of this purchase. When they I arrived, I absolutely knew I made the correct plate purchase. NO SMELL and they have not slipped out of my hands once. Thank you Rogue for making this all possible. Because of the affordable dollar value, I highly recommend this product.
Date published: 2019-10-03
Rated

5

out of

5
by
Abe Froman
from
Excellent
I use the HG 2.0 at my gym and these Echo plates at home. Other than the thickness, I really can't tell a difference between the two. They both seem solid, strong, and well made. I like the Echo better to be honest - the thickness makes a big difference when handling the plates during a lot of changes.
Date published: 2019-09-30
Rated

5

out of

5
by
robbiesims2
from
Awesome!
I absolutely love them! Best bumper plates I've ever used.
Date published: 2019-09-26
Rated

5

out of

5
by
ttime884
from
Excellent Quality
Excellent quality for the price. I will always choose these over the higher priced weights.
Date published: 2019-09-23
Rated

5

out of

5
by
john_black_fingers
from
Glad I Got 260 Pound Set
I got these to not have metallic clanking noise. They are nice & quiet. I don't throw or drop my plates when they are on the bar, so I don't see why the plate inserts would ever come out. The plates appear durable, like chunks of rubber are not going to break off. One con was that the plates really stunk up the part of the house where I first removed the plates from their shipping boxes, but the smell goes away - took almost a week for me. I wouldn't keep these plates in the same room as a baby, or next to your bed in a studio apartment, because who knows if the gases coming off the plates are safe, or not. Handling the plates still turns my fingers black, but these plates are for lifting, not a fashion show. I'm glad I got the 260 pound set, because that offers the most versatility and saved compared to buying and shipping plates piecemeal.
Date published: 2019-09-15
Rated

5

out of

5
by
gmoodyxcv
from
Great quality
I am slowing equipping my garage gym. I wait until I can Rogue equipment. It is the best.
Date published: 2019-09-15
Rated

5

out of

5
by
D P W
from
PERFECT! Buy these.
Perfect for the price. Sturdy build and looks clean. Very happy with the purchase and would definitely recommend.
Date published: 2019-09-13
Rated

5

out of

5
by
Enginerd
from
Great Plates!
Everything you could hope for in a bumper plate... if you're the type that hopes for something in a bumper plate. Cheaper plates from other companies tend to be thicker or all-black and, let's be honest, don't have the sexy Rogue logo. Sometimes, just sometimes, feeling good about your gear can be the thing that helps motivate you to use it.
Date published: 2019-09-12