Durometer Rating
Softer = More Bounce
Harder = Less Bounce
Rogue Echo Bumper Plates V2
A budget-friendly bumper plate.
Rogue Echo Bumper Plates have an IWF standard 450MM diameter, minimal surface imperfections, and a weight within 1% of its target. Combined with stainless steel inserts and quality virgin rubber, the Echos offer a dead bounce and durability rarely seen in an economical plate.
Echo Bumpers are available in pairs or as sets. Fully equip a new garage gym or save money supplying a school weight room or large training facility. If you're looking for plates that will be reliable workhorses at a reasonable price, the Echos will not disappoint.
Approved for the new Army Combat Fitness Test (ACFT)
This product has been officially approved for use with the United States Army's Combat Fitness Test, a 6-event readiness assessment that's replacing the previous 3-event Army Physical Fitness Test in 2020. The grueling new ACFT is neutral across all genders and age groups, and includes a strength deadlift, standing power throw, hand-release push-ups, sprint/drag/carry, leg tuck, and a 2-mile run.
See more: Plates available at Rogue.
Shipping Zone Map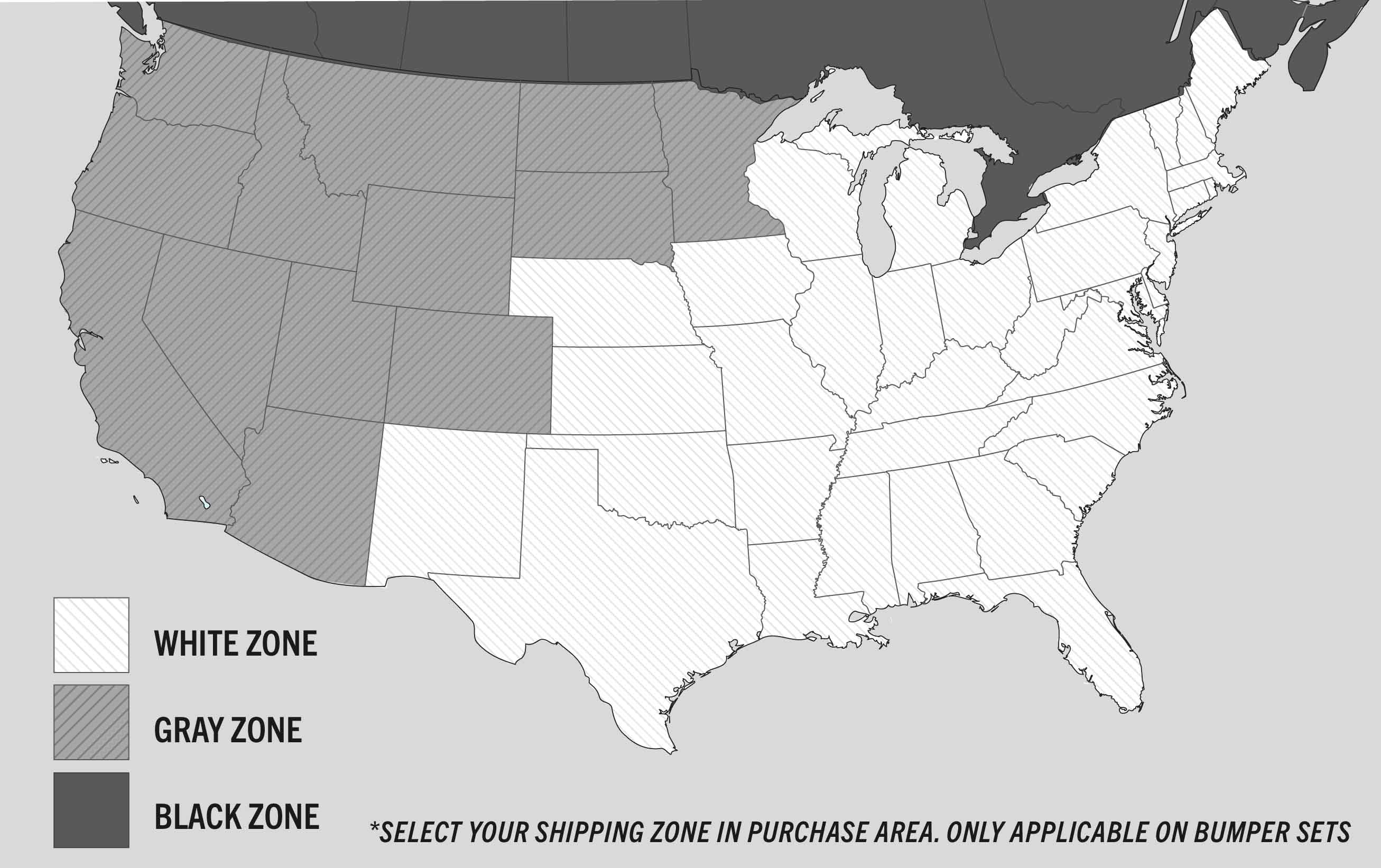 Specifications:
Diameter: 450MM (+/- 3MM) / 17.72" (IWF Standard)
Collar Opening: 50.6mm +/-0.2mm
Stainless Steel Inserts
Weight Tolerance: +/- 1% of claimed weight
Minimal Bounce
Imported from China
Warranty: 10-15LB variant plates are warrantied for 90 days and are not intended or warrantied if dropped on their own. The 25-45LB variants are warrantied for 3 years.
Add to Registry

Please choose the registry you want to add this product to:
Rogue Echo Bumper Plates V2
is rated out of
5
by
393
.
Rated

5

out of

5
by
Championstuff
from
Just what I needed
It was difficult to find bumper plates but I figured out when they were dropping and scooped some up. Good quality build and are easy on and off the bar. The UPS guy carried all of them at once to the door, all 110lbs.
Date published: 2020-06-16
Rated

5

out of

5
by
Km2021
from
Overall Solid
Bought these at the beginning of quarantine. Took a while to ship (expected because of high demand) and the packaging was pretty beat up, but there was no damage to the weighs at all. Best investment I could have made, very glad I did. If you plan on using these in a garage without gym flooring, I would suggest you just bite the bullet and buy the high-temps or mil-spec plates (one of the types meant for outdoor/non-gym use). In two months of use, mine don't have too many nicks or gouges but if you want the best protection/preservation of your weights in a rougher environment, I would buy another type. In the end, weight is weight, and I would recommend these to someone on a budget.
Date published: 2020-06-15
Rated

5

out of

5
by
derfol64
from
Helping me through the quarantine
I'm very happy with these bumper plates. When the SHTF, I cleaned out my basement started using my old steel Olympic set again. But it is a concrete floor and I had an old rug that I would lift on and every time I put it down it didn't sound good. I needed to add more weight anyway because if I put everything on, it was only 340. I can get 3-4 reps on a 4 plate deadlift and I didn't want to lose those gains. I went with the bumper plates hoping it would help with my floor. I also ordered 1/2 rubber mats at the same time and the combination put me at ease, if I had to put weight down hard. Now they are my go to plates for all my exercises.
Date published: 2020-06-11
Rated

3

out of

5
by
JamesK1980
from
The Quality Is Pretty Lousy
Why say you quality check product when stuff arrives and it looks like a dog chewed on the corner of a bumper plate? I received these 45 pound beauties after having my new Cerakote Ohio Bar replaced because it arrived all scratched up. I don't for a second believe Rogue quality checks as they claim. With that being said, the bounce is excellent and the color is really vivid. Thankfully, it's a weight and it's going to get dropped a lot, so I won't be sending it back. DESPITE ALL THAT.... I would still recommend Rogue Bumpers just because of their strong build which can take a beating and keep on going plus their 3-year warranty.
Date published: 2020-06-05
Rated

5

out of

5
by
ALBS
from
Perfection
So glad I bought this, it's well worth the money with the quality of these plates, doesn't make much noise when you drop and barely bounces!
Date published: 2020-06-05
Rated

5

out of

5
by
ageorge1014
from
Great!
Easy on/off the bar and very clean finish. These are basic bumper plates that are made very well.
Date published: 2020-06-02
Rated

3

out of

5
by
Nick567
from
Coming from HGs. Am I the only one?
Took this opportunity to revamp my set. Sold my 5 year old HGs (which were great) at a premium and bought a new set of Echos (6X45s, 2X25s, 4X10s (not yet received)) and some nice change plates. One arrived with packaging staples deep inside and another with bubbles in the black and uneven and discolored white lettering. Slid on the bar they seem to have a lot more wiggle than the HGs did. The real concern is the bounce. They have the same durometer rating as the HG. 88. But my first workout consisting of 135Lb C&J quick singles dropped from the top and these nearly bounced out of the garage. I almost cried. What have I done? Sold my perfectly good HGs out of lust for some shiny new bumpers that weren't as good? Idk. But I normally don't write reviews. So, I hate to rain on anyone's parade and I'm sure this is an unpopular review but I thought I'd chime in. I'm sure they're fine. Reviews are great overall. That's why I purchased. I'm just a little bummed.
Date published: 2020-05-30
Rated

3

out of

5
by
AJCC
from
Its okay....
I gave these plates 3 stars because the white paint on these plates will eventually wear off and you will be left with all black bumper plates. Some of my plates, the white paint had already started to rub off and I've only had these plates for a little over 1 week.
Date published: 2020-05-28