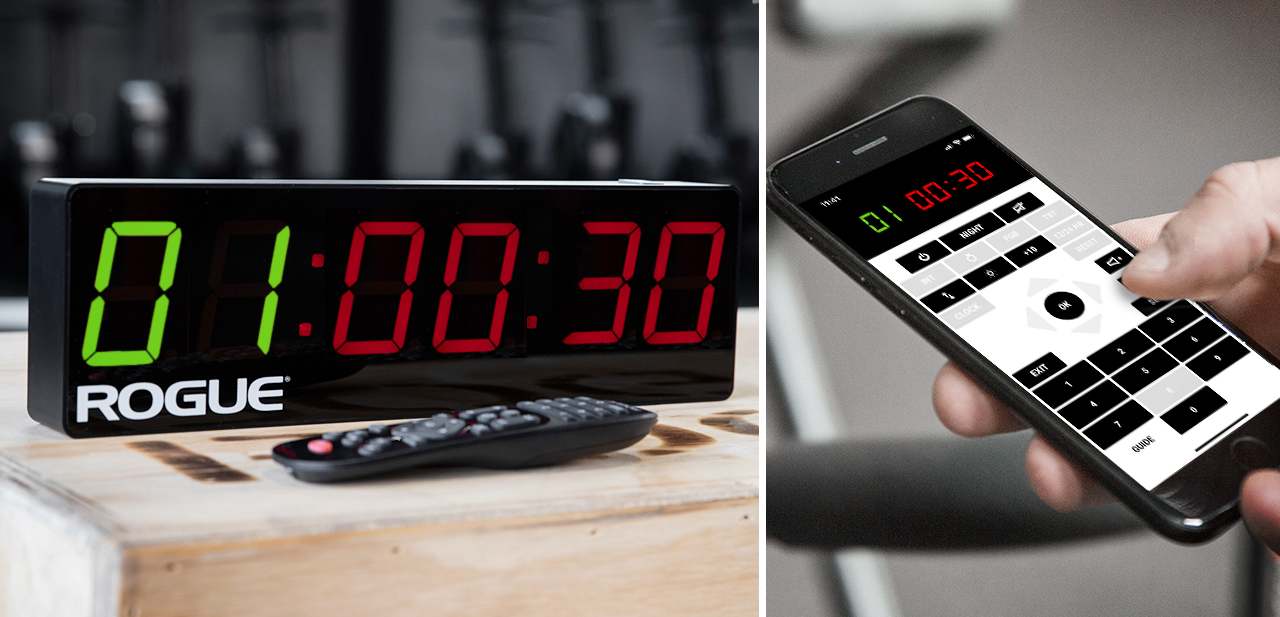 *While the timer doesn't require an outlet when its batteries are charged, we still include a variety of international plug adapters for customers who prefer to connect the unit, virtually anywhere in the world:
Type A (North & Central America, Japan)
Type C (Europe, with the exception of the UK, Ireland, Cyprus and Malta)
Type G (UK, Ireland, Cyprus, Malta, Malaysia, Singapore, Hong Kong)
Type I (Australia, New Zealand, China)
Replacement Lithium Ion Batteries are also available a la carte from the order menu.
Other Features of the Rogue Home Timer:
Much of the functionality of this timer is carried over from our larger Echo Gym Timer, including:
Crystal Clear LED Display
A Remote Control for convenient pausing/re-programming
Popular Pre-Set Timer Modes like Tabata and FGB
Create and Save Custom Intervals (up to 10 at a time)
1/100 second stopwatch
In-Depth Programming Instructions
Black Frame and Screen with Rogue logo in bottom left corner
Specifications:
Length 13"
Width 1-5/8" (depth)
Height 4"
Weight 1.57 LBS
Cord Length: 58"
Color: Black
Warranty: Timer = 18 months, Batteries = 12 months
Gear Specs
| | |
| --- | --- |
| Brand | Rogue Fitness |
| Made In USA | No |
| Color | Black |
| Product Weight | 1.57LB |
| Length | 13" |
| Width | 1-5/8" (depth) |
| Height | 4" |
| Other Product Specs | Cord Length - 58" |
1

Connecting To Your Smartphone

When the Rogue App is opened and Bluetooth is enabled, your smartphone will automatically detect any nearby Rogue Home Timer for easy pairing. Better still, the Rogue App can store up to 30 different custom, saved workout intervals for you to easily scroll through and select.

While in Timer Setup Mode, the clean user interface enables only relevant buttons for setting up rounds and times. A dedicated Help section also offers guided walkthroughs for setting up and saving Interval, Count-Up, and Countdown timers, as well as button descriptions for clarification.

2

Wall Mounting

The back of the housing for the Home Timer features keyhole-style mounting holes spaced 6.25" on center. Wall mounting hardware is not included, but the lightweight 1.57 LB unit doesn't pose an engineering challenge. The positioning of the USB-C port also ensures that the timer will sit flush against the wall even when connected, or flat on a desk or tabletop if you prefer that option.

3

Fast Rogue Shipping

Orders placed by 3PM ship the same day. The Rogue Shipping System allows you to track your order from the time you place it to the time it hits your door. Order today, track today.
Add to Registry

Please choose the registry you want to add this product to:
Rogue Home Timer
is rated out of
5
by
53
.
Rated

3

out of

5
by
BWeisWasik
from
Not intuitive.
I bought this a few months ago as a belated pandemic birthday present to my husband. We both use it but it is not user friendly or intuitive. Still, it is nice to have a visual in the garage during workouts.
Date published: 2020-09-10
Rated

4

out of

5
by
House Of Pang
from
Really nice timer for home gym
I bought this timer about 2 months ago and I use it everyday. I really like the bluetooth connection that allows me to program and control the timer using the app on my phone. The range on the supplied remote control isn't great, its hit or miss on whether it will work or not beyond 15 feet. Put in new batteries and it didn't solve the range issue. Also, the supplied rechargeable batteries don't hold a charge; I tried to use the timer once without plugging it in and the batteries went dead after a few minutes, despite being plugged in, and presumably charging, for hours prior. On the upside, the numbers are crisp and high visible, even in bright sunlight, it is super easy to program for a variety of timing scenarios (count up, count down, intervals, tabata) and the beeps are nice and loud. Fix the minor range issue on the remote control and the strange rechargeable batteries and this would be a 5-star review. Overall very satisfied.
Date published: 2020-08-10
Rated

5

out of

5
by
jman0322
from
Home Timer
I read the negative reviews before purchasing and quite honestly I have had zero issues with the timer. It's super easy to use via the App or the remote.
Date published: 2020-08-10
Rated

5

out of

5
by
Rob_5
from
Great timer
This timer works great! Only thing I would change would be being able to have quicker access to the remote on my phone
Date published: 2020-08-10
Rated

4

out of

5
by
Tommy See
from
Battery operated, easy-ish to use.
Works great. Takes a few tries to get comfort with it but like anything gets better with practice. I like the internal battery so I can charge it and move it around without wires. Not as loud as the one at the gym so you might not hear it under loud music.
Date published: 2020-08-09
Rated

5

out of

5
by
10210
from
Perfect timer for a home or garage gym!
This timer is a perfect addition to my garage gym. The app on your phone will guide you through setting up intervals, it couldn't be any easier.
Date published: 2020-08-09
Rated

5

out of

5
by
Lrc1220
from
Perfect for home gym!
It is the perfect size for my home gym! I love the app control feature as well if i can't find the remote!
Date published: 2020-08-08
Rated

1

out of

5
by
ThatGuy54321
from
It's all bad.
I've only had this timer for a single week and it already broke. I read the reviews on this timer and was skeptical to their accuracy. Specifically, the poor reviews citing that the timer was cheaply made, the power button seemed flimsy and failed frequently, and that the batteries held a poor charge. Sadly, all of these things are true. Battery run time of 8 hours on full charge listed in the instruction manual is nonsense, not even close. An enormous amount of battery life is lost when the timer is powered off. Interestingly, this exploited the power button problem as when the batteries died I could not proceed with the timer's "initial startup" by holding down start/stop button for 3-5 seconds, which must be done when the timer experiences complete loss of power. Upon arrival the timer looked appealing but felt cheap...start/stop button loosely fixed to the timer, rattling when the timer was handled. But because the timer initially operated as expected I ignored this feature. But sure enough a mere week later my suspicions were validated, the button failed. It does not power on the timer when depressed. For $150 I expect a product that works, but apparently it was simply the "Rogue" name that I paid for.
Date published: 2020-06-27