Rogue 28MM IWF Olympic Weightlifting Bar w/ Center Knurl - Bright Zinc
Made in U.S.A. with US & EU Steel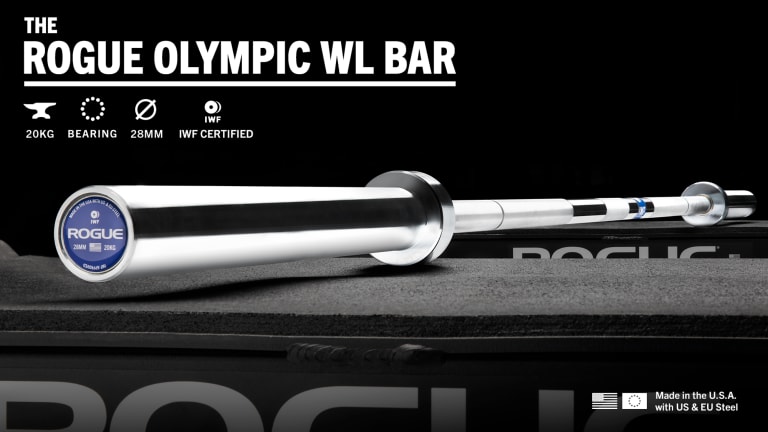 Rogue 28MM IWF Olympic Weightlifting Bar w/ Center Knurl - Bright Zinc
Made in U.S.A. with US & EU Steel
Product Description
Combining a 215K PSI steel shaft with quality needle bearings, friction-welded sleeves, and a full but non-abrasive knurl pattern, this IWF Approved version of our Rogue Olympic Weightlifting Bar ranks among the best in the industry for feel, durability, and performance.
Read More
Rogue 28MM IWF Olympic Weightlifting Bar w/ Center Knurl - Bright Zinc
Combining a 215K PSI steel shaft with quality needle bearings, friction-welded sleeves, and a full but non-abrasive knurl pattern, this IWF Approved version of our Rogue Olympic Weightlifting Bar ranks among the best in the industry for feel, durability, and performance.
Each 20KG bar is machined and assembled in Columbus, OH, and includes a center knurl for added "stick" along with official IWF branding on both the shaft and endcaps. In the strength world, approval from the IWF (International Weightlifting Federation) is equivalent to a restaurant getting its Michelin stars, so achieving that recognition for this barbell is a true point of pride and a testament to the level of precision that goes into its design and construction.
We currently offer the IWF Oly WL Bar in a Bright Zinc finish. Other variations on this bearing bar include:
*The variations above may still be pending IWF approval.
Patented
Gear Specs
Specifications
Made in the USA with US and EU Steel
28MM Men's Olympic Bearing Bar
NEW IWF Approved branding on shaft and endcaps
215K PSI tensile strength steel shaft
Friction Welded Sleeves, 16.25" loadable sleeve length
5 Needle Bearings per sleeve
Olympic Knurl Marks and Center Knurl in full but non-aggressive pattern
F6-R Rating
Shipping
Rogue Fast Shipping
The Rogue Shipping System allows you to track your order from the time you place it to the time it hits your door. Order today, track today.
Frequently Bought Together
Rogue 28MM IWF Olympic Weightlifting Bar w/ Center Knurl - Bright Zinc
Rogue OSO Barbell Collars
Rogue Barbell Cleaning Kit
Gear Specs

Brand
Rogue Fitness
Guarantee/Warranty
Lifetime Warranty *
Made In USA
Yes, with US & EU Steel
Loadable Sleeve Length
16.25"
Bar Length
86.6"
Diameter
28MM
F Rating™
F6-R
Bar Type
Men's Bars
Bar Use
Olympic Weightlifting
Bushing/Bearing
Bearing
Bar Weight
20KG
Knurl
Olympic
Center Knurl
Yes
Knurl Mark
Olympic
Shaft Coating
Bright Zinc
Sleeve Coating
Bright Zinc
Tensile Strength
215,000 PSI


KEY FEATURES OF THE IWF APPROVED ROGUE OLYMPIC WEIGHTLIFTING BAR:
215,000 PSI Tensile Strength
Our Men's Olympic Bar is made exclusively from high-grade steel, producing a shaft with a minimum tensile strength of 215,000 PSI. Each shaft is ground and polished prior to machining (to ensure a smooth finish), and individually tested and straightened to within 0.015" (0.38mm). The goal is to create just the right amount of "whip" or "flex" needed for competitive Olympic lifting. A Bright Zinc finish completes the look and offers solid oxidation resistance.
Friction Welded Sleeves + Needle Bearings
Using a process from the worlds of aviation and automotive manufacturing, the sleeves on the Rogue Olympic Weightlifting Bar are friction welded—creating a superior, forged-quality bond. This method is more precise than most joining techniques and helps prevent any changes in the integrity of the sleeve. Combined with 10 sets of top-quality needle bearings, the result is a barbell with a smooth, consistent, quieter spin.
Every Olympic Bar is machined in Columbus, Ohio, on new Haas machines that are built in the USA. For the Olympic knurl marks and center knurl, we experimented with several knurling patterns before choosing the full but minimally aggressive texture that top weightlifters responded to best. Rather than relying on visibility alone, each bar is manually tested to ensure the actual "feel" is up to Rogue standards.
A New Addition to Your Rogue Arsenal
As the leading manufacturer of strength and conditioning equipment, Rogue produces a wide range of Olympic bearing bars and related gear. Along with the standard Men's Oly WL Bar, we also offer the Cerakote Oly WL Bar, the Euro Oly Bar (EU Steel and a center knurl), and the Women's 25MM Oly Bar. You can also combine your bar with quality plates, collars, and secure storage systems .
This specific version of the Rogue Olympic Weightlifting Bar has received approval from the International Weightlifting Federation (IWF) for competitive use; a statement on its precision adherence to the organization's high standards. Each bar is fitted with a machined stainless steel end cap with IWF branding to note this certification. An official IWF sticker is also included on the bar's shaft.
F SCALE™
The F Scale™ is a durability scale for barbells based on functional testing at stresses similar to what barbells experience when being dropped from overhead. Bars that have been treated with Rogue Work Hardening (RWH™) are designated by having an R in their F Rating™. For more information on F Scale™ click here.
OXIDATION RATE
The resistance of a barbell to oxidation depends on the type of steel and the coating. Barbells at the lower end of the spectrum will require more care and maintenance to preserve their appearance than barbells at the upper end of the spectrum.
*Warranty against bending does not cover any bar which has been damaged due to negligent or faulty use, alteration, maintenance, storage or handling by the user. Negligent or faulty use includes abusive dropping of the bar (i.e., dropping the bar on a box, bench, spotter arms or pins in a power rack, excessive dropping with insufficient or damaged bumpers, or excessive dropping with iron plates, and similar usage). Any specific issues regarding a Rogue product with which a customer is not satisfied will be reviewed on a case-by-case basis. We have found that most problems with bars we replace are related to abusive use rather than manufacturing or materials issues.
Reviews
Extremely satisfied
Have had for over a year and this is the best bar I've ever touched. Question - can this bar be stored vertically in a weight tree?
Yes, I recommend this product
Beautiful barbell!
I bought about 2 years ago an echo barbell and I decided to upgrade it to an olympic model barbell. So happy with it! Amazing quality and a beautiful barbell. Worth to wait, worth to take care!
Yes, I recommend this product
Originally posted on rogueeurope.eu
Excellent WL bar
This bar has great whip and the knurling is perfect, in my opinion. Center knurling serves its purpose while not shredding your neck and collarbones. The rest of the knurling is aggressive enough that you never have to question your grip but not so aggressive that it kills your hands. Spin is solid and smooth.
Yes, I recommend this product
28mm IWF barbell
Excellent quality, very smooth workings. Everything I expected and more
Yes, I recommend this product
Fantastic bar!
I am an intermediate/advanced masters weightlifter, for reference. This bar spins beautifully, has great whip, feels great in the hands, and is obviously built like a tank. The center knurl is shallower than the rest of the bar; I believe this is by design and it's something I appreciate. I've trained and competed on bars like the Pyrros Dimas, and that aggressive center knurl isn't my thing. This is strictly a personal preference, and that will vary from athlete to athlete.
Yes, I recommend this product
Best bar
Great bar. 10/10 recommended. Friend who did not know how to lift had to get 11 stitches when bar made contact with his face. Made me love bar more.
Yes, I recommend this product
Iwf barbell current review
For something that's suppose to be IWF quality, I didn't get that experience. I opened it and took it out of the packaging and just to get a bar that has one sleeve that can't even rotate/spin properly. For something that is needle bearing and suppose to spin smoothly… yeah no, didn't even get that experience. I was told to put 3-in-1 oil and it still didn't do justice. For something that is expensive in addition to the shipping, and quality check. Definitely failed the quality check before shipping…
Response from Rogue Fitness:
Mar 2022
We are sorry to hear this! Our team is looking into this and will be reaching out to you ASAP!
The center knurling is a joke
So when you buy a bar with center knurling, you'd expect the center knurl to be consistent with the knurling on the rest of the shaft. It isn't. The center knurling is much shallower, leaving this to be more of a visual knurling than anything functional. So buyer beware if you're looking for standard knurling throughout. You might as well spend the extra $60 for no center knurling and a stainless steel finish.
#RYOUROGUE
Tag your photos on Instagram and Twitter with #RYOUROGUE for a chance to be featured in our gallery
View Full Gallery