Rogue Kettlebell - E Coat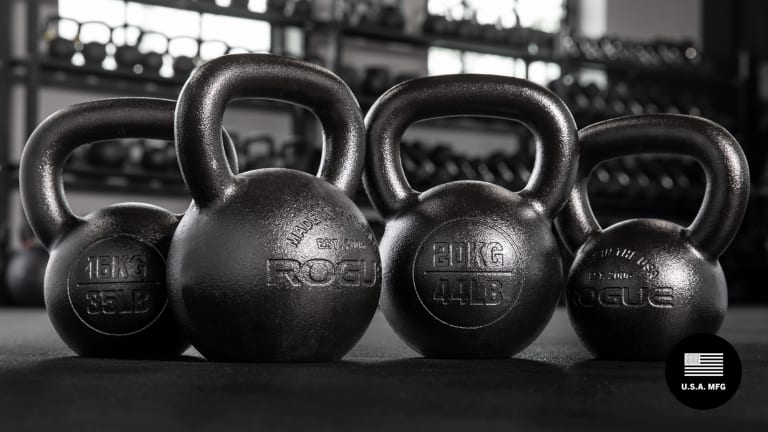 Rogue Kettlebell - E Coat
KB-9LB Rogue Kettlebell - E Coat
KB-13LB Rogue Kettlebell - E Coat
KB-18LB Rogue Kettlebell - E Coat
KB-26LB Rogue Kettlebell - E Coat
KB-35LB Rogue Kettlebell - E Coat
KB-40LB Rogue Kettlebell - E Coat
KB-44LB Rogue Kettlebell - E Coat
KB-53LB Rogue Kettlebell - E Coat
KB-62LB Rogue Kettlebell - E Coat
KB-70LB Rogue Kettlebell - E Coat
KB-80LB Rogue Kettlebell - E Coat
KB-88LB Rogue Kettlebell - E Coat
Rogue Kettlebell - E-Coat 26-35-70LB Set
Includes 1 of each weight: 26, 35, 70lbs
Rogue Kettlebell - E-Coat 35-53lb Set
Includes 2 of each weight: 35lb & 53lb
Rogue Kettlebell - E-Coat 9-70LB Set
Includes 1 of each weight: 9, 13, 18, 26, 35, 40, 44, 53, 62, 70lbs
Gear Specs

Brand
Rogue Fitness
Color
Black
Made In USA
Yes
Product Weight
9LB to 88LB
Length
Varies by weight
Width
Varies by weight
Height
Varies by weight
Other Product Specs
Black E Coat finish
Handle Diameter
9LB-18LB : 1.2" 26LB : 1.4" 35LB-88LB : 1.5"
Product Description
Cast in northern Michigan by Cadillac Casting, Inc., these ductile iron Rogue Kettlebells represent our new, exclusive line-up of American-made KBs. The series is currently available in 12 weight increments, from 9 LB to 88 LB, and features a black E-Coat finish. Debossed weight indications are marked on one side (in both LB and KG), with Rogue branding on the other.
Read More
Rogue Kettlebell - E Coat
Cast in northern Michigan by Cadillac Casting, Inc., these ductile iron Rogue Kettlebells represent our new, exclusive line-up of American-made KBs. The series is currently available in 12 weight increments, from 9 LB to 88 LB, and features a black E-Coat finish. Debossed weight indications are marked on one side (in both LB and KG), with Rogue branding on the other.
What Sets the New Rogue Kettlebells Apart:
Material
Ductile Iron

Significantly more durable than traditional gray iron with a higher tensile strength and yield strength + greater corrosion resistance.

Finish
E-Coat

Known for its excellent adhesion, even coverage and toughness, our E-coat finish is applied in a thin durable layer that allows the texture of the casting to be felt while still being easy to clean.

Gloss
~22 GU Rating

These KBs have a higher gloss appearance (approx 22 gloss units, or "semi gloss") than our powder coat KBs [0.5 to 1.5 GU, or "low gloss").
As noted above, Cadillac's use of single-piece ductile cast iron creates a kettlebell that is stronger and tougher than standard gray cast iron. The electrically-applied E-coat finish—noted for its superior adhesion and corrosion resistance—also goes on thinner than a traditional powder coat allowing for a lustrous finish without losing the underlying texture of the casting. A flat, machined base allows for steady storage with no wobble, and the handle diameter varies from 1.2" to 1.5", depending on the weight.
We're proud to have developed this line with the team at Cadillac Casting, a privately owned Midwest foundry with nearly 100 years of history in metal casting, and an unmatched reputation for quality.
Note: *Due to the casting process, cast products may have minor variances in the finish.
Gear Specs
Specifications
Made In USA
Cast by Cadillac Casting, Inc.(Cadillac, MI)
Ductile Cast Iron Construction
Available Weight Increments: 9 LB to 88 LB
Bell Dimensions: Vary By Weight
Finish: Black E-Coat, Semi-Gloss
Handle Diameter: 1.2" (9LB-18LB), 1.4" (26LB), 1.5" (35LB-88LB)
Flat Base for easier storage, no wobble
Debossed Weight Indications and Rogue branding


KEY FEATURES OF THE ROGUE KETTLEBELL - E-COAT
MADE IN THE USA - CAST IN CADILLAC
The town of Cadillac, Michigan has a long and storied manufacturing history, and Cadillac Casting, Inc., has been a big part of it, designing and producing a wide variety of complex and safety-critical components for the automotive industry and other industrial clients since the 1920s. This reputable, privately owned foundry employs 400 highly skilled workers, and they were more than equipped to produce the tooling for our kettlebells in-house.
All sizes of the E-Coat Rogue Kettlebell are cast in ductile iron, aka nodular cast iron, which contains strong graphite nodules that make it considerably tougher than standard gray iron. Ductile iron is regularly used to make automotive components, wheels, gear boxes, and machine frames, and its superior tensile strength, yield strength, and corrosion resistance makes it an ideal option for a long-lasting, extremely robust kettlebell.
This electrically-applied paint coating was also initially developed for the automotive industry, due to its excellent adhesion, even coverage, and corrosion resistance. As a wet application, our gloss E-coat goes on thinner than powder coating, resulting in a smooth feel that retains more of the natural grit of the casting. While E-Coat Kettlebells will hold chalk, they are easier to clean than traditional powder coat KBs.
Because of the E-Coat finish, these Rogue Kettlebells have a semi-gloss appearance and a gloss rating of approx. 22 GU (gloss units), considerably above that of our standard powdercoat KBs, which rate between 0.5 and 1.5 GU. The black shine/gloss of the finish is complemented in the design by debossed lettering/numbering for the weight indications (both LB and KG) on one side of the bell, and Rogue branding on the other.
Whether you're purchasing a single set of KBs for your garage gym or outfitting a large facility, this first series of Rogue E-Coat Kettlebells is available in a wide range of weight increments to suit any goal—from lightweight beginner bells (starting at 9LB / 4KG) up to 88 LBS / 40 KG. The handle diameters, noted below, range from 1.2" to 1.5".Please Note: The actual weight of each kettlebell is designed to match the KG weight. So for example, the 35LB E-Coat Kettlebell is actually spec'd to weigh exactly 16KG with a +3% / -0% tolerance.
Rogue E-Coat Kettlebell Handle Diameters:
9LB - 18LB: 1.2"
26LB: 1.4"
35LB - 88LB: 1.5"
The 40LB Rogue Kettlebell has been officially approved for use with the United States Army's Combat Fitness Test, a 6-event readiness assessment that replaced the previous 3-event Army Physical Fitness Test in 2020. The grueling new ACFT is neutral across all genders and age groups, and includes a strength deadlift, standing power throw, hand-release push-ups, sprint/drag/carry, leg tuck, and a 2-mile run.
Reviews
Quality product
I bought the 24kg Ecoat kettlebell. Packaging was perfect, came double boxed and no damage. The ECoat is a bit more slippery than powder coat but I have noticed that this is more durable. Quality product from Rogue. I'll be buying more in the near future.
Yes, I recommend this product
Thoughtfully made and meets expectations
I am gradually moving through the Pavel program, "Simple and Sinister" and as I need a new bell, Rogue delivers. Great kettbells, and the E Coat is my preference.
Yes, I recommend this product
Really heavy
I brought it a Month and half ago, I'm happy I did, I love using them at home.
Yes, I recommend this product
Two year review
I bought this kettlebell two years ago and I have to say the finish is great for looks. It doesn't chip like my other rouge kettlebells. I will have to say it does not hold Chalk like my other bells and it gets slick when I'm working out in my garage and sweating. Just keep that in mind when choosing a coating.
Classic Dragondoor shape great execution!
Perfectly cast and finished classic kettlebell....I love the story that goes with it as well....destined to be a sought after classic someday like the York dumbbells. Ductile iron, made in USA with a thick handle, weight is accurate. Thank you Rogue
Yes, I recommend this product
First rate American made quality.
The kettlebells are just what I wanted. Wish I had found out about Rouge equipment before I bought any other brand. The American made quality is first rate.
Yes, I recommend this product
Buying them all
I started my collection with a pair of 26# kbs and have gradually been adding more. Presently I've got every size between 26# and 60#. As they size up the handles don't change much making adaptation to the new weight easy. I love the coating, I rarely need to add chalk for grip. All around they are great KBs
High quality, made in USA!
If accidentally dropped, ductile iron is far more durable. The two-pair set (35, 53) that I purchased were well packaged to protect during shipment, with no damage to the E-Coat finish. Overall the casting is good with no rough spots. One of the 53 lb has a small minor cosmetic flaw, and the other three kettlebells are flawless. Using a scale known to be accurate, each pair is within a few ounces of each other and within 3% of specified kg weight.
Yes, I recommend this product
Response from Rogue Fitness:
May 26
We're sorry to hear about this cosmetic flaw you mentioned. Our team is reaching out now to take a look and rectify any issues.
#RYOUROGUE
Tag your photos on Instagram and Twitter with #RYOUROGUE for a chance to be featured in our gallery
View Full Gallery