Rogue Kettlebell - Powder Coat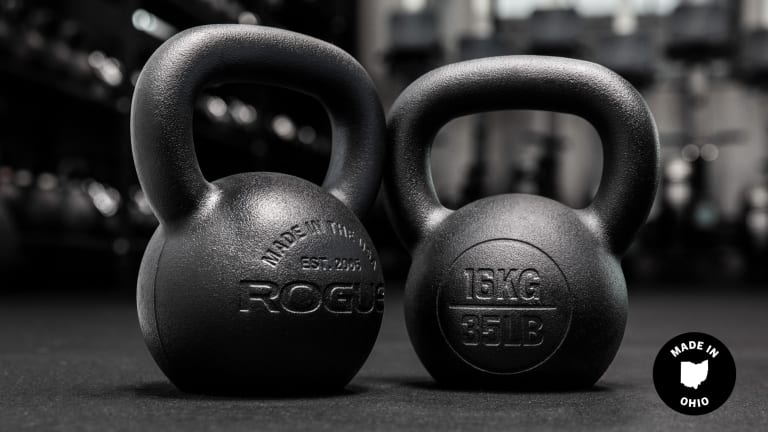 Rogue Kettlebell - Powder Coat
KB-9LB Rogue Kettlebell - Powder Coat
KB-13LB Rogue Kettlebell - Powder Coat
KB-18LB Rogue Kettlebell - Powder Coat
KB-26LB Rogue Kettlebell - Powder Coat
KB-35LB Rogue Kettlebell - Powder Coat
KB-40LB Rogue Kettlebell - Powder Coat
KB-44LB Rogue Kettlebell - Powder Coat
KB-53LB Rogue Kettlebell - Powder Coat
KB-62LB Rogue Kettlebell - Powder Coat
KB-70LB Rogue Kettlebell - Powder Coat
KB-80LB Rogue Kettlebell - Powder Coat
KB-88LB Rogue Kettlebell - Powder Coat
Gear Specs

Brand
Rogue Fitness
Color
Black
Made In USA
Yes
Product Weight
13LB to 88LB
Length
Varies by weight
Width
Varies by weight
Height
Varies by weight
Other Product Specs
Black Powder Coat finish
Handle Diameter
13LB-18LB : 1.2" 26LB : 1.4" 35LB-88LB : 1.5"
Product Description
Rogue Kettlebell - Powder Coat
The powder coat version of the Rogue Kettlebell is cast, machined, and finished in the USA and is part of our expanding line-up of quality American-made KBs.
Currently available in 12 weight increments from 9LB / 6KG up to 88LB / 40KG, each of these durable cast iron kettlebells features a Class A Powder Coat finish for superior grip, along with debossed weight indications (in both LB and KG) and Rogue branding. The 40LB / 18KG bell also meets the required specifications for the new Army Combat Fitness Test.
What Sets Rogue's Powder Coat Kettlebells Apart:
Material
Quality Cast Iron
These KBs are produced from two types of industrial-grade cast iron: Class 30 Grey Iron (13LB to 44LB) and Ductile Iron (53LB and above). Both are highly robust and corrosion-resistant with vibration & sound dampening properties.
Finish
Class A Black Powder Coat
Superior powder coating delivers a textured feel for a reliable grip + excellent resistance against scratches, chipping, and fading.
Gloss
2.0 to 2.5 GU Rating
Creates a low gloss, traditional matte look.
This kettlebell line is the product of a joint effort between Rogue and a group of uniquely qualified independent businesses, including two of the leading metal casting foundries in the Midwest: OSCO Industries (Portsmouth, Ohio) and Cadillac Casting, Inc. (Cadillac, Michigan). The machining and powder coating of each kettlebell is also handled by experienced specialists, resulting in a durable, precision-made, high-performance product.
For additional American-made Rogue KBs, see the ductile iron Rogue Kettlebell - E-Coat..
Note: *Due to the casting process, cast products may have minor variances in the finish.
Gear Specs
Specifications:
Made In USA
Cast by OSCO Industries and Cadillac Casting, Inc
Material: Class 30 Grey Iron (9LB-44LB), Ductile Iron (53LB+)
Available Weight Increments: 9LB (4KG), 13LB (6KG), 18LB (8KG), 26LB (12KG), 35LB (16KG), 40LB (18KG), 44LB (20KG), 53LB (24KG), 62LB (28KG), 70LB (32KG), 80LB (36KG), and 88LB (40KG)
Bell Dimensions: Vary By Weight
Finish: Black Powder Coat - Class A
Handle Diameter: 1.2" (9LB-18LB), 1.4" (26LB), 1.5" (35LB-88LB)
Flat Base
Debossed Weight Indications and Rogue branding
Meets Required Specifications for US Army Combat Fitness Test (40LB / 18KB)
See More: Kettlebells Available from Rogue
Shipping
Rogue Fast Shipping
The Rogue Shipping System allows you to track your order from the time you place it to the time it hits your door. Order today, track today.
Cast by OSCO Industries...
OSCO Industries has operated foundries in South-Central Ohio for nearly 150 years. Serving a wide variety of industrial markets from air conditioning and refrigeration to automotive, power-transmission equipment, and pumps & valves, the team at OSCO were well equipped, ready and willing to make an American kettlebell of the highest standard, using Class 30 Grey Iron to produce our 9LB through 44LB increments. This is the same highly durable cast iron often found in industrial strength frying pans, manhole covers, diesel engine blocks, gearboxes, and machine tool parts.
...And Cast In Michigan by Cadillac Casting
The town of Cadillac, Michigan has a long and storied manufacturing history, and Cadillac Casting, Inc., has been a big part of it, designing and producing a wide variety of complex and safety-critical components for the automotive industry and other industrial clients since the 1920s. This reputable, privately owned foundry employs 400 highly skilled workers, who seamlessly took on the job of producing the 53LB through 88LB KBs for our powder coat line, as well as our complete E-Coat line. Cadillac uses Ductile Iron, aka nodular cast iron, which contains strong graphite nodules that give it a superior tensile strength and corrosion resistance well suited to automotive components, wheels, gearboxes, machine frames, and, of course, kettlebells.
After casting, each KB is CNC-machined to precisely cut and smooth over the flat bottom and ensure a weight tolerance of +3% / -0% (based on the KG measurement). This machining is handled by Cadillac Casting (in Michigan) and MAKO Finished Products (in Ohio).
Powder Coat Finish = Enhanced Grip
Next, the kettlebells are sent for powder coating, with the work handled by two more Midwest leaders: Greenfield Products (Greenfield, Ohio) and CRM, Inc. (Traverse City, MI). These companies have nearly 100 years combined experience, specializing in advanced finishing work for the appliance, automotive, and marine equipment industries. Their advanced powder coating systems enable the proper conditioning of materials for achieving Class A specifications (with maximum inspection time and minimum allowable defects). This textured powder coat finish doesn't just look good; it delivers an enhanced grip, consistent feel, and scratch/chip resistance beyond that of most traditional kettlebells on the market. With all KB sizes, the finish has a matte black, low gloss appearance with Rogue branding + "Made in the USA" on one side and debossed weight indications in both KG & LB on the other.
Whether you're purchasing a single set of KBs for your garage gym or outfitting a large facility, this first series of Rogue Powder Coat Kettlebells is available in a wide range of weight increments to suit most goals—from lightweight beginner bells (starting at 9LB / 6KG) up to 53 LBS / 24 KG. The handle diameters, noted below, range from 1.2" to 1.5". Please Note: The actual weight of each kettlebell is designed to match the KG weight. So for example, the 35LB Rogue Kettlebell is actually spec'd to weigh exactly 16KG with a +3% /- 0% tolerance.
Rogue E-Coat Kettlebell Handle Diameters:
9LB - 18LB: 1.2"
26LB: 1.4"
35LB - 88LB: 1.5"
The 40LB Rogue Kettlebell meets all requirements for use with the United States Army's Combat Fitness Test, a 6-event readiness assessment that replaced the previous 3-event Army Physical Fitness Test in 2020. The grueling new ACFT is neutral across all genders and age groups, and includes a strength deadlift, standing power throw, hand-release push-ups, sprint/drag/carry, leg tuck,and a 2-mile run.
Reviews
Just what I needed
Excellent quality, design, and look! Love that it's American made!
Yes, I recommend this product
The ONLY kettlebell to buy.
Been using kettlebells since 2016. Have had cast iron. Compition bells. Adjustable bells. Rogue cast iron made in the U.S.A kettlebells are THE KETTLEBELLS FOR ME. Fit and finish are perfect. Sold or gave away all my other kettlebells. So as far as I'm concerned, buy Rogue and be done. Now get to work ! Lol
Yes, I recommend this product
35lb Powder Coat
First pair of kettlebells from Rogue. Love the feel of them with powder coat. Unfortunately, I will say they have already started to rust at the bottem of the handle. Might go with E coat for the next pairs. Overall still worth the money.
Yes, I recommend this product
Response from Rogue Fitness:
June 1
We're sorry to hear this! Our team is reaching out to gather some photos of what you are describing, and take any necessary action to make this right.
powdercoat kettlebell
arrived quickly. Totally satisfied!! Carton was very durable. Hated to place the recycle bin. I bought a 70 pound kettlebell
Yes, I recommend this product
Top tier piece of equipment
Affordable and extremely well made. Good purchase. Will buy again when it's time to go up in weight.
Yes, I recommend this product
Great Quality
Great quality, no sharp edges, clean and professional looking finish. Best of all, made in the USA.
Yes, I recommend this product
Solid Kettlebells
I like these so much I currently have 4 in various weights and I plan to buy more. The finish is great since it's rough enough to get a good grip on it. Pricing is very reasonable and this is a quality product.
Yes, I recommend this product
Kettlebell was chipped on handle and coated poorly
I received this kettlebell in poor condition handle has many chips in it making it uncomfortable to do any lifts and it is coated very poorly in many areas.
Response from Rogue Fitness:
April 7
We're sorry for the issues with your Kettlebell. Our team has reviewed this and are sending out a replacement.
#RYOUROGUE
Tag your photos on Instagram and Twitter with #RYOUROGUE for a chance to be featured in our gallery
View Full Gallery