Rogue Olympic Weightlifting Bar - Cerakote
Made in U.S.A. with US & EU Steel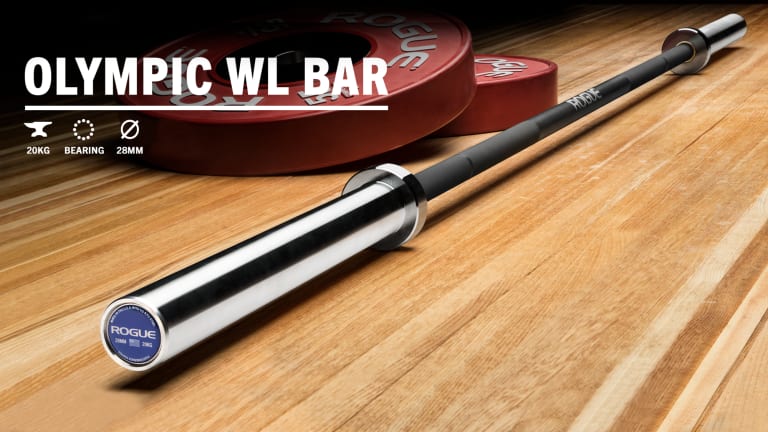 Rogue Olympic Weightlifting Bar - Cerakote
Made in U.S.A. with US & EU Steel
Product Description
Our Men's 28MM Oly Weighlifting Bar is built to IWF specifications and is now available in a Cerakote finish. This unique polymer-ceramic composite coating was originally popularized in the gun industry for its durability in thin applications, and it offers up to 100x the corrosion resistance of standard black zinc.
Read More
ROGUE OLYMPIC WEIGHTLIFTING BAR - CERAKOTE
Our Men's 28MM Oly Weightlifting Bar is built to IWF specifications and is now available in a Cerakote finish. This unique polymer-ceramic composite coating was originally popularized in the gun industry for its durability in thin applications, and it offers up to 100x the corrosion resistance of standard black zinc.
Aside from the finish, the Cerakote Oly WL Bar is manufactured to the same general specifications as the original model, combining a 215,000 PSI steel shaft with quality needle bearings and friction-welded sleeves. Each 20KG bar is machined and assembled in Columbus, Ohio, and includes an exclusive Rogue knurl pattern that's precision-cut for a firm grip without the sharpness or abrasiveness of many import bars. We firmly believe the Rogue Olympic Weightlifting Bar ranks among the best bearing bars in the industry for feel, durability, and performance.
We also offer separate versions of the Oly WL Bar in the original Bright Zinc finish, as well as Stainless Steel. A 25MM Cerakote Women's Oly WL Bar is available.
Patented
Gear Specs
Specifications:
Made in the USA with US and EU Steel
28MM Men's Olympic Bearing Bar (International Weightlifting Federation standards)
215,000 PSI tensile strength steel shaft
Olympic Knurl Marks (no center knurl)
Cerakote Color Finish on shaft w/ Rogue branding
Note: Clear bars are coated post machining so they will have slight blemishes from clamps in our machining process.
Friction Welded Sleeves (Chrome finish), 16.25" loadable sleeve length
5 Needle Bearings per sleeve
Lifetime Warranty Against Bending*
Shipping
Rogue Fast Shipping
The Rogue Shipping System allows you to track your order from the time you place it to the time it hits your door. Order today, track today.
Frequently Bought Together
Rogue Olympic Weightlifting Bar - Cerakote (Black Shaft / Chrome Sleeve)
Rogue OSO Barbell Collars
Rogue Barbell Cleaning Kit
Gear Specs

Brand
Rogue Fitness
Guarantee/Warranty
Lifetime Warranty*
Made In USA
Yes, with US & EU Steel
Loadable Sleeve Length
16.25"
Bar Length
86.6"
Diameter
28MM
F Rating™
F6-R
Bar Type
Men's Bars
Bar Use
Olympic Weightlifting
Bushing/Bearing
Bearing
Bar Weight
20KG
Knurl
Olympic
Center Knurl
No
Knurl Mark
Olympic
Shaft Coating
Cerakote
Sleeve Coating
Chrome
Tensile Strength
215,000 PSI
This version of the 28MM Oly WL Bar is distinct for its use of Cerakote, a ceramic-based coating commonly trusted by firearm manufacturers for its remarkable durability in thin applications. This unique finish can deliver superb abrasion/wear/corrosion resistance over time—100X that of standard black zinc. The barbell featutes the Rogue logo branded on the center of the shaft.
Our Men's Oly Bar is made exclusively from high-grade EU steel, producing a shaft with a minimum tensile strength of 215,000 PSI. Each shaft is ground and polished prior to machining (to ensure a smooth finish), and individually tested and straightened to within 0.015" (0.38MM). The goal is to create just the right amount of "whip" or "flex" needed for competitive Olympic lifting.
Friction Welded Sleeves + Needle Bearings
Using a process from the worlds of aviation and automotive manufacturing, the sleeves on the Rogue Olympic Weightlifting Bar are friction welded—creating a superior, forged-quality bond. This method is more precise than most joining techniques and helps prevent any changes in the integrity of the sleeve. Combined with 10 sets of top-quality needle bearings, the result is a barbell with a smooth, consistent, quieter spin.
Every Oly Bar is machined in Columbus, Ohio, on new Haas machines that are built in the USA. For the Olympic knurl, we experimented with several knurling patterns before choosing the full but minimally aggressive texture that top weightlifters responded to best. Rather than relying on visibility alone, each bar is then manually tested to ensure the actual "feel" is up to Rogue standards. Note: There is no center knurl on the Cerakote model.
A New Addition to Your Rogue Arsenal
As the leading manufacturer of strength and conditioning equipment, Rogue offers a wide range of Olympic bearing bars and related gear. This includes the original Rogue Olympic WL Bar, the Froning Oly WL Bar, and the elite Euro 28MM Oly Bar, which features a 215,000 PSI steel shaft and the addition of a center knurl. You can also fully equip your bar with quality plates, collars, and equipment storage systems.
F SCALE™
The F Scale™ is a durability scale for barbells based on functional testing at stresses similar to what barbells experience when being dropped from overhead. Bars that have been treated with Rogue Work Hardening (RWH™) are designated by having an R in their F Rating™. For more information on F Scale™ click here.
OXIDATION RATE
The resistance of a barbell to oxidation depends on the type of steel and the coating. Barbells at the lower end of the spectrum will require more care and maintenance to preserve their appearance than barbells at the upper end of the spectrum.
*Warranty against bending does not cover any bar which has been damaged due to negligent or faulty use, alteration, maintenance, storage or handling by the user. Negligent or faulty use includes abusive dropping of the bar (i.e., dropping the bar on a box, bench, spotter arms or pins in a power rack, excessive dropping with insufficient or damaged bumpers, or excessive dropping with iron plates, and similar usage). Any specific issues regarding a Rogue product with which a customer is not satisfied will be reviewed on a case-by-case basis. We have found that most problems with bars we replace are related to abusive use rather than manufacturing or materials issues.
Reviews
Could have been amazing
Alright...purchased my 1st one of these barbells about 2 months ago...after 2 weeks of single person use about 4 times a week the chrome sleeves started completely peeling away leaving shards all around the gym. Customer service was responsive and shipped me another barbell but it was such a hassle to repackage the first one back up and haul it outside for UPS. Received the 2nd barbell and it's been great except now there are indentations on the sleeves....customer service has informed me that it's normal wear and tear after 3 weeks of use because of the use of "change plates." So now I have 2 options...purchase a set of 2.5 and 5lb bumper plates for an extra 100$+ or use the bar with the steel change plates and continue to gouge lines into the sleeves. Functionally the barbell is amazing. Great spin. Awesome knurling. But the quality of these sleeves with the chrome on them...not sure how they justify the price tag if they're so delicate. Can't say I'd recommend this unless you're not concerned with an appearance of deterioration after a month of use
Excellent Value
Because I wanted to purchase a bar that will last a lifetime in a home gym - this bar fits the bill.
Yes, I recommend this product
Great Olympic bar
As an Olympic bar, this is awesome. The stainless is really pretty and the bearings spin great. One word of caution: the knurl is properly sharp. My opinion is that this is at its best as a dedicated weightlifting bar (go figure); I only say that because if you intend to use this as a CrossFit/high rep bar, your hands are gonna get shredded. Overall, awesome bar
Yes, I recommend this product
Amazing bar
I want to get another or something close in the same category. Seems to be shortages??
Great grip and weight balance
I bought this bar a few months back, because the oldest bar I had for over 20 years stopped just hit the proverbial wall and gave out. I wanted something build for Olympic lifts and designed to take the pounding of being dropped over and over. I love the knurl on the bar, the balance of the weight movement is great and it feel indestructible when I drop it. It cost a bit more than most of the other Rouge bars, but feel I got what I paid for with this product.
Yes, I recommend this product
My hands appreciate this bar.....
I just bought this bar, I've been using an older bearing bar, and my hands literally have been taking much less damage this week. Great whip, great feel, has the same feel as some of my IWF cert bars.
Yes, I recommend this product
Barbells are not all alike
I debated buying this for my home gym based on cost, but I finally settled on having two barbells, one for front squats, Olympic lifts, and metabolic routines, and another for more standard powerlifts (I ended up with the B&R bar for these). As I am making an investment for hopefully years to come, I decided this cerakote bar was worth the price, trusting that Rogue's barbells would be as good as advertised. They are. This bar spins beautifully, provides great feedback and rattle on Olympic lifts when making proper body contact on the clean and snatch, cleans up easily with 3-in-1 oil should you decide to use chalk, although I suggest not using chalk with this bar. The knurling is absolutely perfect, does not chew up my hands yet provides fantastic grip, and no center knurl makes for comfortable cleans and front squats. I love the black and chrome pairing in terms of aesthetics, too. With Rogue's longevity calculator, this bar should last me a lifetime based on my usage, which is roughly 3x per week, including drops with plates that are 25-lb thickness and above. It's worth the investment.
Yes, I recommend this product
Best Bar I've Ever Used
Literally the best bar I have ever used. Spins like a dream!
Yes, I recommend this product
#RYOUROGUE
Tag your photos on Instagram and Twitter with #RYOUROGUE for a chance to be featured in our gallery
View Full Gallery