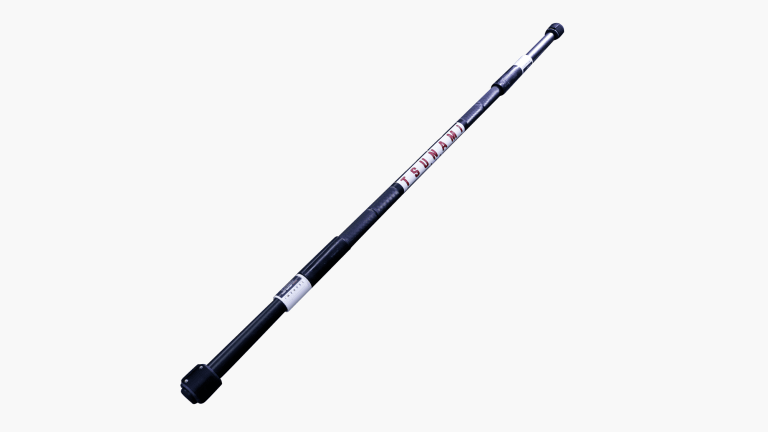 Available only in CONUS 48 states. Pick-up not available
Gear Specs

Brand
Tsunami Bar
Color
Black
Made In USA
Yes
Product Weight
13LB (unloaded)
Length
90"
Diameter
2"
Product Description
TSUNAMI BAR® SPEED - 90"
The Tsunami Bar® Speed (aka Level 1) is a 90" oscillating flexible barbell weighing 13LB, with a recommended loading range of 15 to 45LB per side. This patented design utilizes composite materials that are much easier on the hands and body than traditional steel, with the unique flex action of the shaft working like shock absorbers to reduce stress on the joints and connective tissues.
While its total weight range is 43LB to 103LB, the Tsunami Bar Speed produces reversal forces up to 400LB, as the lifter's concentric contractions work against the acceleration of the flexing bar, recruiting maximal motor units and enhancing muscle contraction as the bar springs back. This fast action equates to greater dynamic force in the lift (when performed properly), making the Tsunami Bar an excellent developer of explosive strength.
Each Speed Bar comes with a pair of 3" Croc Lock Pinned Collars and one pair of Tsunami Bar Plate Spacers.
See Also:
Tsunami Bar Force (Level 3) - Reversal Force up to 800LB
Tsunami Bar Max (Level 5) - Reversal Force up to 1,000+LB
Gear Specs
Specifications:
Flexible Training Barbell - Patented
90″ Long, 2″ Diameter
13LB unloaded
1 Pair Pinned Croc Lock™
1 Pair of Plate Spacers
Effective Load Range 20LB - 90LB
Compatible with standard Oly plates
Browse More: Specialty Bars Available from Rogue
Shipping
Rogue Fast Shipping
The Rogue Shipping System allows you to track your order from the time you place it to the time it hits your door. Order today, track today.
Reviews
A new can of worms
I feel like a mad scientist working out with this thing. There are no coaches almost no instructions available just a new frontier and places to go where no man has gone before. I'll tell you what it does in a nutshell. It turns your muscles into a system of battle ropes. It will kick you like a mule and bite like a crocodile. It works for me and I can't wait to stack the Force bar. Get one.
Yes, I recommend this product
#RYOUROGUE
Tag your photos on Instagram and Twitter with #RYOUROGUE for a chance to be featured in our gallery
View Full Gallery