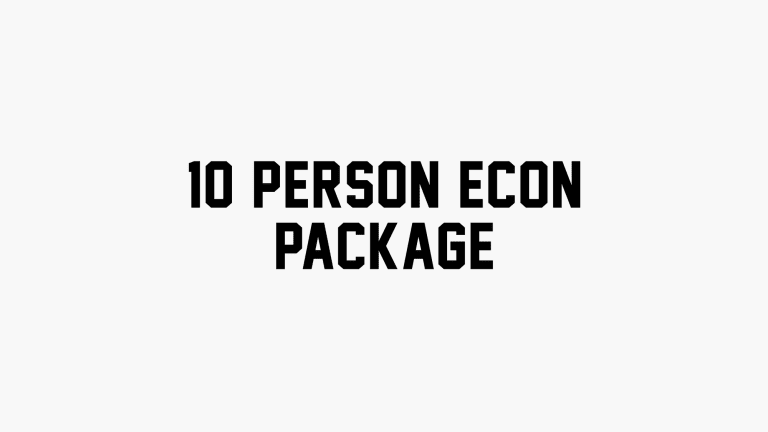 Product Description
We have reworked our affiliate packages and this is the Official Rogue Box Package. This package is the full setup, this should eliminate all bottlenecks in training. If this package does not meet your needs, please email us at team@roguefitness.com with your wish list and shipping address
Read More
10 Person Econ Package
We have reworked our affiliate packages and this is the Official Rogue Box Package. This package is the full setup, this should eliminate all bottlenecks in training.
If this package does not meet your needs, please email us at team@roguefitness.com with your wish list and shipping address
Shipping
Rogue Fast Shipping
The Rogue Shipping System allows you to track your order from the time you place it to the time it hits your door. Order today, track today.
PACKAGE CONTENTS
(2) 1000LB Rogue HG 2.0 Bumper sets
You choose the weights you want up to 1000LB
(5) ROGUE Ohio Bar - Black Zinc
Each Rogue Ohio Bar is machined and assembled in Columbus, Ohio, and includes a lifetime guarantee against bending*.
(5) ROGUE Echo BARs
Machined and assembled at our Columbus manufacturing facility, the newly redesigned Rogue Echo Bar 2.0 is an economically priced 28.5MM bushing bar equipped with many of the same features as our flagship Rogue Ohio Bar.
(1) ROGUE Bella Bar 2.0 - Black Zinc
The Bella Bar is Rogue's go-to multipurpose 15KG barbell for female athletes. Fully machined and assembled in the USA, this versatile ladies bar is uniquely optimized for Olympic weightlifting, powerlifting, and/or a CrossFit WOD.
(3) ROGUE T-15 15LB Technique Bar
Fully machined and assembled at the Rogue factory in Columbus, Ohio, the T-15LB Technique Bar features a 28MM bare aluminum shaft with dual Powerlifting and Olympic knurl marks.
(5) CONCEPT 2 RowErg Rowers W/ PM5 MONITOR
Includes PM5 Performance Monitor, flywheel design, and easy spiral damper to control the feel of each pull.
(2) Rogue Echo Bike
The Rogue Echo Bike combines heavy-duty steel, precision engineering, and convenient customization to forge a stronger, sturdier fan bike.
(3) SML-1 Rogue 70" Monster Lite Squat Stands
Equally well suited to a small garage gym or large-scale weight training center, the SML-1 Squat Stand stands six feet tall and operates within an efficient 48"x49" footprint.
(5) Rogue Flat Utility Bench 2.0
The redesigned Rogue Flat Utility Bench takes the weight bench back to basics, featuring 2x3" 11-gauge steel construction, a high-density Neoprene pad, and a pair of angled, wide-set legs for maximized stability.
500LB ROGUE KETTLEBELL Set
Choose your own variants up to 500LB total.
(15) SETs OF ROGUE OSO Barbell Collars
This is the exclusive, Rogue-branded version of the OSO Barbell Collar—an innovative, aircraft-grade aluminum clamp designed are manufactured in Columbus, Ohio.
(6) SETs OF ROGUE WOOD RINGS
American-made gymnastic rings offer firm grip with or without chalk.
(10) ROGUE MEDICINE BALLs
Highly durable, 14" diameter medicine balls, made in the USA. Select your preferred weight from 4LB-20LB for each of the 10 medicine balls.
(6) Rogue Games Boxes
American-made, battle tested, and backed by a year-long warranty, the 56 LB Games Box is designed for safe, effective plyometric training at any skill level with built-in height options of 20", 24", and 30".
(5) Rogue SR-3 Bushing Speed Rope
Built with a 6.75", rotating handle for sure grip, the Rogue SR-3 is a workhorse.
(6) ABMATs
Comfortable support mat for crunches and other abdominal workouts.
#RYOUROGUE
Tag your photos on Instagram and Twitter with #RYOUROGUE for a chance to be featured in our gallery
View Full Gallery