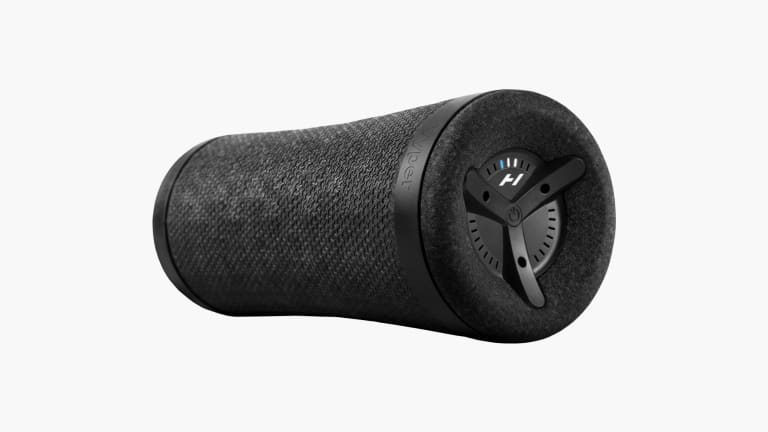 Gear Specs

Brand
Hyperice
Color
Black
Made In USA
No
Product Weight
2.7LB
Length
13"
Width
5.4"
Height
5.4"
Product Description
Version 3.0 of the Hyperice Vyper features an updated, contoured design made from a durable and eco-friendly polypropylene, with rubber bands for greater stability through each roll. Compact, portable, and easy to use, the Vyper 3.0 massages away muscle tension and loosens knots, wherever needed, through high-intensity vibration. There are three speed settings to choose from, giving each user the ability to customize their warm-up
Read More
Hyperice Vyper 3
Version 3.0 of the Hyperice Vyper features an updated, contoured design made from a durable and eco-friendly polypropylene, with rubber bands for greater stability through each roll. Compact, portable, and easy to use, the Vyper 3.0 massages away muscle tension and loosens knots, wherever needed, through high-intensity vibration. There are three speed settings to choose from, giving each user the ability to customize their warm-up
This advanced vibrating massage roller is powered by a high-torque 34W motor, but it's also optimized for comfort, limiting pressure on the spine and sensitive areas. The German-engineered construction is TSA approved, and the included lithium ion batteries deliver 2 hours of use per charge.
Benefits of the using the Hyperice Vyper 3.0 can include:
Increased flexibility
Improved circulation
Reduced muscle soreness and stiffness
Quicker recovery after workout
Reduction in pain associated with myofascial release
For a smaller, desk-drawer version of this roller, see the Vyper GO.
Connect to the HyperIce App: The exclusive Hyperice App allows you to operate your Bluetooth devices, follow guided routines and content from top pros, and connect with leading health and wellness apps (such as Strava and Apple Health). By analyzing your app profile and wearable data, Hyperice's HyperSmart™ technology can also evaluate and recommend custom-tailored routines for your recovery, warm-ups, flexibility, optimal performance, and more. Learn more about the App here.
Gear Specs
Specifications:
High intensity, vibrating massage roller
Dimensions: 13" x 5.4" x 5.4"
Weight: 2.7LB
Polypropylene shell ideal for conducting vibration
Optimized for deep tissue therapy and myofascial release
3 Vibration Speeds
2 Hour Battery Life
High-torque 34W motor
Approved by TSA for carry-on
Includes power source and 3 plug adapters
Connects via Bluetooth® to the Hyperice App (for automated speed control)
Color: Black
See More: Hyperice Products
See More: Foam Rollers Available from Rogue
Shipping
Rogue Fast Shipping
The Rogue Shipping System allows you to track your order from the time you place it to the time it hits your door. Order today, track today.
#RYOUROGUE
Tag your photos on Instagram and Twitter with #RYOUROGUE for a chance to be featured in our gallery
View Full Gallery