PowerBlock Elite EXP Series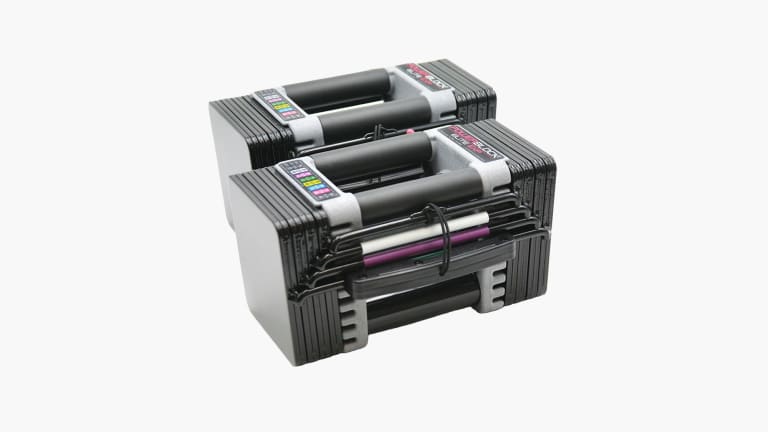 PowerBlock Elite EXP Series
Available only in CONUS 48 states. Pick-up not available
5-50 lbs. per hand. Stand NOT included.
5-70 lbs. per hand. Stand NOT included.
5-90 lbs. per hand. Stand NOT included.
PowerBlock Large Column Stand
Gear Specs

Brand
PowerBlock, Inc.
Color
Black
Made In USA
No
Width
6"
Height
6"
Material Type
Welded Steel Construction
Other Product Specs
Black Powder Coat Paint Coating
Grip Diameter: 1.265" / 33mm
Product Description
The evolution of the expandable dumbbell continues with the PowerBlock Elite EXP Series; a welded steel product that can replace an entire storage rack of traditional dumbbells with a single pair.
Read More
PowerBlock Series - Elite EXP Dumbbells
The evolution of the expandable dumbbell continues with the PowerBlock Elite EXP Series; a welded steel product that can replace an entire storage rack of traditional dumbbells with a single pair.
Like the standard EXP Powerblocks and the Commercial Series model, the Elite EXP is available in several different kits or "stages," depending on the range of weight increments needed. The Stage 1 Elite EXP set offers a customizable weight range of 5 LBS to 50 LBS per hand, while the optional expansion kits enable incremental increases up to 70 LBS (Stage 2) or 90 LBS (Stage 3).
Whether you're equipping a small home gym or a large pro facility, any training space can benefit from the use of adjustable dumbbells, as a single set of PowerBlocks can dramatically save on both costs and storage space (see the Rogue PowerBlock Cart), while potentially expanding an athlete's training options.
How to Use PowerBlock Elite EXP Dumbbells
Each PowerBlock has color bands on the side rails corresponding with the weight chart on the handle (in LB and KG) for easy weight identification. A magnetic polypropylene selector pin (rated for 500 LBS max load) makes it easy to quickly and accurately change the weight setting before or during a workout. You can also make micro-load adjustments by 2.5 LB increments using the included adder weights. Simply tilt the handle back and place the dial lock in the open position to gently remove the adder weights inside the lower ballast tubes, then close the dial lock and place the handle back in the set.
Available Sets
Rogue offers the Stage 1 PowerBlock Elite EXP Dumbbell Set, along with both the optional Stage 2 and Stage 3 expansion kits. All kits are sold in pairs.
Note: For home use only

PowerBlock Storage Options:
Gear Specs
Specifications:
Innovative Selectorized Dumbbell Units
Sold in Pairs
For home use only
Welded Steel Construction
Black Powder Coat paint coating
Handle: Straight cylindrical grip set inside a padded handle
Selector Pin: Magnetic polypropylene, rated for 500 LB max load
Dial Lock for 2.5 adder weights
Handle Diameter: 1.265" / 33mm
Dimensions:

6" W x 6" H x 11.75" L (50lbs)
6" W x 6" H x 14" L (70lbs)
6" W x 6" H x 16.25" (90lbs)
See Also:
PowerBlocks - Commercial Use
PowerBlocks - EXP - Home Use
Rogue PowerBlock Cart
Shipping
Rogue Fast Shipping
The Rogue Shipping System allows you to track your order from the time you place it to the time it hits your door. Order today, track today.
Frequently Bought Together
PowerBlock Elite EXP Series
Rogue PowerBlock Cart
PowerBlock Elite EXP Stage 1
5-50 LBS Weight Range Per Hand
Replaces 16 pairs of dumbbells or 825 LBS of free weights
Dimensions: 12"L x 6" W x 6" H
Increments: 2.5 (adder weight), 5, 7.5, 10,15, 17.5, 20 25, 27.5, 30, 35, 37.5, 40, 45, 47.5, 50 LBS per hand
PowerBlock Elite EXP Expansion Kit, Stage 2
Expands Elite EXP Stage 1 Set from 50 LBS to 70 LBS per hand
Adds 6 additional increments: 55, 57.5, 60, 65, 67.5, and 70 LBS per hand
Replaces 22 pairs of dumbbells, 1,575 LBS of free weights
14″L x 6.25″W x 6″H
Straight center handle (not contoured)
PowerBlock Elite EXP Expansion Kit, Stage 3
Expands Elite EXP Stage 2 Set from 70 LBS to 90 LBS per hand
Adds 6 additional increments: 75, 77.5, 80, 85, 87.5, and 90 LBS per hand
Replaces 28 pairs of dumbbells, 2,565 LBS of free weights
Dimensions 16″L x 6″ W x 6″ H
Reviews
Great!
Definitely worth every penny. I don't have to time get to the gym at a decent hour cause work. Having these babies have been a blessing. Also having the the ability to purchase additional weight made it a no brained for me.
Yes, I recommend this product
Has some defects... but I still love them!
I purchased these about 8 months ago and I love them! Some of the weights in one of the dumbells are slightly bowed which makes it hard to pull out sometimes and you have to have a little force pushing them in which has caused unnecessary damage with scraping. One of the insertable 2.5 weight is also flaking whatever coating it has. Although I would have preferred a set with zero defects... I still love these. They are quickly adjustable making the easy to use.
Yes, I recommend this product
Solid
I bought these dumbbells a couple months ago and they have served me quite well. Although they aren't ideal for exercises like lateral raises or bicep curls, and the weight does tend to get stuck together, they have been an indispensable addition to my home gym and are great for all the basic dumbbell movements.
Yes, I recommend this product
Many dumbbells in one.
How could anyone not have Powerblocks? They are a great investment. From squat exercises to deadlifts to shoulder presses to tricep curls (and more), these dumbbells can be used to workout almost every body part. Space-savers. Have your 10 year old kids use them, too. Do you want 20 dumbbells or just two? You can't go wrong with Powerblocks.
Good, compact, and indispensable
I purchased my set on the same day that my gym closed at the beginning of the pandemic. My timing could not have been better, as my set was the last one to go out before they shut down production in Minnesota. I chose these over Bowflex because of it's compact dimensions. Since it has a nested design, a 50 lb Powerblock is much shorter than a Bow flex which has a fixed length handle that is the same length regardless of the weight you have on it. This comes into play with overhead shoulder presses and bench presses where you want to get your hands closer together. While the weight adjustment system is not as quick or easy as the Bowflex, it's really a minor inconvenience and you get used to it very quickly. While it is theoretically cool that you can find adjust in 2.5 lbs increments, you will find yourself not doing it very much at all because pulling out the main handle assembly and removing and replacing the 2 silver cylinders and then putting them back in it's just not worth the time and effort. The way to themselves work really well. You will have to get used to 2 things: 1. There is a sound of metal on metal since they're not one piece,solid dumbbells. Even though they are strong and durable, you still have to be more careful with them, and you certainly don't want to drop them If at all possible. 2 The closed handle design is a bit restrictive. There are certain exercises that are more difficult to do, like overhead tricep extensions. Also, performing certain exercises with single dumbells are challenging. Overall, it is a marvelous piece of equipment, and all I have in my home gym are the power blocks, an adjustable weight bench, and a pull up bar, and I can do 95% of what I can do in the gym. Highly recommended!
Yes, I recommend this product
Quality and no extra space needed
They really seem to hold up. I haven't and don't plan on dropping them from super high but they do seem durable. Great product so far.
Yes, I recommend this product
Highly efficient
I love that these effectively replace a large number and thousands of dollars of dumbbells, all in one small footprint. They are easy to use and quick switch weights. The color system for identifying weights seemed a bit confusing at first, but you quickly get the hang of it and can switch weights in seconds. Meets my expectations for a dumbbell.
Yes, I recommend this product
B. A. Dumbbells
Loving these dumbbells! Great buy! Totally transformed my garage gym! HNL all the way!
Yes, I recommend this product
#RYOUROGUE
Tag your photos on Instagram and Twitter with #RYOUROGUE for a chance to be featured in our gallery
View Full Gallery