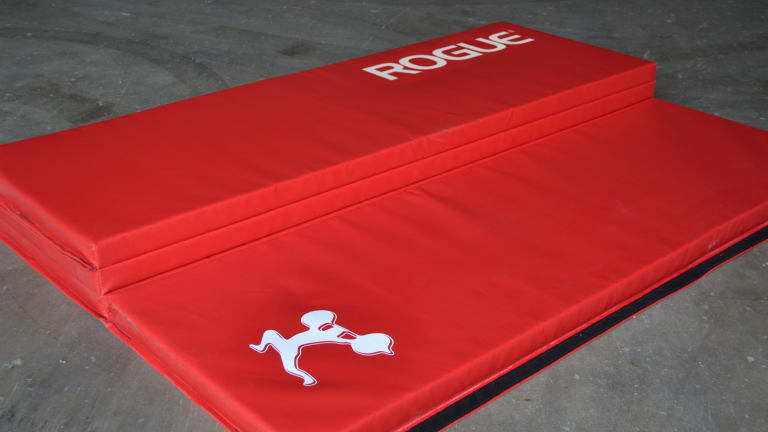 Gear Specs

Brand
Rogue Fitness
Made In USA
Yes
Infinity Compatible
Yes
Monster Compatible
Yes
Echo Compatible
Yes
Monster Lite Compatible
Yes
Product Description
DESIGNED TO FIT ON THE INSIDE OF OUR INFINITY RIGS
8' x 6' x 2". 3-Fold 4-Section Folding Mats - Includes Hook and loop fasteners.
Read More
Rogue crash mats
Designed to fit on the inside of our Infinity Rigs
8' x 6' x 2"
3-Fold 4-Section Folding Mats
Includes Hook and loop fasteners.
Shipping
Rogue Fast Shipping
The Rogue Shipping System allows you to track your order from the time you place it to the time it hits your door. Order today, track today.
Reviews
Flying roll out
Initially bought for deadlifts in my house, but it's a little too squishy for any kind of weight lifting or power lifting. Very nice size and construction. I use it to practice jujitsu in my house as the mat can handle a 200+ pound adult being thrown and flying roll outs. Absorbs very hard falls. Great! I would want another if I had the room. Also, my two big golden retrievers jump all over this and I think I saw them chewing on it once…no holes and going strong. Had it over 2 years.
Yes, I recommend this product
Good and ok
I bought this for body based movements. It is a lot softer than I expected. Good quality, as previously reviewed it is heavy.
Yes, I recommend this product
Originally posted on roguecanada.ca
great with some reservations
Great crash pad you can use for most things. It is like standing on a pad some some things you just don't want to do here. Others depend on the person, I don't do burpees on them because of the give but my wife does because it's soft. It's basically too heavy to move by yourself because of how floppy it is. I'm sure a lot of guys reading this can man handle it but anyone that's picked this up will agree it's unwieldy. I'd like the matt to fold the opposite of how it actually folds. I keep it logo side down because it's substantially easier to put away solo because of how it folds. This is not a lightweight gymnastics mat to toss around the gym.
Yes, I recommend this product
Unparalleled
After receiving this I felt like I made a mistake. It's pretty bulky, not easily portable, and it is not small. This led me to an initial decision to sell it. However, after using it, I realized that this is the nicest mat I've ever owned. As an older person (50s) stretching has become an important facet of my workouts. This mat will be forever included in my 500 sq/ft home gym for it's quality & unmatched cushioning.
Yes, I recommend this product
Using everyday
Bought when box locked down. Need something on concrete floor to progress handstand etc. The size and support exceed my expectation once I start to use it. We use it everyday and it's very useful than it looks.
Yes, I recommend this product
Originally posted on roguecanada.ca
Durable. HEAVY.
GREAT if you're gonna leave it in place, but too heavy to move around a lot. Wish it had handles.
Yes, I recommend this product
Multiple uses
Wanted a large mat for stretching and plyo work and picked up this one due to the weight of it. I've owned a few lighter (cheaper mats) and they not only migrate around during a workout, the padding doesn't offer enough support, Bottoms out offering no shock relief. This mat is extremely well made and has the perfect amount of cushion. Firm, but enough give to strike the perfect balance. I use so much I just leave it out full time now. Ab work, foam roller therapy, pushups, jumping movements......the list goes on. If you want a top tier mat for your gym, this is the one.
Yes, I recommend this product
Very Solid Mat
I was looking for a low-cost (vs. buying a platform) solution for doing deadlifts and Olympic lifts. This mat is very solid in terms of quality and construction, but it was too soft/cushiony for use as a base for any kind of weightlifting - squats, deadlifts, and Olympic movements. I ended up returning this mat for those reasons, but it had nothing to do with the quality of the mat itself - it just didn't fit my intended usage once I was able to feel how much "give" it had. I cannot recommend this mat for weightlifting, but would definitely recommend it for any floor-based, non-explosive movements.
Yes, I recommend this product
#RYOUROGUE
Tag your photos on Instagram and Twitter with #RYOUROGUE for a chance to be featured in our gallery
View Full Gallery