Rogue DB25-10 Loadable Dumbbell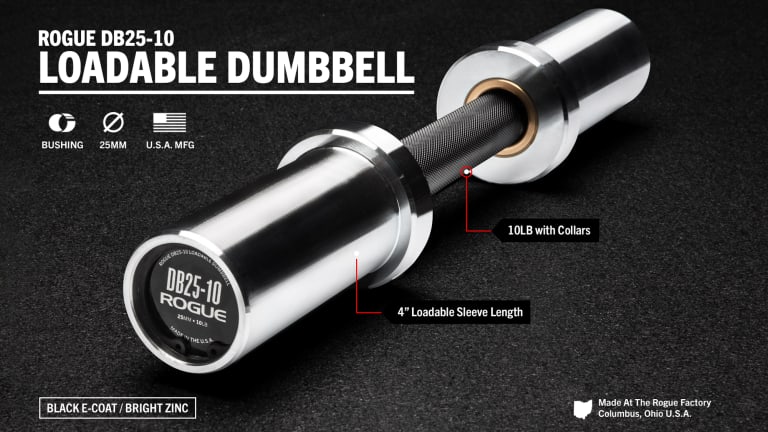 Rogue DB25-10 Loadable Dumbbell
Sold Individually, NOT in Pairs
Rogue DB25-10 Loadable Dumbbell
Collars not included
Rogue DB25-10 Loadable Dumbbell w/ Rogue OSO Collars
Product Description
An alternative option to our standard DB-10 and DB-15 Loadable Dumbbells, the DB25-10 adapts its design from the Rogue Bella Bar rather than the Ohio Bar, resulting in a smaller handle diameter (25mm vs 28.5mm), reduced distance between the collars (5" vs 5.5"), and a different knurl pattern. This model also combines Bright Zinc sleeves with a striking Black E-Coat shaft finish, known for its excellent adhesion, even coverage, and overall toughness.
Read More
Rogue DB25-10 Loadable Dumbbell
Compatible with Standard Olympic Plates and/or Our Rogue Dumbbell Bumpers
An alternative option to our standard DB-10 and DB-15 Loadable Dumbbells, the DB25-10 adapts its design from the Rogue Bella Bar rather than the Ohio Bar, resulting in a smaller handle diameter (25mm vs 28.5mm), reduced distance between the collars (5" vs 5.5"), and a different knurl pattern. This model also combines Bright Zinc sleeves with a striking Black E-Coat shaft finish, known for its excellent adhesion, even coverage, and overall toughness.
As with all of our Loadable Dumbbells, the DB25-10 offers gym owners a customizable, space efficient alternative to storing a complete set of traditional DBs. With 4" of loadable sleeve length, the barbell-style design allows the user to make precision, custom weight adjustments using any standard Olympic plates.
As an Additional Option - We have also developed a new type of cylindrical 230mm diameter plate—the Rogue Dumbbell Bumper—manufactured specifically for use with our Loadable Dumbbells. You can learn more about these plates and/or order a set here.
Please Note: The DB25-10 Loadable Dumbbell weighs 9 LBS unloaded, but reaches the weight of 10 LBS when combined with a set of Rogue OSO Collars (which you can select as an optional add-on in the order menu).
See More:
The 28.5mm DB-10 and DB-15 Loadable Dumbbells
DB25-10 Loadable Dumbbell - Stainless Shaft / Black Sleeves (25mm)
Patent Pending
Gear Specs
Specifications:
Sold Individually, NOT in Pairs
Made in the USA
25mm diameter knurled handle
Length: 14.5"
Loadable Sleeve Length: 4"
Space between collars: 5"
Compatible with any standard Oly plates and/or Rogue Dumbbell Bumper Plates
Weight (with no plates or collars): 9 LB
Finish: Black E-Coat (shaft) and Bright Zinc (sleeves)
Bronze Bushings & Snap Ring Design
Load Capacity: 100+ LBS
Rogue branded endcaps
Available as package with set of Rogue OSO Collars
Shipping
Rogue Fast Shipping
The Rogue Shipping System allows you to track your order from the time you place it to the time it hits your door. Order today, track today.
Gear Specs

Brand
Rogue Fitness
Guarantee/Warranty
Lifetime Warranty *
Made In USA
Yes
Other Product Specs
Weight w/ Collars: 10LB
Loadable Sleeve Length
4"
Bar Length
14.5"
Diameter
25MM
Bar Type
Women's Bars
Bar Use
Specialty
Bushing/Bearing
Bushing
Bar Weight
DB25-10 - 9LB
Knurl
Multi
Center Knurl
No
Shaft Coating
Black E-Coat
Sleeve Coating
Bright Zinc
Functioning like a barbell-dumbbell hybrid, the DB25-10 has 4" of loadable sleeve length, allowing athletes to easily adjust the weight of a single DB using the same standard Oly plates they'd load on a bar (you can also use our specialized Dumbbell Bumpers; sold separately). This makes the Loadable Dumbbell well suited for a larger gym—where multiple athletes can quickly customize the dumbbell to their own needs—or a small home gym, as it can eliminate the need for storing a full set of traditional DBs.
Built to the Same Specs as the Rogue Bella Bar
Manufactured in Columbus, Ohio, the DB25-10 is built like a miniaturized version of our women's Bella Bar, starting with a 25mm diameter. The sleeves are machined from a single piece with a bright zinc finish, and include quality bronze bushings and a snap ring design. An original, precision knurl pattern also creates a firm but non-abrasive grip.
The black electrocoat, or E-Coat finish, on the shaft of the DB25-10 is an electrically-applied paint coating noted for its excellent corrosion resistance, cost efficiency, and green benefits. It has been widely adopted by leading manufacturers for the finishing of auto parts, metal stampings, fasteners, lawn/garden & agricultural equipment, military equipment, and much more. E-Coat finishes stand up to water, sunlight, and household chemicals, and they are compliant with the environmental safety standards of the RoHS, OSHA and EPA.
Combine with Our New Dumbbell Bumpers
While our Loadable Dumbbells are compatible with any standard-size Olympic plates, we've also designed a unique new cylinder-style bumper—the Rogue Dumbbell Bumper—created specifically for use with these DBs. At a universal diameter of 230mm, these compact plates create more of a centralized distribution of weight, resulting in a look and feel more like a traditional dumbbell. Rogue Dumbbell Bumpers can be purchased separately from their own product page.
Optional Rogue OSO Collars
Customers can also add a set of exclusive Rogue OSO Collars to their order at an additional cost. These distinctive, American-made barbell collars are manufactured from aircraft-grade aluminum with a rubberized interior lining to protect the dumbbell during use. Available in grey with Rogue branding in white.
Reviews
Great! Plenty of space for plates
Definitely recommend. I was going to get the Ohio dumbell bars but went with these after I saw all the reviews mentioning sleeve length. With the collars you can fit 3 10lb Olympic plates on each side. So you have dumbells up to 70lbs which is fantastic for the price
Yes, I recommend this product
Great little handles.
When I ordered these I thought they were the ones with more aggressive knurling so I was like "wtf" when they showed up. Truth be told I don't notice even a little bit and the extra sleeve space lets me put a decent amount of weight on without the handles being to unwieldy. Would recommend for sure.
Yes, I recommend this product
Fantastic for smaller hands, novel, beautiful
I have smaller hands for a man, and yet I like to lift heavy. I can fit nearly 80# on this small frame using the special rogue bumpers. The knurl is gorgeous, it is such a clean DB. Absolutely versatile.
Yes, I recommend this product
Highly Underrated
I had bought these because I had a hard time doing regular curls, ohp, skull crushers, etc with my DB 15s due to the length. I find myself using these more than the DB 15s now if I am staying under a certain weight. Bought them for my wife but I use them far more than she does. Highly recommend for home gym owners on a budget. Buying these and the DB 15s satisfies all dumbbell needs imo.
Yes, I recommend this product
LOVE THESE!!!!!
I've had hex dumbbells that lasted years until a month in the garage they rusted. Went with power blocks that are great for a few exercises but not for most. Ordered a pair of 25lb dumbells then looked around for a solution between buying another entire set of dumbells and the power blocks. The Rogue loadable dumbbells are AMAZING!. These are 10lb each with the rogue collars and I had about 55lb in plates added on each before running out of space and ordering the longer DB25-15. If you are a guy getting just one set then you may want to go with the DB25-15s and then later get the DB25-10s for doing arms and other exercises where the shorter bar and less weight such as side lateral raises. I had to add the DB25-10s because these are too short to start adding weight for dumbbell bench or overhead press unless I was going to put 25lb plates on there and then that started to affect the movement/range of motion. Easy Easy Easy to adjust these I load one side while standing the bar straight up so I can get the collar completely tight then flip it and load the other side. Collars are super tight and high quality.
Rogue DB25-10 Loadable Dumbbell
Highest quality materials and construction! Worth every $$
Yes, I recommend this product
For the wife
I bought this for my wife (I purchased DB-10 for myself). Wife and me love them. She laughs at the idea of owning them because she would probably be satisfied with a single pair of 15lb dumb bell. She mostly does single arm snatches at around 20lbs. The DB25-10 can max out at 60lbs. Overkill. She will never outgrow the DB25-10 and they will do their job for a long time, regardless of how much she gains strength. I purchased 2 pairs of the rubber coated change plates (10, 5, 2.5 and 1.25lb). They work great and look great. I'm extremely happy because this set up allows super flexibility for our home gym.
Yes, I recommend this product
Glad I got them
After waiting for nearly 3 weeks, these finally came in stock and I swooped em up. So far, they seem to be excellent quality. I've had 105 lbs on one for a back row. No issues. These, compared to the other loadable dumbbells, are like actual dumbbells. I can't imagine using the DB-15 to do a lift. 20.5 in (I think that is its measurement for it) is ridiculously long and has to be awkward when lifting those. I recommend getting your tape measure out and measuring the lengths and image yourself curling, benching, rowing, pressing, etc... before you buy. I suppose if you have the money to buy more than one type, its no issue. If your a middle classer like myself and are trying to get one set to do it all, get these. The only bad thing is I kinda wish there was maybe 0.25 in more room to load weights. That would allow another 10 or 5 to get on there. When using normal plates, some things to note: 1. barbell is literally 9 pounds. If you use springs or lightweight clamps don't throw a 10 on each side and claim your doing 30 pounds. You're only doing 29 still. 2. The max weight you can get on each side COMFORTABLY is 3 10 lb plates. I say comfortable as it's awkward putting 35 or 45 lb plates on each side and doing DB bench or even press. You got to factor the weight length and the weights hitting your chest or shoulder when repping. Something you don't have to think about with normal dumbbells. 3. Load up on 10lb plates. It takes 8 total just to get a set of 49lb dumbbells. U need 45 lb plates for heavy barbell stuff, but u need 5's and 10's for these. Hope this helps.
Yes, I recommend this product
#RYOUROGUE
Tag your photos on Instagram and Twitter with #RYOUROGUE for a chance to be featured in our gallery
View Full Gallery