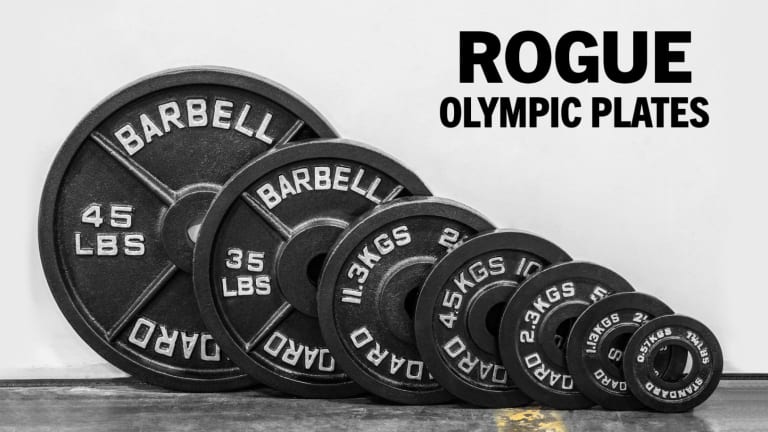 1.25LB Rogue Olympic Plate - Pair
2.5LB Rogue Olympic Plate - Pair
5LB Rogue Olympic Plate - Pair
10LB Rogue Olympic Plate - Pair
25LB Rogue Olympic Plate - Pair
35LB Rogue Olympic Plate - Pair
45LB Rogue Olympic Plate - Pair
100LB Rogue Olympic Plate - Pair
Gear Specs

Brand
Rogue Fitness
Color
Black
Made In USA
No
Product Weight
1.25LB up to 100LB
Width
Varies by weight
Height
Varies by weight
Diameter
Varies by weight
Material Type
Cast Iron
Diameter
Varies
Plate Type
Powerlifting
Product Description
Nothing replicates the sound of old school steel plates being lifted in a gym. Rogue Black Olympic Plates are simple, classic, and tough enough for daily abuse.
Read More
Old school cast iron
Nothing replicates the sound of old school steel plates being lifted in a gym. Rogue Black Olympic Plates are simple, classic, and tough enough for daily abuse.
Sold in pairs, these time-tested cast iron weightlifting plates range from 1.25LB up to 100LB, with custom orders available to equip your affiliate or home gym as you see fit.
Black steel Olympic plates are still the gold standard for many serious weightlifters, and Rogue's plates stand up against any and all competition.
Note: *Due to the casting process, cast products may have minor variances in the finish.
Gear Specs
Specifications:
Weight range: 1.25LB - 100LB
Heavy duty black finish with silver letters
Shipping
Rogue Fast Shipping
The Rogue Shipping System allows you to track your order from the time you place it to the time it hits your door. Order today, track today.
Dimensions:
| Weight | 1.25LB | 2.5LB | 5LB | 10LB | 25LB | 35LB | 45LB | 100LB |
| --- | --- | --- | --- | --- | --- | --- | --- | --- |
| Diameter | 5.0" | 6.3" | 7.75" | 8.9" | 10.9" | 14.0" | 17.5" | 17.5" |
| Thickness | 0.4" | 0.5" | 0.6" | 0.9" | 1.4" | 1.3" | 1.3" | 2.0" |
Reviews
Good plates
This is my second time ordering these plates. I ordered the first set in 2020. Seems that the finish is not as good as it used to be; much rougher and a less finished look. As far as the weight tolerances, I ordered 5 sets of 45's and 1 set of 25's. 9 of the 45's were within .5 of the stated weight one was 45.8 which did surprise me. If you're looking for a finished look that is more accurate I would order the deep dish plates. If I could do it over again I would have spent the extra 200 and went that route.
Buy Rogue Deep Dish Plates Instead!
I only bought the 2.5lb plates of these to go with my Deep Dish Plates from Rogue. They are perfectly fine, but if you're looking at these, just spend the extra money for the Rogue Deep Dish. You'll thank me later! The price difference is negligible in my opinion and the quality difference is great. I asked my wife if she could tell which plates were not made in the USA from looking at them and she laughed. The Rogue plates are made in the USA, are higher quality, and look 100x better.
Old school iron
Accurate weight. Nice finish. Ordered over 300 pounds of these.
Yes, I recommend this product
The finish leaves a lot to be desired
The first box I opened looked great, then I started to notice the painting was missing on letters. Then I opened this one and barely any are painted and what is painted is done very poorly
Response from Rogue Fitness:
July 31
We're sorry to see how these arrived. Our team has reached out to get you replacements.
Perfect
These are great plates - perfect for home gym! Well balanced with a nice finish. Very pleased with them
Yes, I recommend this product
Overall pleased, with a few exceptions.
This is a single review from multiple years of buying these plates in different sizes: My initial batch of plates was right before the pandemic hit, those were all superb quality, price felt reasonable, no complaints. I added on a little between late 2020 and 2021 and the quality dipped noticeably for the latter ones with a couple issues (this was during a time period it was practically impossible to even buy plates to begin with from anywhere). The last pair of 45lb plates I got (last year) had some sort of alignment issue when cast/milled/or didn't get smoothed properly (given I believe these are imported that's not really Rogue's fault), leaving a sharp ridge around the bottom side of both of those plates. At the time I figured whatever and wrote it off as mostly cosmetic because it looks pretty innocent, but long term I ultimately wound up wishing I'd reached out about them as I've since cut myself and my leggings repeatedly while handling specifically those two. I keep them separated from the rest of my plates for that reason and only use if I must, which feels unfortunate given the cost. I'm sharing that as a consideration if it happens to anyone else as my opinion about Rogue overall is still really positive, any time I need to add on to my home gym this is where I look. The one time I did have to reach out about plate quality issues the customer service was fantastic, so I imagine it's possible they would've offered to rectify that pair of 45's had I reached out when I got them and not ignored it.
Yes, I recommend this product
Old skool cool
Olympic weight plates: simple, reliable, and indispensable for serious lifting. Nothing like that classic old school sound of iron. Get it.
Yes, I recommend this product
Originally posted on rogueaustralia.com.au
Rough sides, 1 plate 43.8lbs other 46lbs.
So I ordered 5 pairs of 45's. A pair of 35's. And 25, 10, 5, 2.5s those were perfect. But the pair of 35's that I got were so rough and sharp every time I grab them it hurt in the hand badly. It's like they milled a quarter of it and stopped. Then out of the 5 pairs of 45's 2 pairs were good nice and smooth. But the other 3 were rough and sharp. Especially when you hold the 45's it is not a great feeling in the hand and also leaves some small dents on my deadlift platform. AND lastly out of the 3 pairs of 45's that where rough 2 plates were off by a pound. One was 1.2lbs under 45 and the other was 1lbs over 45. The one that was over 45. That one was wider than all the other plates too. All the other 45's were 45 exactly or .5 lbs over at max. Over all they are great plates but I'm disappointed in the pair that aren't close to 45 and the rough sharp sides.
Response from Rogue Fitness:
February 8
Thanks for taking the time to leave us a review and we're sorry to hear about any issues with your Rogue Black Olympic Plates. Our team has investigated the issue and are sending replacements for the impacted plates.
#RYOUROGUE
Tag your photos on Instagram and Twitter with #RYOUROGUE for a chance to be featured in our gallery
View Full Gallery