Rogue Stainless Straight Lat Bar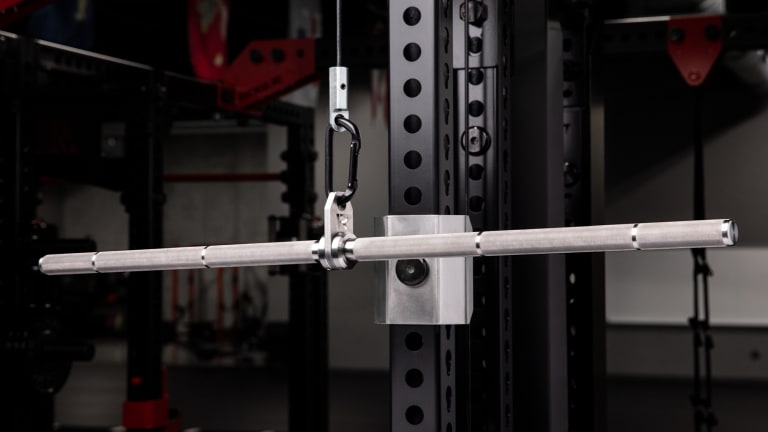 Rogue Stainless Straight Lat Bar
Rogue Stainless 20" Straight Lat Bar
Rogue Stainless 40" Straight Lat Bar
Gear Specs

Brand
Rogue Fitness
Color
Stainless Steel
Made In USA
Yes
Product Weight
6.6LB (20") / 12.2LB (40")
Width
20" / 40"
Steel Notes
Knurled Stainless Steel
Other Product Specs
(1) Black Carabiner
Diameter
28.5MM
Product Description
Rogue's Straight Stainless Steel Lat Bars are available in two length options (20" and 40") and can be easily attached to our Monster Lat Pulldown Machine, a rack-mounted Slinger, or other cable machines on the market.*
These fully knurled pulldown bars were designed and developed by the Rogue team and are manufactured exclusively in Columbus using the same 28.5mm barbell steel found in our Stainless Steel Ohio Bar. The included swivel tab is laser-cut from 3/8" stainless steel (with laser-cut Rogue "R" branding) and tumbled to eliminate any sharp edges. We also installed a pair of custom machined shaft collars to set the tab securely in place.
Read More
Rogue Stainless Straight Lat Bar
Rogue's Straight Stainless Steel Lat Bars are available in two length options (20" and 40") and can be easily attached to our Monster Lat Pulldown Machine, a rack-mounted Slinger, or other cable machines on the market.*
These fully knurled pulldown bars were designed and developed by the Rogue team and are manufactured exclusively in Columbus using the same 28.5mm barbell steel found in our Stainless Steel Ohio Bar. The included swivel tab is laser-cut from 3/8" stainless steel (with laser-cut Rogue "R" branding) and tumbled to eliminate any sharp edges. We also installed a pair of custom machined shaft collars to set the tab securely in place.
Each Lat Bar ships fully assembled and comes with a quality black carabiner for quick attachments.
Please Note: Since the bars are stainless rather than coated steel, the machining process may be visible in some areas.
Size Options:
20" (6.6 LBS): This is a particularly good option for small gyms with limited space or for larger gyms that have multiple machines in close proximity. It can be used effectively for push down movements, and is also optimal for attaching to the low row portion of a lat pulldown for rows / curls.
40" (12.2 LBS): With this option, the inner knurl marks (spaced at 16.53") represent the center portion of an Olympic Bar, while the outer knurl marks (spaced at 31.88") match the IPF spec for a power bar. Because the knurl stretches to the center of the bar, it also allows for effective close-grip push down movements.
*Important: Lat pulldown machines from different manufacturers will vary in their level of resistance when unloaded. Therefore it is important that the lat bar attachment is always supported while changing the weight to prevent it from falling and causing injury.
Gear Specs
Specifications:
Made in Columbus, OH, USA
Straight Lat Pulldown Bar
Stainless Steel
28.5MM Diameter
Two Size Options: 20" (6.6 LB) or 40" (12.2 LB)
Fully Knurled
Laser-Cut Swivel Tab w/ Rogue branding
Black Carabiner included
Shipping
Rogue Fast Shipping
The Rogue Shipping System allows you to track your order from the time you place it to the time it hits your door. Order today, track today.
Reviews
Needs a 2.0 Version to fix friction issues
I ordered both the 20- and 40-inch bars a while back. Upon opening the package, the center attachment on the 20-inch bar was not screwed in. I had to find an allen wrench before I could even use it which was a little frustrating. The weight and knurling of both bars is fantastic. They look and feel great. I thought these would easily be 5 stars. But unfortunately, after using them I experienced the friction issues that some others have mentioned. The 40-inch bar spins better and feels good for pulldowns but still has a little friction on some exercises. But the 20-inch bar is not that great. Too much friction, especially on exercises like curls and tricep pushdowns. I tried adjusting the screws and spraying some silicone spray on it but nothing helped. Would love for Rogue to come out with a version 2.0 that corrects the friction issues. If that issue was fixed these would definitely be 5-star attachments.
Response from Rogue Fitness:
August 30
Thank you for posting your experience with the Lat Bars. Our team has reached out to you to gather more information and see what we can do here.
No quality control or care to resolve problems
Go to my Instagram @lme_sparky to view my video on the problems with this bar. My email to rogue :"Can I send back the 20" bar for a replacement 20" bar that is not defective please, since I am being refused any partial refund? And out of curiosity, did the manufacturing and engineering teams specify why the gap on the 20" bar is unmistakably significantly larger than the identical bar in 40" length, to an extreme? Are the two bars made where one intentionally has a significant amount extra slop to an extreme and one doesn't? Just looking for an explanation that makes any semblance of sense regarding the difference between the two bars manufactured at the exact same place being so markedly dissimilar. As an industrial electrician Ive worked in a machine shop for 5 years alongside master millwrights and welders that would audibly laugh at the difference between the tolerances of the two bars. If I bought it off Amazon for 10 dollars I would be satisfied. I just purchased the 48" lat bar last night, I'm wondering if that one will be made correctly or not, "by the manufacturing and engineering teams standards", and if I'll be lied to about it or not. And just to be clear, I feel like I am being intentionally deceived here, and that is not something I expected from rogue. I've come to terms with the quality control dropping off significantly with each year of growth proportionately, but I have always been made whole in some way to alleviate the blatant issues, which is why I have continued to be a customer. I'm gonna assume that making a post about this on my social media comparing the two bars stating my lack of satisfaction, and providing your statement that the quality is in fact rogue approved, that the home gym community will be able to verify whether this is accurate information or not. Video footage of the two bars in real time comparison is simply ludicrous to observe the difference, certainly for a product with a rogue logo on it. Thanks." Rogue responded that they would not partial refund or even allow me to swap this bar out for an identical one. That's what 30,000 dollars and being a loyal customer gets you from Rogue.
Response from Rogue Fitness:
August 11
Thank you for reviewing your Straight Lat Bar. The team is continuing to thoroughly review this. We understand you are not happy with this one specifically and have extended a return to you.
Rogue Stainless 20" Straight Lat Bar
This is my first purchase of a Rogue product. It easily fits into a small gym bag. It is clearly MADE IN USA with its consistent knurl throughout, beautiful balance and symmetry hanging from a cable, and no friction whatsoever when pulling down over 230 pounds underhand. I can't wait to do cable rows and cable tricep work with its perfect swivel. There is No chrome chipping like other companies. The best part is that this bar is 28.5 mm or 1.12 inch diameter like a real barbell for men, not the standard 25 mm or 1 inch diameter accessory bars for dainty hands found in most gyms with fine knurling that may slip. Rogue's 20" Lat Bar provides No chance of slippage due to sweat, yet the knurl is medium assertive, neither mild nor aggressive, and that extra 0.12 inches takes the bite off of the bar digging deep into the palms like a 1 inch diameter bar. Rogue made a thoughtful and considerate bar accessory for those who demand the best. I am ecstatic with my purchase. I foresee buying more products from this MADE IN USA company. Way to go, Rogue!
Yes, I recommend this product
Not 100% stainless steel
Solid, heavy and feels well made but I doubt it is 100% stainless: it already started to develop light rust looking stains where I hold it by hands. True stainless steel doesn't do this usually.
Yes, I recommend this product
Response from Rogue Fitness:
May 10
Thank you for pointing this out to us! We're sorry for any issues here, as this bar should not show signs of rust like this. Our team is reaching out now to gather more information.
Excellent Knurling, but too much friction
I ordered the 40" and 20" bar to use with my functional trainer. The 40" bar is perfect and absolutely no friction in the middle. However, the 20" version does not rotate freely and feels like it is metal grinding on metal.
Response from Rogue Fitness:
March 13
We're sorry to hear the 20" Straight Lat Bar is giving you problems. Our team has reached out to get this resolved.
Simple and Excellent
This bar has the best knurling I have ever had on a cable attachment. It swivels beautifully and feels great in the hand. Looks great too.
Yes, I recommend this product
Solid quality, but get the standard pulldown bar
I ordered the 40 inch version of this bar, it's very solid and well-made. The knurling on this felt grippier than my non-rogue barbells, which speaks to Rogue's knurling. This bar also looks amazing. I wanted to perform lat pulldowns using a straight grip and previously owned a Cap barbell brand lat pulldown attachment where I held my grip right at the point of the angle in the bar. After using this, a straight bar didn't make that much of a difference in the feel of the pulldown and if I could go back I'd buy the regular Rogue Stainless Lat Pulldown attachment that has the angle in it. It's only $25 more and you get the ability to have a straight or angled grip. This bar is solid for what it is, but a 5 star rating belongs to the perfect product in this category and I would consider the regular Rogue bar to be that 5 star bar over this. If you're buying the 20" version of this straight bar, however, I would think that would be a 5 star product as it's more versatile because of its size as opposed to the 40" (which to me is just a one trick pony).
Yes, I recommend this product
Well made and worth the money
I bought this bar because of the knurling along the bar. It has allowed me to do back workouts with multiple grips. It is truely worth every penny.
Yes, I recommend this product
#RYOUROGUE
Tag your photos on Instagram and Twitter with #RYOUROGUE for a chance to be featured in our gallery
View Full Gallery