Rogue Monster Rhino Belt Squat - Stand Alone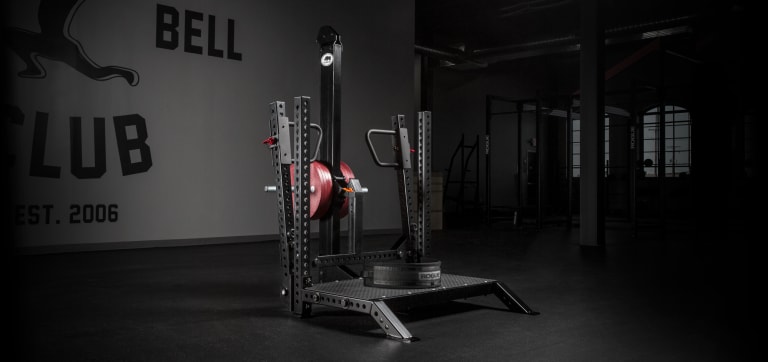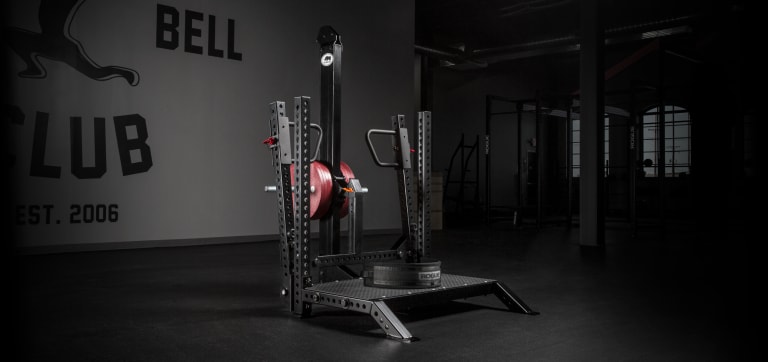 Rogue Monster Rhino Belt Squat - Stand Alone
Product Description
The freestanding version of the Rogue Monster Rhino Belt Squat (patent pending) requires no separate rack/rig for set-up, as the system includes a pair of 53.925" steel legs for mounting and two angled 3x3" front feet for platform stability. This compact unit can be set up in garage gyms, low-ceiling home gyms, or full-scale facilities, offering athletes the ability to get many of the lower body training benefits of squats and other workouts without putting unnecessary stress on the shoulders or lower back. See Also: The Rack-Mounted Drop-In Rhino and Rhino + RM-3 Rack package
Read More
Rogue Monster Rhino Belt Squat - Stand Alone
New Patented System for Lower Body Training
The freestanding version of the Rogue Monster Rhino Belt Squat requires no separate rack/rig for set-up, as the system includes a pair of 53.925" steel legs for mounting and two angled 3x3" front feet for platform stability. This compact unit can be set up in garage gyms, low-ceiling home gyms, or full-scale facilities, offering athletes the ability to get many of the lower body training benefits of squats and other workouts without putting unnecessary stress on the shoulders or lower back. See Also: The Rack-Mounted Drop-In Rhino and Rhino + RM-3 Rack package
Manufactured in Columbus, Ohio, the stand-alone Monster Rhino Belt Squat comes with 3x3" arms and crossmembers, a 3x6" weight trolley tower, and a 0.25" braided cable for raising/lowering the weight trolley. When not in use, the trolley is stored on a 1" thick UHMW plastic hook, or "Rhino Horn." A diamond-tread plate platform provides steady footing, adjustable handles offer overhand and neutral grip options, and our exclusive Rogue Multi Belt (included standard) easily accommodates most waist sizes, with adjustments from 41" to 61". The entire Rhino unit (aside from the platform, handles and weight posts) is finished in our Medium Gloss Black powdercoat.
Using the Rhino Belt Squat: Step onto the platform and strap on the Rogue Multi Belt around your hips. Upon standing up, the trolley will rise and disengage from the Rhino Horn. This allows users to then pull back on the handles and start squatting. Once the handles are pulled back, they will stay back until the user pushes the handles back towards the tower, allowing the horn to safely re-engage the trolley.
Benefits of Belt Squats: Performing belt squats rather than traditional back squats / front squats / Zercher squats can be beneficial for a wide range of reasons. Athletes dealing with regular back pain or struggling with spinal compression from axial loading can circumvent those issues by putting the lion's share of the load on the hips and legs. Similarly, anyone rehabbing from an upper body injury (shoulder, elbow, wrist, hand, etc.) can still get in their lower body work without having to worry about supporting a barbell.
Belt Squats provide traction to the spine, help add substantial volume to the legs, and offer versatility for other types of training, from calf raises to rows, shrugs, and deadlifts—all easily performed even in a home gym with limited space. A pair of welded-on Band Pegs are included with the system for additional resistance work.
Gear Specs
Specifications:
Made in the USA
Patent No.: US D896,326 S
Freestanding Version (does not require existing rack/rig)
Ships Freight, Some Assembly Required
Height of Tower (from floor): 78.5"
Height of Platform (from floor) 7"
Footprint: 53" x 60.5"
(2) Weight Posts with 15.75" loading capacity on each
Unloaded Trolley Weight: 27.5LB (+/- 1LB)
3x3" Arms and Crossmembers
(2) Welded-On Band Pegs for resistance work
The Monster Rhino Belt Squat ships freight, some assembly required, and it must be bolted to the floor before use. A pair of Monster 1" Wrenches are included, however additional tools will be required to finish assembly. When complete, the trolley tower will reach a height of 78.5" from the floor. The freestanding / stand-alone version has a total footprint of 53" x 60.5", and extends approx. 21.5" off the legs. Please Note: Additional clearance (beyond 21.5") is required for adding plates.
Assembly Instructions
How to Assemble the Rogue Monster Rhino Belt Squat - Stand Alone
Shipping
Rogue Fast Shipping
The Rogue Shipping System allows you to track your order from the time you place it to the time it hits your door. Order today, track today.
Frequently Bought Together
Rogue Monster Rhino Belt Squat - Stand Alone
Concrete Anchor Kit - 8 Pack
Monster Rhino Belt Squat - Stand Alone Features
Our patented weight trolley design features two stainless steel, horizontal weight posts with 15.75" of loading capacity on each side. A set of (4) machined Acetal rollers, each containing (2) bearings, ensure the trolley moves smoothly up and down the rail. Laser-cut Rogue branding is featured on each side, and the tower includes a Rhino sticker on each side, as well.
The platform of the Monster Rhino Belt Squat is made from 0.125" thick diamond tread plate and is finished in our Signature Texture Black powdercoat to provide advanced durability and a non-slip surface. The tread plate sits on top of a 1" x 3" steel frame and attaches to 3x3" front feet for additional stability and rigidity. The platform dimensions are 26" deep x 48.5" wide. When the unit is installed, the top of the platform sits 7" above the ground.
This is a 1" thick UHMW plastic horn, sandwiched between steel plates, that holds the trolley when not in use. The Rhino Horn is adjustable up and down so that the "racked" or resting height of the trolley can be accommodated to specific users heights.
The handles on the Rhino are 1.25" in diameter and can be adjusted up or down for the user's comfort. They allow for both overhand and neutral grip positions. The inside of the channel on the handles features a protective UHMW plastic cover.
Each Rhino unit includes a custom designed Rogue Multi Belt, made in the USA. This exclusive squat belt offers six adjustable size settings (from 41" to 61"), built-in padding for reduced hip friction, and a spacer mesh interior for breathability.
Since this version of the Rhino stands on its own, we've included a set of 53.925" tall legs that serve the same purpose as the uprights on a rack would. Two angled front feet (3x3") that help ensure the stability for the platform.
Gear Specs

Brand
Rogue Fitness
Color
Black
Made In USA
Yes
Product Weight
530LB
Length
60.5" (total depth) / 26.25" (platform depth)
Width
49" (upright to upright)
Height
78.5"
Foot Print
53" x 60.5"
Other Product Specs
(1) Rogue Multi Belt
Reviews
Works well. Poor serviceability.
Cool machine that offers some good options, but the cable routing and access is very poor. The cable runs inside tubing and has parts that cannot be easily accessed. If the cable lasts until the end of time, it's great. If you have to replace it, it will require disassembly. Definitely not an ideal scenario for a busy/crowded gym.
Absolutely fantastic machine
I have low back issues and this machine offers so much versatility: 1) on my deadlift days I can continue to overload the legs without additional pressure on my lower back 2) When I tweak my low back, I can continue squatting without stressing it 3) so much versatility beyond squats: lat pull downs with the Surplus Strength UPS, tricep pushdowns, bicep curls, calf raises, etc. The only caveats I'd highlight: A) The minimum wright is 27.5lbs, which might be too much for certain unilateral exercises if you compare it with another cable machine B) Even though the belt has padding, when I load the Rhino beyond 220lbs the belt bruises my hips. It doesn't hurt too bad, but it's not great.
What does the trolley weigh?
Our gym just got one (I've been pestering them to get one for the last year). I like it better than the belt squat they had at my previous gym.
Yes, I recommend this product
Versatile beast! Works with RML690C
After buying our RML 690C and doing some research on the internet I discovered an individual that mated the rhino to his RML 690C Sure as heck it bolts right in (with purchasing extra 5/8" hardware from my local speciality bolt store). The only deviation is there is a gap of roughly 1/2" - 3/4" between the base of the rhino and the and the floor once the rhino is bolted to the platform. I placed an extra piece of horse stall matting under the rhino to solve this issue Rogue states this ONLY works with the monster series which as shown is clearly not the case. Just wanted to share for those who have a monster lite rack and want a rhino. To me it's silly rogue doesn't do a slight modification to make the rhino work out of the box with the monster lite Perhaps marketing to get you to spend an additional $1,000 on an RM6 over an RML 690C? The rhino bolts to the monster lite series with no issues
Yes, I recommend this product
Good product, waiting to see accessories
This is a good product. The belt needs work with removable loops. Quality seems to be good and should last for years. I am looking forward to other rogue accessories on this unit and it's a great base for so many things or exercises.
Yes, I recommend this product
Awesome machine
I finally bought the Rhino for my gym and it does not disappoint. It's well made and versatile. Assembly is pretty straightforward, but it helps to have an extra set of hands for some steps. When comparing it to other brands, Rogue's most closely resembles the Westside ATP, but with a much smaller footprint. I'm adding the Monster spotter arms for more variations.
Yes, I recommend this product
Hiccup in shipping, made right by Rogue.
Honestly, I had a really, REALLY rough go of this order which included the original shipment showing up in very poor condition. I called Rogue before accepting the shipment, they told me they'd replace any of the items that were damaged so I reluctantly approved the shipment. Once they got the photos of it, I think it was more apparent to them that the entire unit needed to be replaced. So they did. It was a long process, involving a freight pickup, 2 deliveries, a missing component and another overnight shipment, but through it all Rogue's customer support was far and away willing to take care of me. I really didn't expect to be writing a 5 star review right now but I am that pleased with the hoops they jumped through to make me whole, including a discount for the trouble. I picked the Rhino for the versatility and now I'm super glad that I did. Even with the headache this item is worth it's footprint in my gym and I'd order it all over again. Great engineering, potentially even better customer support. Turned a sour customer into a die hard customer for life.
Yes, I recommend this product
Rogue Rhino Squat Home Gym Game Changer!
I bought this approximately one month ago and I can't say enough good things about it! It was actually easier to assemble than I thought it would be, got it done in about 2 hours by myself. So far I've used it for quads, back, traps, calves, back, and hamstrings! I was diagnosed with arthritis in my lower back so standard bar squats is no longer an option. The Rhino Squat has allowed me to get back to heavy deep squats with no impact to my lower back!
Yes, I recommend this product
#RYOUROGUE
Tag your photos on Instagram and Twitter with #RYOUROGUE for a chance to be featured in our gallery
View Full Gallery