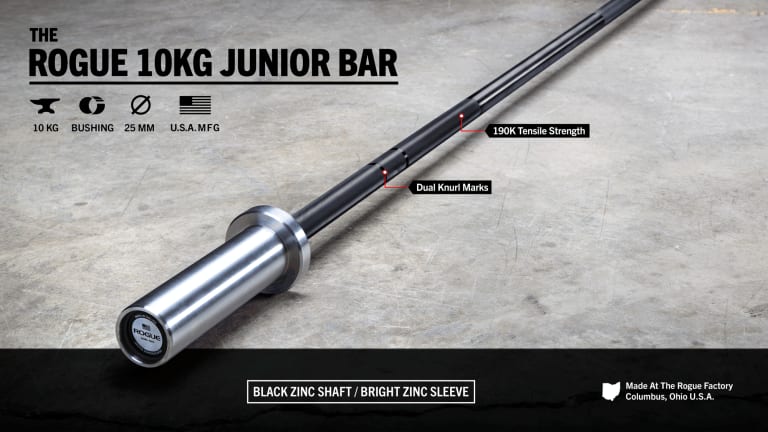 Product Description
Fully machined and assembled in Columbus, Ohio, the Rogue 10KG Junior Bar is a beginner's/technique barbell manufactured with the same quality and precision as our standard competition bars.
Read More
Rogue 10KG Junior Bar
Fully machined and assembled in Columbus, Ohio, the Rogue 10KG Junior Bar is a beginner's/technique barbell manufactured with the same quality and precision as our standard competition bars.
The latest version of the Junior Bar includes a 25MM, 190,000 PSI tensile strength shaft with dual knurl marks for both Olympic and powerlifting, no center knurl, and a black zinc coating. The bright zinc sleeves are cut short with a loadable length of 6.625", while the distance between the collars is a competition standard 52-3/16". This unique design makes the Junior Bar ideal for the beginning lifter--male or female, young or old--allowing them to load the bar with durable plates and train exactly as they would with a full-weight bar. The reduced sleeve length keeps the overall weight low, 11LB less than a women's bar and half the weight of a men's bar, while the collar spacing makes the bar conveniently rackable on any standard power rack.
The Junior Bar is built with quality bronze bushings and a snap ring design comparable to our original Rogue Bar and Bella Bar. If you want a beginner's or youth barbell that delivers the durability and reliable spin of the best bars in the industry, this is your choice.
See More: Barbells Available at Rogue.
Patented
Gear Specs
Specifications:
Manufactured in Columbus, OH
190,000 PSI tensile strength steel
Diameter: 25MM
Overall Length: 66.80"
Loadable Sleeve Length: 6.625"
Distance Between Collars: 52.18"
Bronze Bushings
Snap Ring Construction
Dual Knurl Marks w/ No Center Knurl
F6-R Rating
Finish: Black Zinc shaft + Bright Zinc sleeves
Shipping
Rogue Fast Shipping
The Rogue Shipping System allows you to track your order from the time you place it to the time it hits your door. Order today, track today.
Frequently Bought Together
Gear Specs

Brand
Rogue Fitness
Guarantee/Warranty
Construction
Made In USA
Yes
Loadable Sleeve Length
6.625"
Bar Length
66.80"
Diameter
25MM
F Rating™
F6-R
Bar Type
Junior Bars
Bar Use
Technique
Bushing/Bearing
Bushing
Bar Weight
10KG
Knurl
Multi
Center Knurl
No
Knurl Mark
Dual
Shaft Coating
Black Zinc
Sleeve Coating
Bright Zinc
Tensile Strength
190,000 PSI
F SCALE™
The F Scale™ is a durability scale for barbells based on functional testing at stresses similar to what barbells experience when being dropped from overhead. Bars that have been treated with Rogue Work Hardening (RWH™) are designated by having an R in their F Rating™. For more information on F Scale™ click here.
OXIDATION RATE
The resistance of a barbell to oxidation depends on the type of steel and the coating. Barbells at the lower end of the spectrum will require more care and maintenance to preserve their appearance than barbells at the upper end of the spectrum.
*Warranty against bending does not cover any bar which has been damaged due to negligent or faulty use, alteration, maintenance, storage or handling by the user. Negligent or faulty use includes abusive dropping of the bar (i.e., dropping the bar on a box, bench, spotter arms or pins in a power rack, excessive dropping with insufficient or damaged bumpers, or excessive dropping with iron plates, and similar usage). Any specific issues regarding a Rogue product with which a customer is not satisfied will be reviewed on a case-by-case basis. We have found that most problems with bars we replace are related to abusive use rather than manufacturing or materials issues.
See Also: The Rogue Barbell Cleaning Kit
Reviews
Buy the C-68S if you want the best Jr. bar.
The C-68s bar has the same if not better specs for a Jr. Bar, for the life of me I don't know why they don't also market it that way as well, maybe put different sleeves. The C86s only weighs 3 pounds more, has a bigger loadable sleeve, has an F-12r rating instead of the f6-r on the jr. bar and is 25mm. Most importantly it is coated in Cerakote. The only down side is the Jr bar is 195 and the C86s is 280, but honestly I think it is a much better deal considering how kids can treat things
Yes, I recommend this product
Can rack it!
Bought this for the younger ones mainly due to the ability to rack. Theres lots of other 10kg or barbells out there for younger atheltes but not wide enough to rack.. This sits like any other bar on the rack and i can get up to 100kgs to fit (with collars).. With the shorter collars its also perfect for adults to throw around in tighter spaces!
Originally posted on rogueaustralia.com.au
Bar looked good.
Bar looked good, but had scratches. Still waiting for replacement.
Yes, I recommend this product
Originally posted on rogueaustralia.com.au
Terrific. Used by everyone in the house
Purchased with my 9&11yo kids in mind just to give them some options but my wife and I get some use out of it as well. I didn't want a low-weight-limited bar the kids would outgrow anytime soon and this did the trick. It's a good addition to our two other mid and full sized bars, and I find myself grabbing it when space gets tight in the garage.
Yes, I recommend this product
Perfect for kids, wifey and partner wods
Great bar. Feels identical to our Rogue 2.0 bar. Good bang for the buck.
Yes, I recommend this product
Originally posted on rogueeurope.eu
Great addition for the home gym!
Great quality! Great for many different uses. Among other things, this barbell provides an easy way to teach beginners/young lifters.
Yes, I recommend this product
Quality piece
Exactly what I anticipated from Rogue, once you can get the equipment from Rogue, it's always great. This bar took 14 months to get it. Worth the wait? I'm not so sure.
Yes, I recommend this product
Worth the Wait !
Iv waited since COVID first shut everyone down for this bar and it's definitely worth the weight !
Yes, I recommend this product
Originally posted on rogueaustralia.com.au
#RYOUROGUE
Tag your photos on Instagram and Twitter with #RYOUROGUE for a chance to be featured in our gallery
View Full Gallery