All items must be shipped, pick-up not available. All sales are final. Items are in NEW condition.
---
1) What is a Boneyard Bar?
A Boneyard Bar is a brand new, seconds quality barbell off of Rogue's standard production line. These bars may have minor cosmetic issues such as finish blemishes or inconsistencies with the knurl. If any flaw is found on a Rogue standard barbell, it is added to the Boneyard. These bars are guaranteed to arrive in new, ready to hit the gym condition.
2) Do all Boneyard Bars have finish blemishes?
No. A bar could have also been sent to the Boneyard for double tracked knurling (see below). Finish blemishes are more noticeable on Black Zinc or Black Oxide finishes.
Please note: Bars with a Cerakote finish may have some logo branding on the shaft due to testing our custom bar processes.
3) Do all Boneyard Bars have double tracked knurling?
No. Double tracked knurling is just one of the issues that can cause a bar to be sent to the boneyard. A small surface blemish could be the only fault. (See image below for double tracked knurl description)
4) Will my Boneyard Bar have a center knurl?
Please see the product page of the regular version.
5) Will my Boneyard Bar have dual knurl marks?
Please see the product page of the regular version. The Rogue Boneyard Ohio Bar 1.2 will have dual knurl marks.
6) Will Raw Steel rust?
A Raw Steel barbell will require some upkeep. Occasionally brushing the bar down with 3-in-1 oil or WD-40 will create a beautiful patina look. This is how bars were made for decades and it really does produce an unmatched feel.
7) Do Boneyard Bars carry a warranty
No. All Boneyard Bar sales are final.
8) Where can I find more information on each specific Bar?
All Boneyard Bars will have its standard name included in the product title. Please see that product's page for more information.
*Note: We do not specify the bushing type for Boneyard Bars
The Boneyard Bar you are purchasing can come with either composite or bronze bushings. You can check the regular page of the Boneyard Bar you are looking to purchase to determine if it normally includes composite bushings or not.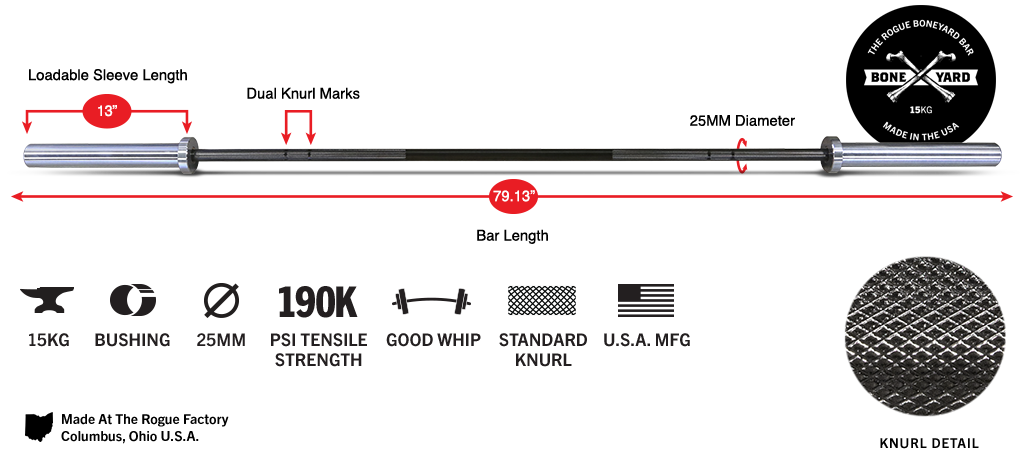 Gear Specs
| | |
| --- | --- |
| Brand | Rogue Fitness |
| Made In USA | Yes |
| Color | Various Colors |
| Bar Type | Women's Bars |
| Bar Use | Multipurpose |
| Bar Weight | 15KG |
| Diameter | 25MM |
| Knurl | Multi |
| Center Knurl | No |
| Knurl Marks | Dual |
| Shaft Coating | Varies |
| Sleeve Coating | Varies |
| Bushing/Bearing | Bushing |
| Tensile Strength | No |
| Guarantee/Warranty | No |
Rogue 25mm Boneyard Bars
The Women's 15KG Boneyard Bar lineup was created to allow what we consider quality seconds to still be used in a gym. These 25mm bushing bars are all new components with a minor flaw in fit and finish. A series of standard 20KG Boneyard Bars is also available.
When you set the highest manufacturing standards in the industry, even your seconds products will often prove superior to the competition's best work. And while some barbell manufacturers wouldn't pay any mind to a minor blemish or a sliver of double-track in the knurling, Rogue takes these small imperfections very seriously. Once identified, these bars are separated out, carefully assessed, and—if approved—made available to our customers here, in the Boneyard, at a discounted price.
Since we believe our manufacturing 2nds are as good as most companies' 1sts, the Boneyard Bars give our customers an opportunity to purchase a top-tier piece of equipment at budget cost, with the full understanding of what they're getting.
IMPORTANT: All Boneyard Bars are limited time, closeout items. They can only be purchased for shipment (no in-store pick-ups), and all sales are final. All Boneyard Bars are guaranteed to be received in fully functional condition, but do not carry a warranty.
Specifications:
Made in the USA
Second quality Rogue MFG bushing barbells.
25mm shafts
Multipurpose knurl
Dual knurl marks
Finishes will vary (Bright Zinc, Black Zinc, Chrome, Raw)
Exclusive Rogue Boneyard endcaps
1

Double Tracked Knurl

On the right side of the image double tracked knurl is shown. The feel and grip of the knurl are maintained, but the spacing of the cuts is different than our standard creating a cosmetic difference on close inspection.

2

Plating Blemish

The image shows a typical plating blemish. While still maintaining the corrosion resistance, the finish is not uniform enough to meet our standards.

3

Finish Options

Boneyard Bars can come in a variety of finish combinations including Black/Bright Zinc, Olive Drab Zinc, Black Oxide, Raw Steel & Polished Chrome. The finish for the shaft and sleeves for each barbell will be listed in the right hand purchase area.

Add to Registry

Please choose the registry you want to add this product to: