Rogue Athlete Cerakote Ohio Bar - Fraser Edition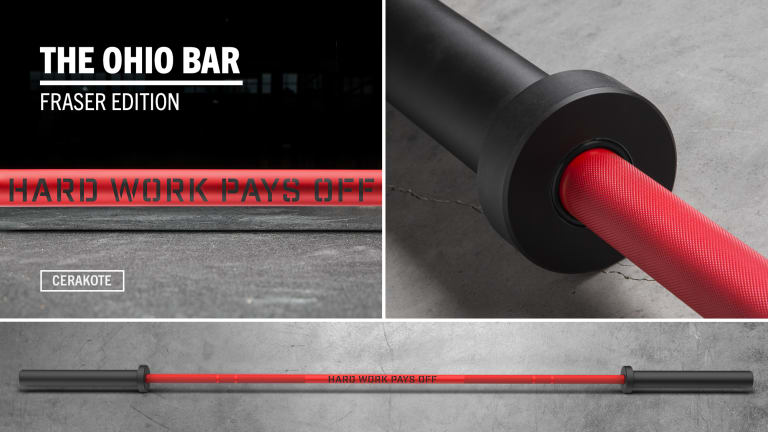 Rogue Athlete Cerakote Ohio Bar - Fraser Edition
Product Description
Part of our custom Athlete Series, this special edition of the Cerakote Ohio Bar features exclusive colorways and graphics inspired by Rogue athlete and five-time CrossFit Games champion, Mat Fraser. The 20KG, 190,000 PSI barbell is fully machined and assembled in Columbus, Ohio, and includes black composite bushings with standard Ohio Bar endcaps.
Read More
Rogue Cerakote Ohio Bar - Fraser Edition
Part of our custom Athlete Series, this special edition of the Cerakote Ohio Bar features exclusive colorways and graphics inspired by Rogue athlete and five-time CrossFit Games champion, Mat Fraser. The 20KG, 190,000 PSI barbell is fully machined and assembled in Columbus, Ohio, and includes black composite bushings with standard Ohio Bar endcaps.
Unique to the Fraser Edition:
The 2016 and 2017 "Fittest Man on Earth" is represented here with his own distinct colorway: combining a red cerakote finish on the shaft with Proprietary Matte Black sleeves. The center of the shaft features Fraser's "Hard Work Pays Off" slogan in black. Opposite of the slogan is the Rogue logo in black.
*Please Note: The optional Proprietary Matte Black metal treatment process also hardens the steel, which can cause some additional friction with plates that have a chamfer.
Gear Specs
Additional Specifications:
Manufactured in Columbus, OH
Diameter: 28.5MM
Weight: 20KG
Dual Knurl Marks for Oly and Power lifts
No Center Knurl
190,000 PSI Tensile Strength Steel
Composite Bushings
Cerakote shaft finish in Exclusive Mat Fraser colorway (red shaft and black sleeves)
Fraser's "Hard Work Pays Off" slogan and Rogue logo on center of shaft
F8-R Rating
Lifetime Warranty Against Bending*
Shipping
Rogue Fast Shipping
Orders placed before 3pm ship from Rogue HQ the same day. You can then follow the progress of your package online via the Rogue Shipping Tracker.
Gear Specs

Brand
Rogue Fitness
Guarantee/Warranty
Lifetime Warranty*
Made In USA
Yes
Loadable Sleeve Length
16.40"
Bar Length
86.75"
Diameter
28.5MM
F Rating™
F8-R
Bar Type
Men's Bars
Bar Use
Multipurpose
Bushing/Bearing
Bushing
Bar Weight
20KG
Knurl
Multi
Center Knurl
No
Knurl Mark
Dual
Shaft Coating
Cerakote
Sleeve Coating
Proprietary Matte Black Finish
Tensile Strength
190,000 PSI
Cerakote Finish + Exclusive Athlete Design
Cerakote has been a game changer in the industry; a polymer-ceramic composite coating first popularized in the gun industry for its durability in thin applications. Offering wear and corrosion resistance up to 100X that of black zinc, it's a finish worthy of the greatest athletes in the world. The versatility of this finish also enables us to create a wider array of customized Rogue Athlete designs for our flagship Ohio Bar, including the red-and-black finish and slogan graphics of the Fraser Edition.
The steel in our Cerakote Ohio Bars is manufactured in the US and has proven to be one of the best steel variants for a multi-purpose barbell. Each barbell shaft is ground and polished prior to machining, further ensuring a smooth finish and optimal performance.
Every bar shaft is machined in Columbus, Ohio, with painstaking attention to detail. The Ohio knurling has been carefully refined over the years, as well, for a firm but non-abrasive grip (there is no center knurl). We assemble the Ohio Bar with a snap ring design and quality composite bushings, which act as bearing surfaces between the bar sleeve and bar shaft, producing normal "whip" during Oly weightlifting but enough stiffness to hold for heavy powerlifting.
F SCALE™
The F Scale™ is a durability scale for barbells based on functional testing at stresses similar to what barbells experience when being dropped from overhead. Bars that have been treated with Rogue Work Hardening (RWH™) are designated by having an R in their F Rating™. For more information on F Scale™ click here.
OXIDATION RATE
The resistance of a barbell to oxidation depends on the type of steel and the coating. Barbells at the lower end of the spectrum will require more care and maintenance to preserve their appearance than barbells at the upper end of the spectrum.
Please Note: Cerakote has an excellent resistance to corrosion, but metal-to-metal contact, particular on the sleeves, can still cause wear over time. For the best long term results, some cleaning and maintenance may be required. See our Ohio Bar Care Page for more info.
*Warranty against bending does not cover any bar which has been damaged due to negligent or faulty use, alteration, maintenance, storage or handling by the user. Negligent or faulty use includes abusive dropping of the bar (i.e., dropping the bar on a box, bench, spotter arms or pins in a power rack, excessive dropping with insufficient or damaged bumpers, or excessive dropping with iron plates, and similar usage). Any specific issues regarding a Rogue product with which a customer is not satisfied will be reviewed on a case-by-case basis. We have found that most problems with bars we replace are related to abusive use rather than manufacturing or materials issues.
Reviews
Really Disappointed - Terrible Sleeves
I was so excited to buy a Rogue bar for my new home gym after using the cheap bars at my CF gym for 8 years. The navy bar with black sleeves is very nice looking and the bar feels great. However, I am so disappointed at how difficult it is to put plates on and take plates off. I really ruins the entire experience of using this bar. I thought maybe it was my plates, but after reading more reviews since I've received it, it sounds like I'm not the only one having this issue.
Response from Rogue Fitness:
5 weeks ago
Thank you for raising this feedback to our attention. We would like to investigate more into your specific bar, and the team will be reaching out to determine if your sleeves are considered within spec, or need replaced.
Ohio Bar Review
I got the Ohio Ceratoke bar about a month ago and i absolutely love it, great upgrade to my setup as the grip is very grippy, and the bar is so balanced. My only complaints are the width of the bar and a minor color complaint, it is a hair narrow, and I often find myself nearly racking the bar on its sleeves instead of the main body. The red that is displayed online is slightly darker than what I received, and i was expecting a blood red color, but i got a more basic red.
Yes, I recommend this product
QC issues but bars awesome!
One of the sleeves is slightly larger in diameter whenever I put plates on it grinds the aluminum down on the inside the plate and it's difficult to slide on but the other sleeve is great and the plates slide on fine. over all the bar is fantastic, I just expected much better QC for the price.
Yes, I recommend this product
Response from Rogue Fitness:
June 15
Thank you for bringing this to our attention, and we apologize for any issues you are experiencing with your Ohio Bar. Our team has reached out to review.
But once cry once!
Best quality. Just spend extra and go with rogue. You will die before your stuff fails. Fast shipping. Made in US of A!
Yes, I recommend this product
My review (opinion)
It's awesome. I'm new to barbells so I don't know if it's normal but I had to get used to the bit of play on the bar bushings before you feel the weight of the plates. The grip pattern is excellent for grip, obviously.
Yes, I recommend this product
Absolutely love it!
I made the decision to upgrade to this bar after using a cheap one from Dicks Sporting Goods for years and not realizing the difference a good bar makes.. After one workout in a friends home gym with a Rogue bar, I was made well aware of the difference and purchased one of my own the very next day!
Solid barbell. Great color
Very happy that I upgraded to this barbell. I especially like the ribbed ends that keep the plates on without a collar. A added bonus for sure! Solid feel, great knurling. I use it about 5 days a week and each time it feels like new.
Yes, I recommend this product
Slight disappointment
This is my 7th rogue barbell I have purchased. It is the only one I have had a mild disappointment with. The knurks are the perfect blend of grip without cutting into my hands. The barbell seems to have a decent whip and being from Pittsburgh whats not to like about black and gold. The only downside is the friction with putting on the weights. Rogue has told me this bar is slightly different then the other bars I have purchased and it is intentionally sticky to hold the plates more securely. I collar everything so the stickiness is more annoying then useful for me personally.
Yes, I recommend this product
#RYOUROGUE
Tag your photos on Instagram and Twitter with #RYOUROGUE for a chance to be featured in our gallery
View Full Gallery