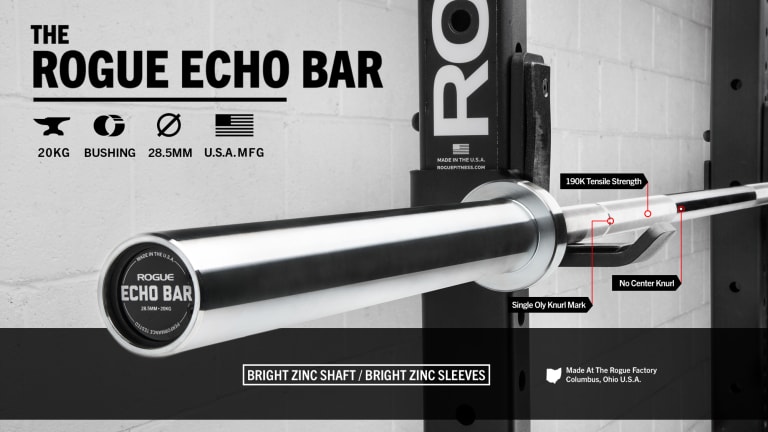 Product Description
Machined and assembled at our Columbus manufacturing facility, the newly redesigned Rogue Echo Bar 2.0 is an economically priced 28.5MM bushing bar equipped with many of the same features as our flagship Rogue Ohio Bar.
Read More
Rogue Echo Bar 2.0
Machined and assembled at our Columbus manufacturing facility, the newly redesigned Rogue Echo Bar 2.0 is an economically priced 28.5MM bushing bar equipped with many of the same features as our flagship Rogue Ohio Bar.
Starting with a 190,000 PSI tensile strength steel shaft and bright zinc finish, the Echo Bar also now includes an upgraded snap ring sleeve construction and exclusive Echo branded endcaps. There are single IWF standard Olympic knurl marks (no center knurl or powerlifting marks) and 16.40" of loadable sleeve length.
All orders of the Echo Bar also come with a 1-year warranty.*
See More: Men's 20KG Barbells Available from Rogue.
Patented
Gear Specs
Specifications:
Made in the USA
Weight: 20KG
Diameter: 28.5MM
190,000 PSI Tensile Strength Steel
NEW Snap Ring Construction
NEW Echo Endcaps
Finish: Bright Zinc
Loadable Sleeve Length: 16.40"
Single Olympic Knurl Marks
F-Rating: F8-R
Shipping
Rogue Fast Shipping
Orders placed before 3pm ship from Rogue HQ the same day. You can then follow the progress of your package online via the Rogue Shipping Tracker.
Frequently Bought Together
Rogue Echo Bar 2.0
Rogue Barbell Cleaning Kit
Rogue USA Aluminum Collars
Gear Specs

Brand
Rogue Fitness
Guarantee/Warranty
1 Year*
Made In USA
Yes
Loadable Sleeve Length
16.40"
Bar Length
86.75"
Diameter
28.5MM
F Rating™
F8-R
Bar Type
Men's Bars
Bar Use
Multipurpose
Bushing/Bearing
Bushing
Bar Weight
20KG
Knurl
Multi
Center Knurl
No
Knurl Mark
Olympic
Shaft Coating
Bright Zinc
Sleeve Coating
Bright Zinc
Tensile Strength
190,000 PSI
Budget Price, Same Quality
The Echo Bar—just like our flagship 28.5MM Ohio Bar—is constructed from 190,000 PSI tensile strength steel, with quality bronze bushings that act as bearing surfaces between the bar sleeve and shaft. A bright zinc finish across the entirety of the bar finishes the look.
Updated Snap Ring Construction
Brand new for Version 2.0 of the Echo Bar is a fully upgraded snap-ring construction, battle-tested to maintain optimal stability throughout any type of high-intensity Olympic movement. This, again, is the exact same construction used in the Rogue Ohio Bar. We have also included new Echo exclusive endcaps for this re-design, a feature not found with the original model.
The Echo Bar includes single, IWF standard Olympic knurl marks (there are no powerlifting marks and no center knurl) in an consistent, non-abrasive pattern. Every bar shaft is machined in Columbus, Ohio, and treated with artistic precision.
Part of the Rogue Echo Series
Rogue manufactures a wide range of other quality, economically priced equipment under the Echo Series, including our Echo Squat Stands, Echo LB Bumper Plates, and more.
Despite its friendly price tag, the Echo Bar is up to the demands of high-performance, competitive Oly lifting. The 20KG bar will produce a consistent spin and "whip" during any traditional Olympic movement, and the durability of its construction is backed by a one-year warranty.*
F SCALE™
The F Scale™ is a durability scale for barbells based on functional testing at stresses similar to what barbells experience when being dropped from overhead. Bars that have been treated with Rogue Work Hardening (RWH™) are designated by having an R in their F Rating™. For more information on F Scale™ click here.
OXIDATION RATE
The resistance of a barbell to oxidation depends on the type of steel and the coating. Barbells at the lower end of the spectrum will require more care and maintenance to preserve their appearance than barbells at the upper end of the spectrum.
*Warranty against bending does not cover any bar which has been damaged due to negligent or faulty use, alteration, maintenance, storage or handling by the user. Negligent or faulty use includes abusive dropping of the bar (i.e., dropping the bar on a box, bench, spotter arms or pins in a power rack, excessive dropping with insufficient or damaged bumpers, or excessive dropping with iron plates, and similar usage). Any specific issues regarding a Rogue product with which a customer is not satisfied will be reviewed on a case-by-case basis. We have found that most problems with bars we replace are related to abusive use rather than manufacturing or materials issues.
See Also: The Rogue Barbell Cleaning Kit
Reviews
Bad packageing
Good product but package came broken. On end cap was missing on the tube
Yes, I recommend this product
First barbell
No complaints. Quality barbell for the home gym. Probably the most useful piece of equipment I've purchased. Highly recommend.
Yes, I recommend this product
Excellent first bar
It has been around 2 months that I have been using my Echo Bar. This is the first bar that I own. It feels real great to use esp. doing Squats with them really feels amazing. I have been stuck for quite some time doing squats with 40lbs kettlebell. Finally got a bar and can't be more happy with the progress that I have made with the Squat rack and this bar.
Rogue Echo Bar
I bought this for my son whom is an avid weight lifter. He said it is a really great bar. This brand came recommended to me, as it has a great reputation !
Yes, I recommend this product
Of course it's a good investment.
It's been great so far. For an "economy" bat, the thing that jumps out at me is the lack of slop in bearings. This thing is very smooth spinning, but very little rattle where the collars and bar join.
Yes, I recommend this product
Terrible spin
I've had my bar about 18 months and it never spun well when I got it, but now it's so bad it's hurting my elbows. Said something to customer service and they referred me to a video about how to oil it. Which I know, duh. Try sending it lubed up right from the factory though, guys.
Yes, I recommend this product
Easy to handle
I've had my echo bar for a little over a month and a half and it's beginning to peel. Very unhappy right now as your company, Rogue guarantees these products.
Response from Rogue Fitness:
Sep 2022
Thank you for posting and we are sorry for any issues here. Our team took a look at this and your replacement bar is on the way!
Awesome!
Worth every dollar. I've been training for the ACFT, and this bar gets the job done.
Yes, I recommend this product
#RYOUROGUE
Tag your photos on Instagram and Twitter with #RYOUROGUE for a chance to be featured in our gallery
View Full Gallery