Rogue JC-100S Jerry Can Sandbag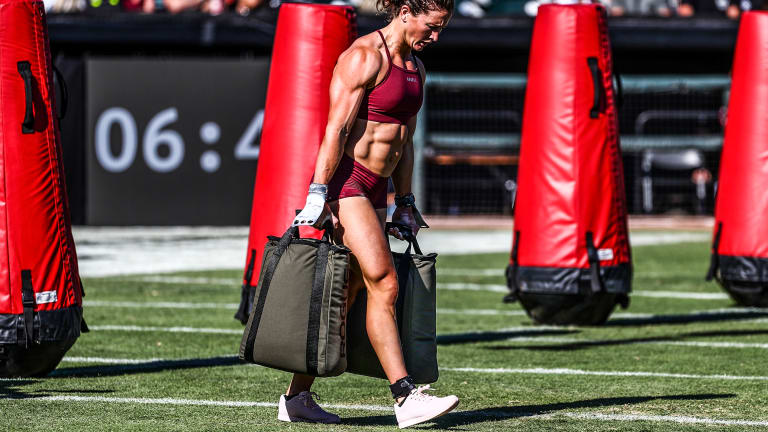 Rogue JC-100S Jerry Can Sandbag

3 Ships Free Item
Buy 3 or More Items Marked "3 Ships Free" And They All Ship for Free
Gear Specs

Brand
Rogue Fitness
Color
Ranger Green / Black
Made In USA
Yes
Product Weight
1.8LB (unfilled)
Length
Filled - 14" (at base) / 11" (at top)
Width
Filled - 9"
Height
18" (Bag) / 20" (Including Handle)
Other Product Specs
*Sold unfilled
Product Description
Developed for the 2021 Rogue Invitational, the JC-100S Jerry Can Sandbag is a new variation on a classic military design. Rather than using metal or HDPE (as in our JC-40 Jerry Can), this American-made model features a durable 1000D military-grade Cordura construction and a 500D coated-nylon interior liner, all supported by triple-seam stitching and reinforced binding for max structural integrity. These sandbags are more space efficient than traditional jerricans, while still offering substantial load capacities of approximately 100 LBS of sand or 40 LBs of crumb rubber.*
Read More
Rogue JC-100S Jerry Can Sandbag
Developed for the 2021 Rogue Invitational, the JC-100S Jerry Can Sandbag is a new variation on a classic military design. Rather than using metal or HDPE (as in our JC-40 Jerry Can),this American-made model features a durable 1000D military-grade Cordura construction and a 500D coated-nylon interior liner, all supported by triple-seam stitching and reinforced binding for max structural integrity. These sandbags are more space efficient than traditional jerricans, while still offering substantial load capacities of approximately 100 LBS of sand or 40 LBs of crumb rubber.*
Each JC-100S Jerry Can includes a built-in funnel filler design for quick loading of filler material (not included) with a secure Velcro closure and a polyurethane-reinforced YKK #10 zipper to prevent leaks. The silent zipper also tucks into a built-in pocket to help keep the slide stationary and the user's hands free from abrasion.
The heavy-duty handles are built with American-made 1.5" nylon webbing, and stitched with vinyl backed, reinforced "X" box tacks. One handle includes a 5" PVC tube, providing additional comfort under heavy loads. A 1000D Cordua + Velcro wrap can be used to join the handles, creating a single 5" grip that's well suited for balancing and carrying heavy loads.
*Please Note: Loadable weight of the JC-100S Jerry Can depends on the density and size of the media being used. Certain media may cause the overall weight of the bag to be greater than or less than projected weight capacity. Due to the nature of the fabric and the directed use, the Jerry Can bags may expand over time. Additionally, these bags are not prefilled.
Gear Specs
Specifications:
Made in the USA
Available as Single or Pair
As Seen at the 2021 Rogue Invitational
1000D Cordura Exterior
500D Nylon Liner
Built-In Funnel Filler
Dual Handle Wrap System
Weight (Unfilled): 1.8 LB
Length (Filled): 14" (at base) / 11" (at top)
Width (Filled) - 9"
Height: 18" (Bag) / 20" (Including Handle)
Color: Ranger Green / Black
No Filler Material Included
See More: Training Sandbags Available from Rogue
Shipping
Rogue Fast Shipping
The Rogue Shipping System allows you to track your order from the time you place it to the time it hits your door. Order today, track today.
Key Features of the JC-100S Jerry Can Sandbag
Made in the USA - Built for the Rigors of Training
The outside layer of the JC-100S Jerry Can is made from 1000 D military-grade Cordura with a YKK (polyurethane reinforced) #10 zipper, while the interior leak-proof lining is 500D coated nylon. The heavy-duty, dual-handle wrap system features 1.5" nylon webbing, reinforced with vinyl backed "X" box tacks. The two handles are secured using the Cordura + Velcro wrap. With the addition of a PVC tube sewn onto one of the handles, a strong 5" single grip is created once wrapped. The sandbag maintains a consistent wedge shape and includes triple-seams and binding reinforcement throughout, making it just as durable as traditional metal or plastic jerricans.
The bag's built-in funnel filler design enables quick loading of filler material (not included) with a secure Velcro closure. Athletes can easily customize the amount of weight they want to train with, adjusting up to the Jerry Can's load capacity of approx. 100 LBS of sand or 40 LBS of crumb rubber.

Please Note: The bag's actual max capacity will vary depending on the density and size of the filler material being used.
From WWII to Modern Competitions
The earliest Jerry Cans were widely used as metal fuel containers during World War II. In more recent history, athletes have adopted the design as a unique strength training implement, with the container's customizable weightload and top handle making it effective for farmers walk carries, squats, overhead presses, and more. While Rogue has made metal and HDPE jerry cans in the past, we developed the JC-100S Jerry Can Sandbag as a new Cordura version of the same idea. It was introduced during the CrossFit "Chipper" event at the 2021 Rogue Invitational.
Reviews
Good for bilateral work; bad for unilateral work
Good for Farmer's Carries when you're using both at the same time and don't need to adjust the weight. Pretty awful for Suitcase Carries, because the bag bows out and is in nearly constant contact with your leg. When you're carrying both at the same time, it's relatively easy to keep them from bumping into your legs. But it's nearly impossible when you're carrying just one at a time. If you do both bilateral and unilateral work...or if you need to adjust the weight, this really isn't a good option. I have no idea why Rogue hasn't designed a product like Titan's Mini Farmer's Walk Handles!! I have quite a lot of hatred for Titan because of multiple bad experiences with them, but that particular product is awesome. C'mon Rogue, make your own version of this!! Those handles are infinitely better than these sandbags.
Nothing better for Farmer's Carries.
I have two sets of these, both filled to capacity with all purpose sand from Sakrete (comes in 60# bags, highly recommended). They weigh in around 110#. The ergonomics of these are near perfect. My workout partner (a Jeopardy! Teacher Tournament Champion, btw, and strong as hell) is short at 5'4" and has no problem with these, so their vertically oriented, slightly tapered rectangular shape can work for anyone 5 feet or taller. The way they concentrate the mass directly below your arm feels good. My only gripe is the handles are too thick to accept Fat Gripz; then again, they are thick handles so they engage the hand and forearm exceptionally well. These can probably be loaded to 150# if you mixed in lead shot (which I may try) with sand. Because of their design, they can be dropped on hard surfaces, which is such an incredible advantage: it allows you to walk or hold to failure -- just engage until you can't hold anymore.
Yes, I recommend this product
Perfect addition to functional strength workout
I had started doing an outdoor functional strength workout by pushing a wheelbarrow full of 50lb bags of granite dust (about 500 lbs), and doing push-ups, cement bag curls and overhead presses. I saw these online and thought they'd be the perfect addition. They were. I really like the strength and endurance these are adding to my grip, legs, and back. I use them for farmer's walk, deadlifts, and shrugs. They're quite well made, and I expect them to last for a long time. I used a scale to check, and they can hold 100 lbs of dry sand. I used play sand from the home improvement store, and they filled easily.
Yes, I recommend this product
jerry sure can
I just received these and loaded them up. Of course these sandbags are built like everything else Rogue sells. They are easy to fill, I used pebbles, and easy to use. I like it better then the Rouge Farmer carry bar, which I own as well. Farmer Carries are great for your body and give you the best bang for your effort. These bags when filled are indeed heavy which provides for a great workout. If your looking for an easy way to do heavy farmer carries with sandbags, you have arrived.
Yes, I recommend this product
#RYOUROGUE
Tag your photos on Instagram and Twitter with #RYOUROGUE for a chance to be featured in our gallery
View Full Gallery