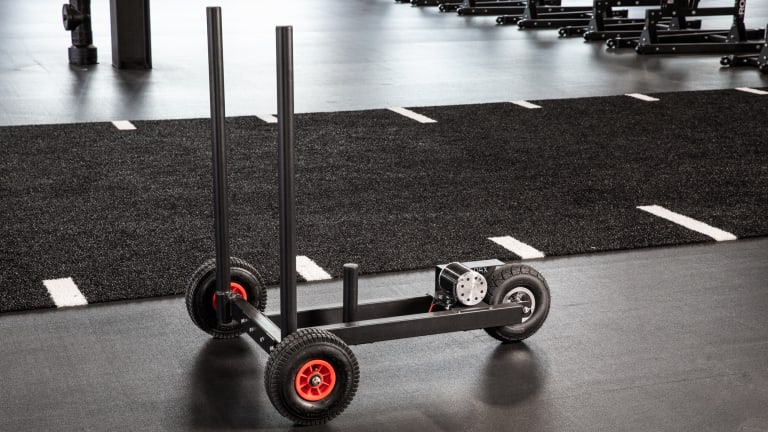 Available only in CONUS 48 states & APO. Pick-up not available
Gear Specs

Brand
Armored Fitness Equipment
Color
Black
Made In USA
No
Product Weight
60 LB
Length
43.5"
Width
35"
Height
43" (with handles)
Product Description
The XPO Trainer 2.0 is the first wheeled push sled in the industry, but its truly groundbreaking feature is a patent-pending exponential resistance curve: the harder and faster you push the sled, the more the resistance increases—no weight plates required.*
Read More
XPO Trainer 2
The XPO Trainer 2.0 is the first wheeled push sled in the industry, but its truly groundbreaking feature is a patent-pending exponential resistance curve: the harder and faster you push the sled, the more the resistance increases—no weight plates required.*
This innovative design offers a wide range of benefits for athletes of every size, skill level, and discipline, as well as those rehabbing from injuries. As you build up the intensity of your training, from light rehab up to full-on competition level, the XPO Trainer adapts, with an added load component at the upper end of the resistance curve to help build explosive power in a full-body workout.
The XPO Trainer's three wheels include rubberized treads for safe all-terrain use, indoor or outdoor, with greater control and less risk of scuffs than traditional steel sled skis. The wheels are also quieter in operation that most standard weight sleds. For portability and storage convenience, the sled's push handles are removable.
*Weight Plates are not included with the XPO Trainer 2, but users can add them to the included weight post to assist with traction on slicker surfaces.
Do note, however, that adding weight plates to the sled does NOT change the resistance curve.
Gear Specs
Specifications:
Made by Armored Fitness Equipment
First Push Sled with Wheels
Patent-Pending Exponential Resistance Curve: As you push harder/faster, the resistance increases to compensate
No Weight Plates Included or Required
(2) Removable Handles for easy transport and storage
Laser-cut XPO Trainer logo in front plating
Durable rubberized wheels for safe all-surface sled training
Nearly Silent Operation
Suitable for Beginner / Rehab up to High Intensity / Pro training
Color: Black
Shipping
Rogue Fast Shipping
The Rogue Shipping System allows you to track your order from the time you place it to the time it hits your door. Order today, track today.
Reviews
This kicks your butt
I have owned one of these for more than a year and used to learn how to run again after knee replacements. This year I bought two of them for my son's high school athletic department.
Yes, I recommend this product
Don't underestimate
So… I bought it about a month ago.. I used it at first indoors on a stone to tile floor in my house from one end of the living room to my kitchen and it was so-so but then I took it outside into the street.. I guess the surface makes a big difference. The resistance was major and it was one of the most difficult workouts I've ever done . I can carry 30lb kettlebells in each hand and walk for a mile.. after a few hundred feet pushing the sled I was exhausted,. I pushed it for 0.25 miles with frequent rests and was a broken man.. lol So my major concern was that the friction motor would not generate enough resistance,. It does..do don't be afraid to order it .. it's quiet and the neighbors aren't bothered like with the more traditional sleds except I did get a few stares
Yes, I recommend this product
Well made
I've had it for a few weeks and its a little light for a strong athlete but is a quality product. I do wish I'd spent a little more for the heavier 4 wheel version
Yes, I recommend this product
Great Tool for Metabolic Conditioning
Great features, very effective, easy to use, portable and easily used on a variety of surfaces.
Yes, I recommend this product
Love it
Bought this a few months ago and it's easily one of my top 3 pieces of equipment. Easy to assemble and works great. Very quiet and challenging.
Yes, I recommend this product
Love the product and customer service
I bought the XPO Trainer a couple of months ago, and just recently one of the tires had a slow leak. Didn't have time to go find my purchase info and then wait and see if it covered under warranty, so I went to their website and just bought 3 tires, because I use it all the time with all my athletes and I just didn't want to have it down again. About an hour after I placed the order I got a call AND a text from Armored Fitness saying that it was probably under warranty. I texted them I think the valve stem probably has an issue because the tire is fine, and that if was covered under warranty cool. They offered to refund me one of the tires that I bought. What company calls you to see if something you just bought from them might be covered under warranty. They already had my money! Best customer service experience ever. Plus the XPO is so versatile. I go from a 12 year old 90lb girl to my 240 H.S junior without having to change weights. Love it!!
Yes, I recommend this product
INCREDIBLE PIECE OF EQUIPMENT
I purchased an XPO trainer 2 summers ago and have not been disappointed. I use it on the road in my community and it is silent. I don't have to bring all these plates down the driveway and it doesn't mess up the blacktop like a friction sled may do. Everyone, regardless of strength and fitness level uses the exact same set up. It is very easy to breakdown and just hang up on the wall which doesn't take up any space in my storage shed at all. Couldn't be happier. Much like an assault bike, whatever other exercises you throw in or just by itself be prepared to feel it. I also have people that I train with that just walk with it given some injuries and they get a good workout as well.
Yes, I recommend this product
Great for home use
I bought this sled with the intention of home use, it has been great because it can be used in a driveway on the neighborhood street and anyone with different levels of fitness can use the same piece of equipment.
Yes, I recommend this product
#RYOUROGUE
Tag your photos on Instagram and Twitter with #RYOUROGUE for a chance to be featured in our gallery
View Full Gallery