Monster Single Post Storage Shelf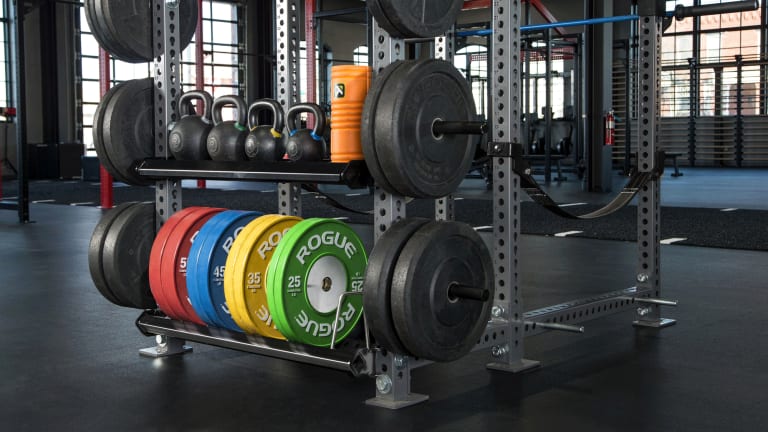 Monster Single Post Storage Shelf
Monster Single Post Storage Shelf
Monster Single Post Storage Shelf Accessories
Available Options (2)
Gear Specs

Brand
Rogue Fitness
Color
Black
Made In USA
Yes
Length
12.25" (divider shelf) / 14.59" (standard shelf) - Overall depth
Width
30" / 43" / 70"
Steel Notes
Laser-cut 0.25" thick Steel
Monster Compatible
Yes
Product Description
Monster Single Post Storage Shelves are designed exclusively for mounting to the uprights of an existing Rogue Monster Series rack or rig. They come in 3 sizes (30" / 43" / 70" width) and two shelf styles (bumper/medball and kettlebell).
Read More
Monster Single Post Storage Shelves
Monster Single Post Storage Shelves are designed exclusively for mounting to the uprights of an existing Rogue Monster Series rack or rig. They come in 3 sizes ( 30", 43" & 70") and two shelf styles (bumper/medball and kettlebell).
All variations of the Monster Single Post Shelves are made in the USA and include 2x2", 0.125" thick steel rails + 0.25" thick laser-cut steel endplates and an MG Black powdercoat finish. We've also created special formed tabs that are bent out from the endplate to help prevent the shelf from spinning. You can easily mount the shelves using a single 1" x 4.75" Monster bolt assembly on each side (all hardware for mounting is included standard).
For a stand-alone, customizable storage unit for all your gear, be sure to also check out the Monster Mass Storage System.
Shelf Width Options:
Shelf Styles:
Bumper/Medball - Items are stored atop/between the two steel rails to keep them stabilized. Weight: 29LB (30"), 32LB (43") or 46LB (70")
Kettlebell - Includes an additional metal tray that drops on top of the two rails, created a flat surface for kettlebell storage. Weight: 22LB (30"), 60LB (43") or 96LB (70")
Optional Kettlebell Shelf Liners:
Rogue's Kettlebell Shelf Liners offer an effective way to prevent metal-to-metal contact between your shelves and the equipment stored on them. Made from 6mm-thick, waterjet-cut rubber, these liners are available in 3 sizes to correspond with your selected shelf width (30", 43", or 70"). A roll of double-sided carpet tape is also included for securely affixing the rubber to the shelf. Sizing specs below:
30" Liner : 28.625" Long x 9.5" Wide x 0.23" Thick
43" Liner : 41.5" Long x 9.5" Wide x 0.23" Thick
70" Liner : 68.5" Long x 9.5" Wide x 0.23" Thick
Patented
Gear Specs
Specifications:
Made in the USA
Patent Pending Design
For use ONLY with Rogue Monster Series rigs/racks
Width options: 30", 43" & 70"
2x2, 0.125" thick Steel Rails
Laser-cut 0.25" thick Steel
MG Black Powdercoat Finish
Shelf Depth: 12.25" (divider shelf) / 14.59" (standard shelf) - Overall depth
All Mounting Hardware included
Shipping
Rogue Fast Shipping
The Rogue Shipping System allows you to track your order from the time you place it to the time it hits your door. Order today, track today.
Reviews
Misleading description & overpriced product
Sturdy but over priced shelves. I just bought 14 shelves for my training center. I was hoping to match some of the single post shelves I already had but I didn't realize the shelves without the dividers are significantly wider than the shelves that have the dividers....so much so that typical medicine balls just fall through. They do fine with wall ball style medicine balls...but anything the size of a Rogue slam ball or a Rogue rubber medicine ball just goes straight through the supports unless you purchase the kettlebell tray adapter. Unfortunately, there's no mention of that. In fact, the shelf without the tray is called the "Bumper/Medball" shelf and the shelf WITH the tray is called the "kettlebell" shelf. But despite one option being called a medicine ball shelf and the other explicitly named as being for kettlebells it's clear that the kettlebell shelf is an absolute requirement for any medicine ball that's not a wall ball. And when you realize you need to purchase the "kettlebell" tray just to make your "Bumper/Medball Shelves" actually hold the medicine balls that the very item says it can hold, Rogue charges a 264% markup on the tray addition. The 70" shelf is $160, the 70" shelf with the ketllebell tray is $205 (meaning the tray is $55), but to purchase JUST the kettlebell tray is $145. That's crazy and clearly a price gouge when the 2 items are completely separate from one another (boxed and skewed separately). So since I've already spent thousands on the shelves I need to pay a couple hundred more just to make sure they can hold what the site says they are intended to hold. I wish I hadn't bought these shelves. Too much money and too much hassle when their are equivalent options at a lower price point from companies that offer better website transparency and the customer service that Rogue used to provide. On the bright side, at least I can now brag about having the most expensive storage solution in the world.
Works as Hoped
Nice and sturdy. Would recommend you buy the rubber insert with it.
Yes, I recommend this product
What it says it is
Have 2 kettlebell and 2 plate storage with dividers and they are as heavy duty as you will ever get. I've had them for about 5 years or so now love this setup
Yes, I recommend this product
Good half-rack storage upgrade
Does everything a shelf should and nothing a shelf shouldn't do. Very sturdy and looks nice too. I am very happy to have a good place to store the gear I used to keep on the floor; this shelf has helped tidy up my gym space. It isn't obvious from the text or photos, but the kettlebell shelf has tabs on the underside that the mounting bolts pass through, locking the tray in place. There's a bit of a gap between the tabs and the endplates of the shelf though, and I'm a perfectionist so I used an extra 1" washer between the shelf endplate and the tab on the kettlebell tray to get a perfect fit. The stamped washers I used were a little too thick until I flattened the backsides, and then they fit perfectly. Rogue assured me I didn't need to worry about the gap.
Yes, I recommend this product
Very solid, creative storage solution
I've used this to store 6 kettlebells and a few other odds and ends. It extremely solid, as usual from Rogue. This is a nice storage solution if you don't want to take up more space outside of your power rack.
Yes, I recommend this product
#RYOUROGUE
Tag your photos on Instagram and Twitter with #RYOUROGUE for a chance to be featured in our gallery
View Full Gallery