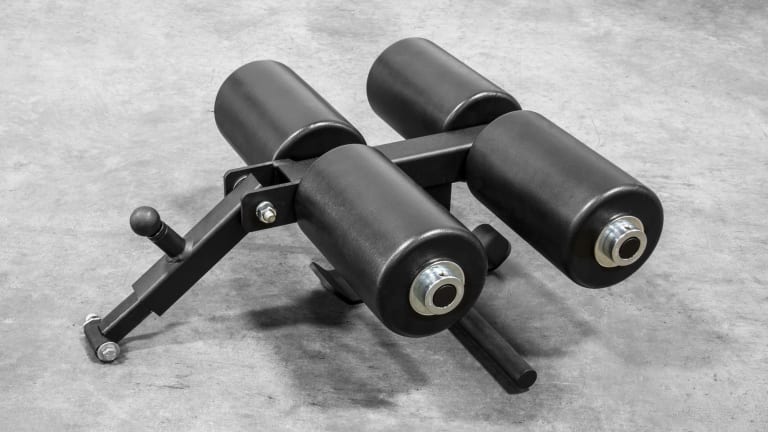 Description
The Rogue Reverse Hyper Roller Attachment features a quick release design for easy transitions from the hyper straps to the roller system to the following Rogue Reverse Hyper Machines:
Rogue RH-2 Reverse Hyper
Rogue Z Hyper
Read More
The Rogue Reverse Hyper Roller Attachment features a quick release design for easy transitions from the hyper straps to the roller system to the following Rogue Reverse Hyper Machines:
Rogue RH-2 Reverse Hyper
Rogue Z Hyper
Frequently Bought Together
Hyper Roller Attachment
Reviews
Bad hardware design
Metal washers on swivel bolt were too large for the plate pins to fit flush. I had to scrounge around the house to find a smaller set of washers but then it fit fine. Also showed up with one of the large roller pin washers missing. Otherwise, seems like a good product.
Yes, I recommend this product
Response from Rogue Fitness:
January 13
Thank you for taking the time to post your experience with the Hyper Roller Attachment. Our team has looked into this with you, and your missing pieces have been replaced. We're sorry for these issues upon arrival.
Nice change of pace
I've had the strap on my hyper for about 2 years. I wanted to switch it up & focus more on my lower back vs. hips etc. installation was a breeze and its solid. Shipping is reasonable and I'm glad I got it. The quick release is a little bit of a pain but not a deal breaker.
Yes, I recommend this product
Extremely well built + designed
I bought this along with my Hyper Z since it is more specific to stretching lower back than the strap This is as well designed + bilt as the mach of the highest standard The quick release is very convenient and easy to install. The only slight criticism I have of this set up is that the Weight Posts do not fit flush over the pendulum bar after installing the quick release. This results in the posts being slightly off center however this is insignificant to the function since the strap or the Hyperroller both have enough leeway so that when exercising any off center position of the weights is compensated for by that movement .
Yes, I recommend this product
Good Product
This piece has mixed reviews from our members. Some find it pushes them forward on the up-swing, even after adjustment, while others love it. Like anything it is expected that not everyone will enjoy, but overall, very satisfied with this addition to our reverse hyper.
Yes, I recommend this product
Originally posted on roguecanada.ca
Disregard some of the low ratings!
To all the people giving this a bad review do some research! It is not meant for your legs to be parallel to the floor at any point in the movement. Louie Simmons is the inventor of this machine and he is the godfather of modern day powerlifting! He has videos on the internet about proper form! It works exactly the way it should and isolates the erectors! It's a five star item know what you are talking about!
Yes, I recommend this product
As Advertised!!!
As in my Z Hyper review, I bought this thinking the strap that comes with it would be uncomfortable on the back of the legs but it's not. However I would buy the roller again because it looks like the strap will work better for big plates and the roller for little plates. Plus I think the roller is more comfortable for my wife, Happy Wife... Rogue!!!
Yes, I recommend this product
Rogue quality, poor design
I purchased this with my RH-2 Reverse Hyper from Rogue a few months ago, and sadly, I regret it. There is no question regarding it's durability - this thing is solid. The pads are nice and dense, the lever adjustment works well in terms of hole alignment and the metal is thick - all very much up to Rogue standards. However, the design leaves much to be improved. As others have mentioned, the range of motion of the reverse hyper is severely limited with this attachment. I'm by no means a tall male (clock in at 5 10), and I still have the limitations that the previous taller lifters mention on any adjustment setting. If you imagine the resting position as your legs being perpendicular to the floor, and the top-most position being your legs parallel to the floor (creating a 90 degree angle), you're lucky to get 45 degrees of movement with this attachment. This elicits a minimal training stimulus, if any. When you reach the top-end of the swing, the attachment "bottoms out" with the connecting lever, jamming your femurs into your hip sockets. So not only do you elicit a minimal stimulus, you can easily injure yourself (rather counter-intuitive for a piece of equipment that supports good spinal health via decompression) . I've tried all the adjustment holes, too - all to no avail. Also, as others have said, you CANNOT wear lifting shoes with an elevated heel - they don't fit. It's frustrating to attempt a superset with this attachment and other movements due to putting on/removing shoes (For example, I don't like going to good mornings and performing those barefoot, or any movement for that matter). I'm not sure why that foot bar exists anyways - every other reverse hyper I've used with a roller has never had those. Other rollers that I've used allow for the rollers to move along the posterior leg. It's a shame, because as I mentioned, the quality/construction is very Rogue-like - it's durable (that's why it gets 2 starts and not 1 from me). However, I really wanted this to work because most roller attachments allow the lifter to target the lower back more compared to the strap that hits the hamstrings and glutes more (yes, the strap still targets the lower back, but not to the same degree in my experience with other rollers). I would certainly just stick with the strap that comes with the RH-2. If it had not been for life winning the battle during the month-window I had to return this attachment, I would have returned it. Unfortunately, life gets in the way at times and I missed the return window. So now I'll leave this attachment (that I've used twice) to sit and collect dust until I have the time to have it fabricated. I believe if that foot bar and the connection assembly were modified, this attachment would work much better.
Awesome!
I ordered the roller attachment when I ordered the Reverse Hyper to give myself the option of using both the strap and the roller. I must say it was much more than I have imagined. It was bigger than I thought, but the quality and strength of it is amazing. It targets the lower back and spinal erectors more, while the strap is more glutes and hamstrings. I love this product lot and very happy I order it. No regrets at all, just continuing to make gains and progress. Keep up the awesome work Rogue.
#RYOUROGUE
Tag your photos on Instagram and Twitter with #RYOUROGUE for a chance to be featured in our gallery
View Full Gallery