Rogue AB-3 Adjustable Bench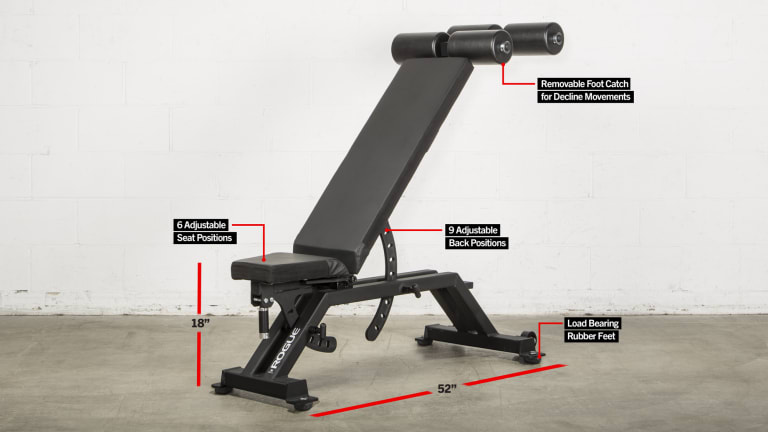 Rogue AB-3 Adjustable Bench
Rogue AB-3 Adjustable Bench
Includes Decline Bench feature
Rogue AB-2 Decline Retro Fit Kit
Convert Your AB-2 Bench to an AB-3
Gear Specs

Brand
Rogue Fitness
Made In USA
Yes
Product Weight
117LB
Length
68"
Width
12"
Height
18"
Foot Print
51.25" x 22.5"
Steel Notes
2x2" and 2x3" 11-Gauge Steel
Product Description
The heavy-duty Rogue AB-3 Adjustable Bench features the same 50+ seat and back-pad position combinations as our AB-2 Bench, but with unique functionality in either the incline or decline position at each setting.
Read More
ROGUE AB-3 ADJUSTABLE BENCH
The heavy-duty Rogue AB-3 Adjustable Bench features the same 50+ seat and back-pad position combinations as our AB-2 Bench, but with unique functionality in either the incline or decline position at each setting.
Built in the USA from 11-gauge steel, the AB-3 is a direct descendant of the time-tested Nebula 1080 Utility Bench, with a sturdy but maneuverable design ideally suited for dynamic training or for gyms serving multiple athletes. An updated spine construction also allows for the connection of a new telescoping foot catch assembly, which locks firmly into place using a simple pop pin. The foot catch sets the user up for movements including the decline bench, decline dumbbell press, and decline sit-ups, among others.
If You Already Own an AB-2 Bench: You can purchase our Retro-Fit Kit to swap out your current spine and replace it with the new version in order to add the telescoping foot catch. Customers purchasing the Retro-Fit Kit will need to disassemble some components of their current AB-2 Bench in order to install the new spine.
Note: The Foot Catch from the Manta Ray is not compatible with the AB-3 Adjustable Bench.
Other standard features on the AB-3 Adjustable Bench include load-bearing rubber feet for stability, cordura edges for enhanced durability, and a convenient handle and wheels for easy mobility.
See More: Weight Benches Available from Rogue
Gear Specs
Specifications
Adapted from the Nebula 1080 "Awesome" Utility Bench
Includes NEW Decline Bench feature
6 Adjustable Seat Settings
9 Adjustable Back Pad Settings
Weight:

117LB
Length (with bench flat):

68"
Pad Width:

12"
Height:

18"
Steel:

2x2" and 2x3" 11-Gauge Steel
Shipping
Rogue Fast Shipping
The Rogue Shipping System allows you to track your order from the time you place it to the time it hits your door. Order today, track today.
WHAT SETS THE AB-3 ADJUSTABLE BENCH APART
50+ Setting Combos, Any Angle
The AB-3 offers more adjustable versatility than the standard Rogue Adjustable Bench, with 9 back pad positions (from 8 to 78 degree) and 6 seat positions (from -15 to 40 degree). Unlike the AB-2 Bench, athletes can also use the AB-3 in either an inclined or declined fashion at each seat position, with an optional foot catch assembly enabling movements like the decline bench, decline dumbbell press, decline sit-ups, etc.
Quality Rogue Construction
These heavy-duty 117 LB units are manufactured in the USA, from 2x2" and 2x3" 11-gauge steel with a black powder coat finish, Rogue branding, and cordura edges for enhanced durability. A durable 12-inch wide back pad and removable foot catch assembly are included standard, as is a set of load-bearing rubber feet to improve stability and protect your flooring. The compact design creates a footprint of just 51.25" x 22.5", and a convenient handle and caster wheels is provided for easy mobility.
Reviews
Great Bench Spare the gap for using it Flat
I got this bench hoping to use it as a good jack of all trades bench (it's adjustable right?). When it is set on a given setting, it stays there and feels stable. Having used it some in a room with hardwood floors I appreciated the rubber pads on bottom as opposed to the seemingly common plastic bottoms. My main complaint is that it doesn't really work as a flat bench for doing presses. I don't like using arch techniques with a bench press so I'm hyper aware of the gap. I tried using it backward but then I have problems with my head wanting to go into the gap, so that isn't great either. Honestly, if Rogue sold a sturdy padded wedge that I could add in there when using flat (since it is multiple inches) I would 100% buy it. That would let me make the bench a 5/5 star instead of 4. But right now, given how I've struggled with using it as a flat bench, it's stuck at a 4.
AVERAGE!!
Well better lift your weights before trying to pull this pin. Neither my wife or kids can pull it. Other than it not really feeling safe because I'm never sure if it's engaged or or not it's an average bench.
Response from Rogue Fitness:
July 24
We're sorry to hear of the issues you are having with your AB-3. We have reached out to get this working smoothly again.
Well Built, but QC was lacking
The bench is well built. I had to file the inside of the frame due to weld bleed thru in order to get the foot rests in place. The bench came with a piece of paper specifically saying that it was checked for this issue and passed. Disappointing at this price point. Very happy with the bench after fixing that though
Response from Rogue Fitness:
July 18
We're sorry for the trouble with your AB-3. Our team is reaching out now so we can make this right.
Awful experience.
I am willing to take some blame (the bench is put together by the company) when I was transporting the bench one of the stabilizing caps fell off. Yes, this is my fault and I acknowledge that. I emailed the company asking for another cap because it was lost, but was told no. I was willing to pay for the cap even if they charged me quite a bit. I was consistently told buy your own from a hardware store. After several emails being told they really do not see where I am coming from I had to buy my own. This was over $1,000 I would not recommend Rogue to anyone due to there lack of caring when I spent a lot of money buying their product. The bench is high quality it can be hard to move the wheels seem a bit high. Not a problem for me, but could be a problem for someone who cares moving a 115 lb bench.
Response from Rogue Fitness:
June 26
We're sorry for the poor experience surrounding your AB-3. Upon review of the interaction, we can confirm our team was able to provide you with the exact piece of hardware you needed, as well as multiple places to source it from. We hope your bench is back up and running and being put to great use again.
5 star for functionalilty, 1 star for durability
I like it, but it started to rust in less than 5 years in a room with AC!
Response from Rogue Fitness:
May 24
We're happy to hear your bench has been put to great use over the years. Any repeated exposure to moisture, such as sweat, can increase the rate of oxidation. We recommend frequently wiping down any areas where this may happen.
Great bench Typical foot catch
The bench is excellent quality but I wish Rogue would build a foot catch that sits higher like a proper decline, so your back remains flat on the bench. These foot catches that are in line with the back pad cause an uncomfortable arch in the back when laying flat.
Love
Very happy I decided to buy this. It should last years to come Thank you Rogue Fitness.
Yes, I recommend this product
Great sit up bench
I bought this bench two months ago and use it everyday
Yes, I recommend this product
#RYOUROGUE
Tag your photos on Instagram and Twitter with #RYOUROGUE for a chance to be featured in our gallery
View Full Gallery