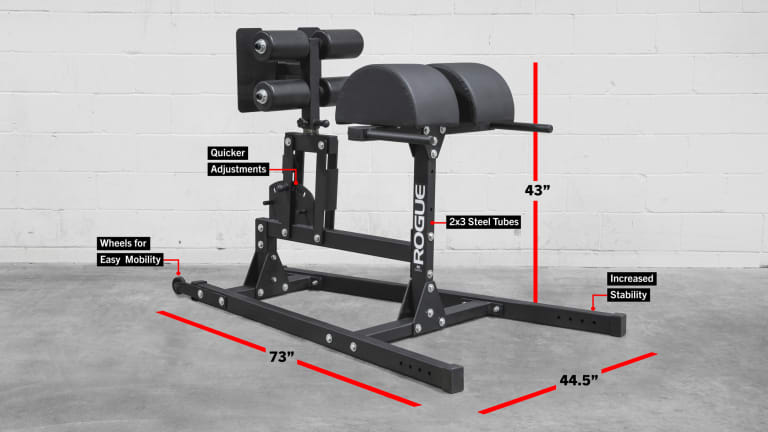 Gear Specs

Brand
Rogue Fitness
Color
Black
Made In USA
Yes
Product Weight
222LB
Length
73"
Width
44-1/2"
Foot Print
73" x 44-1/2"
Product Description
The Rogue Abram GHD 2.0 combines consistent performance and stability with smooth, precision adjustments and unique portability. This compact machine is a comprehensive tool for midline stabilization and the strengthening of hamstrings and glutes—all in a way that's functionally transferable to an athlete's sport.
Read More
Rogue Abram GHD 2.0 - Glute-Ham Developer
The Rogue Abram GHD 2.0 combines consistent performance and stability with smooth, precision adjustments and unique portability. This compact machine is a comprehensive tool for midline stabilization and the strengthening of hamstrings and glutes—all in a way that's functionally transferable to an athlete's sport.
Version 2.0 keeps the core elements of the original Abram GHD and adds design innovations from Rogue's own heavy-duty Monster Swing-Arm GHD, including an advanced 10-slot roller assembly. The unit is manufactured in the USA from 2x3" 11-gauge steel, with a bolt-together, triangular-base design and rubber feet for maximum sturdiness through peak power output.
Along with strengthening muscles within the posterior chain, GHD training allows one of the only safe ways to actively train your spinal erectors. GHD sit-ups also result in one of the most powerful abdominal contractions of any movement in the gym. The midline stabilization gained acts like an intrinsic weight belt protecting the spine and improving sport performance.
Gear Specs
Specifications
Made in the USA
2x3" Steel frame construction w/ black powder coat finish
Overall Footprint: 73" x 44-1/2"
Laser-cut 3/16" thick steel Foot Plate (20" x 14")
Foam Roller Foot Pad (8 5/8" length x 5" diameter)
10 slots for adjusting distance between hip and foot pads
Wheels and Handles for easy mobility
Split Pad Design with heavy duty moisture wicking upholstery
Holes for Band Pegs (sold separately)
All Required Hardware Included
Applications: Glute/Ham Raises, Hip Extension, Back Extension, GHD Sit-Ups, Russian Twists, and much more
Shipping
Rogue Fast Shipping
The Rogue Shipping System allows you to track your order from the time you place it to the time it hits your door. Order today, track today.
ROGUE ABRAM GHD 2.0 Features
The GHD 2.0 introduces a bolt-together, triangular base design and front handle assembly. The ankle roller pads are horizontally adjustable and the vertical position is in the ideal angle for peak muscle recruitment, benefiting any athlete who is training core power and strength.
By utilizing similar swing-arm technology found in our collegiate style GHD, we enable the user to quickly adjust the roller assembly to his or her desired setting, with 10 lock-in positions to choose from. The roller pads themselves are 8.5" long by 5" in diameter, and are spaced 8" on center vertically, creating a 3" gap between them for foot placement. Every aspect of this design makes the machine easily adaptable to a wide range of athletes—ideal for a larger training facility.
Quality Construction = Max Stability
The Abram GHD 2.0 is proudly manufactured in the USA, using 2x3" 11-gauge steel tubing, a 3/16" laser-cut steel footplate, and heavy-duty, moisture-wicking pads. The single piece chassis construction along the length of the unit eliminates joints that may move when under intense use. These elements, combined with our triangular-base design and the inclusion of protective rubber feet, produce a consistent level of performance and stability you won't find in most imported GHD machines.
Dynamic New Additions to Your Gym
As the leading manufacturer of American-made strength and conditioning equipment, Rogue has developed a range of top quality, stand-alone strength training machines that go far beyond the standards of most sporting good store imports. This includes not only our original GHDs, but dynamic tools like the Rogue Z Hyper, Rhino Belt Squat, and Rogue Echo Bike.
For a nearly 200LB+ machine, the GHD 2.0 is both easy to set up and easy to move. All required hardware is included with the unit, and with a design that features a set of wheels and handles, it's the perfect Glute Ham Developer for any garage gym or training facility where space is at a premium. Adjust it, use it, move it. Make it work for you.
Reviews
Finally pulled the trigger
I have always wanted a GHR in my home gym, and after years of almost pulling the trigger, I finally did. My old gym had multiple GHRs from various companies and this one was by far my favorite. For one, it is rock solid. The thing does not budge no matter what you are doing on it. And if you are someone that uses a GHR for multiple movements, the adjustment mechanism on this thing makes it quick and easy to go between movements. Hell, my 12 year old daughter can even do it with ease. Highly recommend to anyone in the market for a GHR. Just one recommendation to others. It is much easier if you get most of the bolts in place before "hammering them home." There were a few times whereby I tighter down the nuts before moving on to the other side during assembly and quickly realized it was much easier to get the appropriate alignment on the nuts and bolts if you did not tighten them until both ends were in place.
Yes, I recommend this product
Still The Best
Well made and solid as a rock, just like all the other Rogue equipment I've purchased over the years. In a world that's gone to sh!t these past few years, it's nice to see Rogue is still producing great equipment. Thanks Guys!
Yes, I recommend this product
Built sturdy
I bought this a few weeks ago. It assembles easily. It is built heavy. I wish they would square off the wide end of the legs just past the cross race to reduce the footprint a bit. I expect this thing to last a long time.
Yes, I recommend this product
Fixed my back pain
It's like a chiropractor and a physical therapist had a love child. After pulling (yet another) muscle in my back I knew I had to change something. After a few weeks doing Nordic hamstring curls I quit doing deadlifts and bought this GHD. Unlike deadlifting or Olympic lifting, It's quiet enough that I can use it in my basement, and not wake the neighbors up.
Yes, I recommend this product
Spine support and Strength must have
My family and I are addicted to the GJD 2.0. All of us are in competition sports. Ages 15 thru 54. It's a must have to strengthen the lower back and lower abs and hips. You can really feel the difference even simply walking. More stable and erect. In sports allow you to hold positions while getting low. Skiing, hockey, field sports.
Yes, I recommend this product
Uncomfortable
There was a similar machine I used to use at the gym alllll the time to work my low back/glutes and I was super excited to get this for our home gym. Went with Rogue because it's my husbands fave brand, but I can't hardly use this at all. I can't fasten my legs below parallel with my body, so it's really precarious trying to just get *in* the machine. Also, again, because I have to put my knees in this awkward locked position, the machine is really uncomfortable on my knees. The pad to rest my hips on is super wide, so I have to set myself reeeaaallly far forward in order to bend down at the hips at all. This leaves the bulk of the pad pressing into an uncomfortable part of my thighs. I can barely even get my low back to engage because the rest of my body is at such awkward angles. I've tried to adjust it a bunch of different ways, I've asked my husband for help because he's better versed in gym equipment than I am (I worked in a gym for a handful of years so I'm not a *complete* newb), but nothing seems to work. Maybe this is built more for men's bodies or something, maybe 5'4" is too short for this machine, I don't know, but I can not wrap my head around how this is comfortable for anyone. It's a bummer that we spent so much on this and it's just collecting dust. Would much rather have a simpler version of this with a narrower front pad and lower-set back pad so I don't have to lock my knees.
Tank
This thing is a tank. Solid, doesn't wobble and very well made. I'm 6'3 and fit great on it. Highly recommend.
Yes, I recommend this product
Originally posted on roguecanada.ca
Do not buy this if you are over 6'2"!
I own lots of Rogue equipment and all of it works for me being 6'5" tall. I love my Echo Bike. However I bought this and after being assembled, I realized it does not fit me. My quads are on the pads not my hips and it is akward and even uncomfortable to use. I called Rogue and they can do nothing about it. So I am stuck with an $800 investment that I cannot use and may have to sell at a loss. They should include a warning in the ad about this.
#RYOUROGUE
Tag your photos on Instagram and Twitter with #RYOUROGUE for a chance to be featured in our gallery
View Full Gallery