Rogue Black Training KG Plates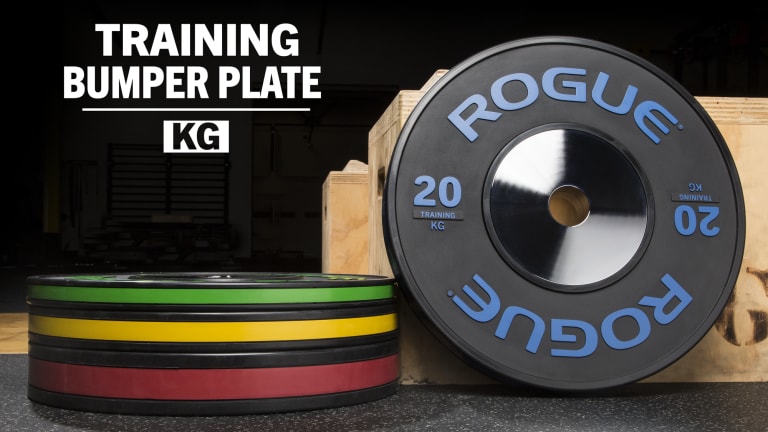 Rogue Black Training KG Plates
Includes (2) 10-15-20KG Plates Shipping Included
Includes (2) 10-20-25KG Plates Shipping Included
Includes (2) 15-20-25KG Plates Shipping Included
Includes (2) 10-15-20-25KG Plates Shipping Included
10KG Black Training Plate - Pair
15KG Black Training Plate - Pair
20KG Black Training Plate - Pair
25KG Black Training Plate - Pair
Pounds Away From HundoPricing
250LB
Discounted pricing is based on the total weight both selected and already added to cart. Adding more weights provides better discounts, which will update in your cart.
—
Product Description
Rogue Black Training KG Bumper Plates
Manufactured to the same high standard as our Rogue Competition Plates, these KG bumpers feature an all-black, gloss-matte-gloss finish and a unique, color-coded rubber stripe that wraps around the full perimeter of each plate. That stripe, along with raised, color-coded lettering on the face of the plate, allows for quick visual weight identification from any direction or distance.
Rogue Black Training KG Bumper Plates are available to order in pairs or as full sets up to 140KG. They're an IWF standard 450MM in diameter, with chrome-plated steel disc inserts and a 50.40MM collar opening for a firm, stable hold. Raised rubber flanges are included to help prevent friction and scuffing, and lipped edges make the bumpers easier to pick up off the floor or off a rack.
Tested on a Shore A Durometer scale, the Black Training KG Bumpers score an average measurement of 94. That means you get a consistent dead blow on the drop, on par with some of the top high-end Olympic bumper plates in the industry.
See Also: The LB Version of Rogue's Black Striped Training Bumpers
Gear Specs
Specifications:
Plate Diameter: 450MM
Plate Widths: (see chart below)
Collar Opening: 50.40MM
Insert Type: Steel Disc, Chrome Plated
Shore A Durometer: 94
Weight tolerance: +/- 15 grams of claimed weight
Finish: Gloss-Matte-Gloss in All Black
Raised lettering (Rogue logo and weight measurement) in IWF standard color coding – Green/Yellow/Blue/Red
Plate Thickness Chart:
10KG (Green Lettering): 29MM (1.15")
15KG (Yellow Lettering): 42MM (1.65")
20KG (Blue Lettering): 55MM (2.15")
25KG (Red Lettering): 66MM (2.50")
Shipping
Rogue Fast Shipping
The Rogue Shipping System allows you to track your order from the time you place it to the time it hits your door. Order today, track today.
Durometer Rating
SOFTER = MORE BOUNCEHARDER = LESS BOUNCE
Gear Specs

Brand
Rogue Fitness
Made In USA
No
10KG Plate Width
29MM (1.15")
15KG Plate Width
42MM (1.65")
20KG Plate Width
55MM (2.15")
25KG Plate Width
66MM (2.50")
Diameter
450MM
Durometer
94
Collar Opening
50.40MM
Plate Type
Training
Reviews
Great plates, inconsistent color
Plates are amazing, but color is not consistent. If you bring it up to customer service they won't replace them, so if you see the previous reviews that makes it look like they will, like I did…they won't. Figured they fixed it or would've replaced as it appears they did below, but again…they don't. So if color consistency matters, I would advise against. If it doesn't, then these plates are perfect, because they are in every other aspect.
High Quality
I love these plates, very high quality, almost indistinguishable from the more expensive competition plates. Very solid (dead) response, and very durable. Excellent plates overall!
Yes, I recommend this product
Plates are cool
Thin like you'd expect and look nice for short period of time. One bumper from every pair is discoloring different
Response from Rogue Fitness:
Dec 2022
Thank you for posting! Our team is reviewing this now.
Quality and thin plates
These are nice high-quality bumper plates. They are much thinner than a lot of number plates from other manufacturers. The black and coloured stripes look great. Overall, everything feels premium with them.
Yes, I recommend this product
Cores rusting less than a year after purchase
I have 3 sets of 45s, a set of 35s, and a set of 25s. All the cores are rusting already.
Response from Rogue Fitness:
Oct 2022
Thanks for posting and we're sorry for any issues here. Our team is reaching out now to investigate.
Greate Value!
I bought these 6 months ago. Extremele happy with the purchase. Will purchase more in the future. These weights are basically competetion weights without iwf stamp. The quality is exelent and they still look new after heavy use. These weights dont bounce all over the room when used. Only thing that I am not happy with is the delivery. All of the packages were broken when the products arrived. luckily the foam pouche protected the weights and they didn't get damaged/scratched.
Originally posted on rogueeurope.eu
Expensive but top notch
Great quality. Fits my B&R bar perfectly with little noise. I deadlift early AM with my family sleeping so I love that they're nice and quiet. Also much slimmer than my other 45 lb HG 2.0 bumpers. However they are pricey.
Yes, I recommend this product
Fast Shipping In Stock Great Plates!!!
A lot of reviews were out about not buying this style of plate but for me they just look great and I didn't see any other companies with the same quality.
Yes, I recommend this product
#RYOUROGUE
Tag your photos on Instagram and Twitter with #RYOUROGUE for a chance to be featured in our gallery
View Full Gallery