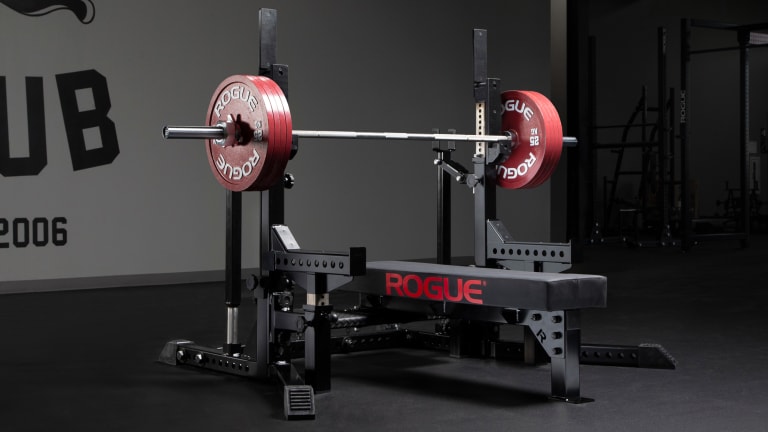 Gear Specs

Brand
Rogue Fitness
Color
Black
Made In USA
Yes
Product Weight
505LB
Length
77.25" (with bench)
Width
80.25" (total width) / 43.5" (inside width)
Height
78" (highest point with uprights fully extended) / 17.5" (Bench Height)
Foot Print
77.25" x 80.25"
Steel Notes
3x3" 7-Gauge Steel
Product Description
In developing the Rogue Combo Rack, we worked directly with the International Powerlifting Federation to produce a 2-in-1 bench/squat rack that's not only IPF certified for competition use, but also uniquely engineered for easier custom adjustments and greater overall stability.
Read More
ROGUE COMBO RACK


BLACK
In developing the Rogue Combo Rack, we worked directly with the International Powerlifting Federation to produce a 2-in-1 bench/squat rack that's not only IPF certified for competition use, but also uniquely engineered for easier custom adjustments and greater overall stability.
Manufactured with pride in the USA, the Combo Rack features a sturdy wide-angle base, two fully adjustable 3x3" 7-gauge steel uprights, a set of drop-in Safety Spotter Arms, and a removable Rogue Bench equipped with a competition Fat Pad and diamond-tread spotter decks. All of these components come with tightening knobs for a lock-in set-up and extra peace of mind.
When you want to switch between athletes of different sizes, the height of the J-cups can be quickly adjusted using our unique jack system—with no need to waste time removing plates from your barbell. Simply use the lever arms to raise or lower the position, referring to the laser-cut numbers in the uprights for guidance. Both the jack handles and the telescoping tubes of the uprights are made from stainless steel, as are the (4) machined pins used to set the upright height. Storage for these pins is integrated into the jacks themselves.
As another unique feature, the Combo Rack's uprights can be positioned straight or angled inward 5 degrees, allowing larger athletes to put their hands on the outside of the J-cups while squatting.
Gear Specs
SPECIFICATIONS
Made in the USA
Squat/Bench Combination Rack
IPF Competition Certified
Footprint (w/ bench):

Inside Width: 43.5"
Total Weight (including bench):

3x3" 7-gauge steel construction
Jack - Lever Arms for height adjustment
(2) Adjustable Uprights with laser-cut numbering & MG Black powdercoat finish
(4) Machined Pins
(4) J-Cups
(2) Steel Safety Spotter Arms - 19.5" x 3"
(1) Bench w/ Fat Pad and Spotter Decks
Rubber Feet and UHMW Plastic to protect equipment and surfaces
Shipping
ROGUE FAST SHIPPING
The Rogue Shipping System allows you to track your order from the time you place it to the time it hits your day. Order today, track today.
Key Features of the Rogue Combo Rack
Precision Height Adjustments
The Combo Rack comes equipped with a lever-arm jack system and telescoping uprights to enable custom height adjustments without having to remove plates from the bar in advance. Because there are two separate pairs of J-cups (one set for Squat and one for Bench), the racked bar height is adjustable from a minimum height of 29.461" (from the floor) up to 68.405". Shorter athletes can also elect to use the higher bench J-cup positions for squats.
Bench J-Cup Range (from floor): 29.461" up to 57.461"
Squat J-Cup Range (from floor): 40.405" up to 68.405"
Each J-cup also includes an acetal roller where the bars rests to allow for easy adjustments left to right while the user is getting set up.
The uprights on the Rogue Combo Rack are manufactured from 3x3" 7-Gauge Steel with laser-cut numbering and an MG Black powdercoat finish. The telescoping tubes are made from stainless steel. A set of (4) stainless steel machined pins are used to set the uprights' height, which can be adjusted using the 1" on-center holes. Athletes can set-up the uprights either straight-up or angled inward 5 degrees; the latter set-up enables larger athletes to put their hands on the outside of the J-cups when squatting.
The Combo Rack's bench comes standard with a competition Fat Pad (50" L x 12.5" wide x 4.5" thick). The top of this durable pad sits 17.5" above the floor. The bench also includes two diamond tread spotter decks that are finished in a texture black powder coat to provide "grip" and a stable platform. Athletes can easily remove the bench to set up the rack for squats.
The steel spotter arms on the unit measure 19.5" in length x 3" wide, and include stainless steel telescoping tubes + a UHMW plastic covering to protect the bar should a lift be failed. The spotters are also easy to remove when you switch over to squats.
Quality Rogue Manufacturing - IPF Certified
The Combo Rack is made in the USA and built to International Powerlifting Federation requirements for competition use. The inside width of the rack is 43.5", and the overall footprint (with the bench installed) is a space efficient 77.25" deep x 80.25" wide. The unit is also equipped with important protection/safety features, including rubberized feet for stability and UHMW plastic to help prevent contact damage to your equipment or flooring. All components of the rack (uprights, bench, spotter arms) include special tightening knobs to further improve the stability and rigidity of the rack.
Reviews
Great but lacking
I bought this combo rack 2 years ago and its been great. However, the main concern with combo rack is squat safety. The safeties (faceguard) just dont cut on squats. I cant blame this completely on rogue as this is the better of the combo racks out there. But if rogue can produce some type of extra safety measure(i.e attachments straps / safety box etc) for squatting off this rack that would be great. You cant really expect to squat big weights if safety is not in place.
Yes, I recommend this product
I don't think the designers ever used it
At first glance this rack looks great. Priced competitively and looks "beefy." But when you spend time using this rack day after day, you start noticing its big flaws. Most combo racks have 2x2 uprights but this one is closer to 3x3, this makes the rack wider and much easier to hit the uprights when unracking a squat. Many of my friends end up having to move the uprights in when squatting, which is a pain. Now onto the bench, this bench pad is fine. The pad is wider than most combo racks so you might get thrown off meat day if you are competing on a different rack but it's grippy and comfortable. The problem I have with this as a bench is related to the uprights again. The pins that hold the rack at your selected height stick out and are easy to catch on the lip of a plate when unracking which can really throw you off if you are going heavy. I have been spotting someone and had them catch the pin countless times. The adjuster arms are also annoying because of how thick the pin is. I get that they want a "beefy" looking pin but it's unnecessary and means you often have to use the lever twice when many other racks would only need to use the lever once. The bench itself is heavy and annoying to get out of the rack. I often see smaller lifters needing two people to get the bench out when they need to squat. I think Rogue needs to go back to the drawing board on this one. The UHMW plastic covered components are great, but that is about the only thing I think this rack does better than most other combo racks. The flaws of this rack make it one of the worst combos on the market in my opinion. I expect better from a brand like rogue. Their power bars are some of the best in the world, their calibrated plates are great, thier power racks are fantastic. This combo was a huge disapointment.
Response from Rogue Fitness:
3 weeks ago
We are always listening and appreciate you taking the time to leave us your honest feedback. We will take this back to the team.
Monster of a Rack
First and foremost let me say this thing is a PLEASURE to lift on. The bench pad is extremely grippy and a great ratio of comfortability to stability. The rollers on the j cups are buttery smooth and make adjusting the bar to the center easy even with several hundred pounds on the bar. I can also drive the bar into my back when unracking a squat and not tip the platform forward. I personally use a lot of forward drive to set my back position. This thing is STURDY and can handle it. Best combo rack I've used by a long shot. The downsides are as follows. 1. iffy instructions. (Didn't realize the shafts on the part list were already in the upright. We thought it was missing from the parts bag) 2. The bolts on the bottom are a ridiculous size any normal person likely won't have the tools for. (Our largest was supposedly a 1" and that wasn't CLOSE to being big enough.) 3. The bench can be tough to get out alone. I deadlift over 700lbs and it was a tad annoying for me even to remove it or place back in. That's the price you pay for such a sturdy price of equipment though. Personally that's a trade off I'm fine with but it's worth a mention.
Yes, I recommend this product
Quality I don't deserve
This thing is so overbuilt it's incredible. I feel like the quality is better than most gyms actually have…I'm leaving one star off because I'd like to see some attachment/accessory availability for this unit. I know it's intended for competition settings but it would be nice to be able to build off it and attach supplementary equipment to the rack.
Yes, I recommend this product
WOW!
This is a great piece of equipment! Ordered and delivered within one week.. Packaged nicely and arrived with no shipping blemishes.. Thank you Rogue!
Yes, I recommend this product
Not available
It would be nice, if it would be possible to buy it…… I m waiting for this to be available for months now.
Yes, I recommend this product
Originally posted on rogueeurope.eu
Sturdy!!
I really like this rack a lot. I've used it a ton in many different gyms but finally got my own for my home gym. The ONE downside is that the instructions were terrible. Bad guidance and it took way longer than it should have. Besides that, the rack is solid and will be used for a lifetime!
Yes, I recommend this product
Sucks for people with long arms
J cup lips are way too thick for no reason but to annoy you during bench. I find myself tapping into them during my set. Depending on your genetic makeup if you prefer a wide hand placement for squat this is also hard with these outlandishly made j cup lips. Even when you put the rack arms inside the lips still get in the way. That is the only but major regret about this purchase. With how much rogues reputation and "quality" they talk about I feel they didn't have to make the lips so big standard or regular size would've been great!!!
#RYOUROGUE
Tag your photos on Instagram and Twitter with #RYOUROGUE for a chance to be featured in our gallery
View Full Gallery