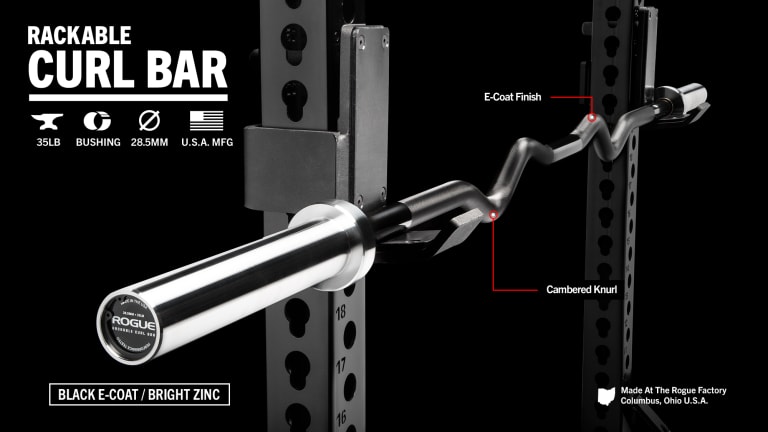 Product Description
The Rogue Rackable Curl Bar features the same cambered design, knurl pattern, and E-coat finish as our original Rogue Curl Bar, but with 20 inches of additional space between the sleeves (51.8125" vs 31.5")—making it rackable in most standard power racks.
Read More
Rogue Rackable Curl Bar
The Rogue Rackable Curl Bar features the same cambered design, knurl pattern, and E-coat finish as our original Rogue Curl Bar, but with 20 inches of additional space between the sleeves (51.8125" vs 31.5")—making it rackable in most standard power racks.
With a racked curl bar, plate loading becomes much easier, and athletes can begin their curl movements directly from the starting height rather than having to pick the bar up off the ground. Close-grip bench movements can also prove more comfortable with this type of specialty camber bar, and "skull crushers" (lying triceps extensions) are made safer and more achievable, as users can now have the Curl Bar set up in the J-cups or on Spotter Arms
Each of our Rackable Curl Bars is machined and assembled in Columbus, Ohio, and include precision-bent steel with a snap ring design and bronze bushings. The sleeves have 10.5" of loadable length and a Bright Zinc finish, while the 110,000 PSI shaft features a corrosion-resistant E-Coat finish (in black) and our trademark Ohio knurling.
Try it with the Rogue Arm Blaster:Using your Curl Bar with this unique accessory (sold separately) can help promote proper, consistent form and isolate the biceps—maximizing the strength-building benefits of the workout.
Gear Specs
Specifications
Made in the USA
Men's Specialty Camber Bar
Rackable on Most Standard Power Racks
Steel Tensile Strength: 110,000 PSI
Diameter: 28.5MM
Weight (unloaded): 35LB
Overall Length: 74.75"
Distance Between Sleeves: 51.8125"
Loadable Sleeve Length: 10.50"
Snap Ring Design
Bronze Bushings
Finish: Black E-Coat shaft, Bright Zinc sleeves
Ohio Pattern Knurling
Guarantee/Warranty: 5-year
Shipping
Rogue Fast Shipping
The Rogue Shipping System allows you to track your order from the time you place it to the time it hits your door. Order today, track today.
Gear Specs

Brand
Rogue Fitness
Guarantee/Warranty
5-year
Made In USA
Yes
Loadable Sleeve Length
10.50"
Bar Length
74.75"
Distance Between Sleeves
51.8125"
Diameter
28.5MM
Bar Type
Men's Bars
Bar Use
Multipurpose,Specialty
Bushing/Bearing
Bushing
Bar Weight
35LB
Knurl
Multi
Shaft Coating
Black E-Coating
Sleeve Coating
Bright Zinc
Tensile Strength
110,000 PSI
KEY FEATURES OF THE RACKABLE CURL BAR
Extended Shaft Length for Rack Compatibility
The space between the sleeves on this bar (51.8125") is more than 20" greater than on our standard Curl Bar (31.5"). That extended length allows athletes to rack the bar on any standard power rack. At the same time, the Rackable Curl Bar retains the same 10.5" of loadable sleeve length as the standard model, with far easier plate loading from the elevated position.
Cambered Design, Ohio Knurling
The curved shaft of the traditional Curl Bar has been trusted by experienced, beginner, and rehabbing athletes for years as a way to reduce strain on the wrists during high-rep workouts. The Rogue Curl Bar updates this premise by incorporating elements from our top in-house Olympic weightlifting bars to create a higher caliber tool. This includes the exclusive non-abrasive knurl pattern from our Ohio Bar—battle tested for years at the highest levels of competition—which extends to the inside Close Grip portion of the shaft.
The shaft of the Rackable Curl Bar features a black "E-coat" finish. This electrically-applied paint coating was initially developed for the automotive industry due to its superior coverage, adhesion, and corrosion resistance. E-coating creates a super even finish without dripping, pooling or gaps. It's got cosmetic appeal, but is also consistently tough, uniform, and chip resistant.
Quality Rogue Construction
The Rackable Curl Bar is one of the few specialty bars of this type to be fully designed, machined, and assembled in the USA. The 28.5MM diameter bar is made from 110,000 PSI tensile strength steel and precision bent to the highest standards. It features bronze bushings, which act as bearing surfaces between the bar sleeves and shaft for a smooth feel. The sleeves (Bright Zinc finish) are assembled to the shaft using the same snap ring design found in many of our most popular Olympic bars. Backed by a 5-year warranty.
Training Benefits Over Standard Curl Bars
The longer length and rackability of this Curl Bar opens up numerous potential benefits to the athlete, including:
--Being able to begin a curl movement from the start position without having to lift the bar from the floor.
--Easier loading of plates vs. on the ground.
--Close Grip bench movements can prove easier / more comfortable with the cambered grip design.
--Skull Crushers / Triceps movements are more achievable and less dangerous, as the bar can be set up in J-cups or Safety Spotter Arms to help prevent injury or floor damage on failed reps.
The Rackable Curl Bar is compatible with most standard Oly plates, including our own Rogue Olympic Plates, and can be used with a set of Safety Spotter Arms to help remove the actual "skull crushing" risk when performing your skull crushers. You can explore the Rogue catalog for other related products, from top quality barbell collars and Gym Chalk to our full line of other specialty bars. Many athletes also use the Curl Bar in conjunction with the Rogue Arm Blaster accessory, which can help keep the arms tight against the body—isolating the biceps for greater strength building benefits.
Reviews
bar coating
love the curl bar. wish it would have the same American flag as my seven foot olympic bar
Yes, I recommend this product
I just can't stop looking at it
Just a gorgeous bar. Absolutely love it. Seems smudge resistant. Having the ability to simply rack it on a j-cup avoided the need to buy something to store it. Totally recommend.
Yes, I recommend this product
Great bar
Essential equipment for squat rack curl sessions. Cerakote finish looks great.
Yes, I recommend this product
Amazing
I cannot sing the praises of this item enough. EZ curl bars increase protein synthesis over standard barbells in the curl motion. That's why I bought this. I find myself looking for more exercises to use it for, just because of the quality.
Yes, I recommend this product
Good bar, but poor value
This is a really expensive curl bar. It feels pretty good in the hands. The angles are perfect. The downsides of the bar are a combination of the price and how poor the E-coat is. Before buying this bar in E-coat you should be willing to accept that the E-coat is just going to scratch off pretty easily over time. The knurling is also a bit underwhelming and needs to be more aggressive. I do love that it covers the entire bend portion of the bar and it's the main reason I went to with this one.
Rackable Curl Bar
Knurling is passive, wish it was a bit more aggressive. My bar came with some circular scratches on the outside of the collar. Was told this was normal due to the process. Disappointed it comes with deep scratches when its not a boneyard bar and the imperfections aren't disclosed prior.
My favorite curl bar
I have had a couple of curl bars, but this is my first time having/using a rackable bar. It is great for use with my half rack and spotter arms. I am a big fan of the zinc sleeves and their machining as well. The knurling on this is … there. It's very passive, and I wish it wasn't. In some areas it looks like water droplets more than knurling. Maybe the e-coat is better at preserving the original feel of the knurl but the Cerakote is not. You can also fairly clearly see the press lines in the knurl which is nit-picky (and potentially unavoidable) but it's present nonetheless. I had originally written that this is inconsequential but it isn't. It leads to an inconsistent feeling across the knurling, and is likely the reason why some sections are water droplet like. With your hands in the same location on each side of the bar it feels the same, but that doesn't stop me from wishing every part felt like the knurling closer to the selves. I would prefer a stainless version of this to perhaps preserve more of the original aggressiveness of the knurling, but that isn't an option. This is still my new go-to for arm day, but there is some room for improvement.
Yes, I recommend this product
Rackable curl bar - more than just a curl bar
Been lifting / training for decades in college gyms, home gyms and fitness facilities. Rogue's rackable Curlbar is the best barbell I have ever used Period. The Knicks, the curves, the weight…. I use it on the bench, for deadlifts. Really like it.
Yes, I recommend this product
#RYOUROGUE
Tag your photos on Instagram and Twitter with #RYOUROGUE for a chance to be featured in our gallery
View Full Gallery