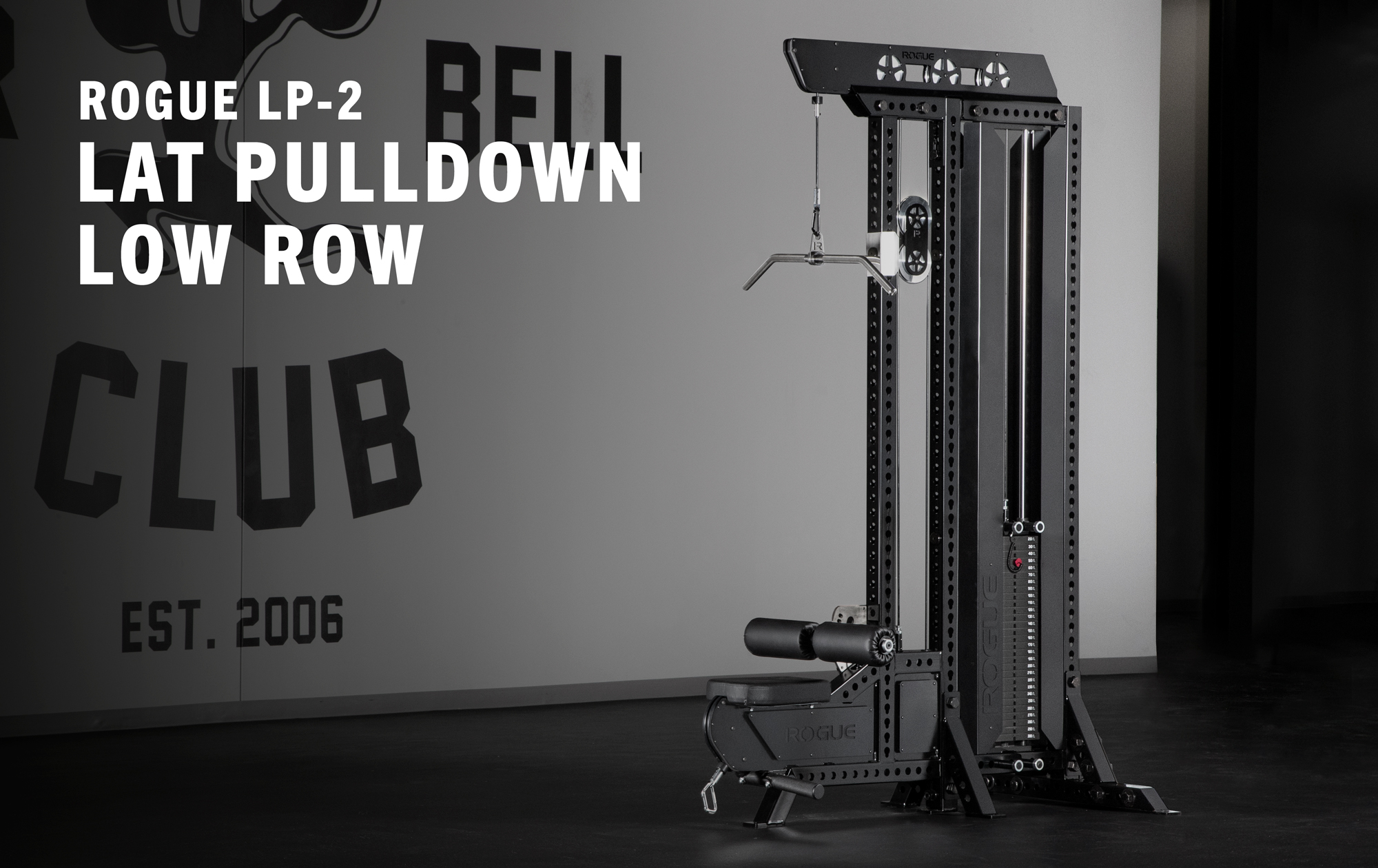 IMPORTANT: For the safety of the equipment and the athletes using it, the LP-2 must be bolted securely to the floor. Mounting hardware is not included.
Specifications:
Made in the USA
Patent Pending
Pull Ratio: 1:1
Stand-Alone Construction, 3x3" 11-gauge steel (Must be bolted to floor, mounting hardware not included)
Product Weight: 775 LBS
Height: 108"
Foot Print 83" x 42"
NEW 300 LB Weight Stack (10 LB increments), machined in USA
NEW 6" Machined Aluminum Pulleys + UHMW covers, machined in USA
¼" Cable built to US Mil Spec for aircraft cable
Stainless Steel clevises for cable attachment, machined in USA
MB Black powdercoat finish
(1) Stainless Steel Lat Bar, built by Rogue
(1) Grip Triangle, built by Rogue
(1) Set of Plastic Covered Band Attachment pins
(2) Custom Black Carabiners
(1) Foam Seat: 16.5" long x 11.75" wide.
NEW (1) Set of Flip Down Foot Pegs for the Low Row: 8 total adjustment positions spaced 2" on center
NEW (1) Swing-Arm Foam Leg Roller Assembly: 8 total adjustment positions spaced 0.83" on center
This product is made to order and all returns carry a 20% restock fee for the standard black colorway. All sales are final for custom colors.
Gear Specs
| | |
| --- | --- |
| Brand | Rogue Fitness |
| Made In USA | Yes |
| Color | Black |
| Product Weight | 775LBS |
| Length | 83" (depth - to low row roller edge) |
| Width | 42" |
| Height | 108" |
| Steel Notes | 3x3" 11-gauge steel |
| Foot Print | 83" x 42" |
What Sets the Rogue LP-2 Lat Pulldown / Low Row Apart:
1

2 in 1 Versatility

One station, two dynamic upper body workouts. The Monster Lat Pulldown 2.0 enables users to instantly shift from seated lat pulldowns and triceps pushdowns to a low row, simply by switching their body position. This makes it an efficient machine for a garage gym or for multiple athletes moving through their regimens in a larger training facility.

2

Stainless Steel Lat Bar

We not only include a stainless steel lat pulldown bar standard with the machine, we designed and built it ourselves—cut, fully knurled, and bent by our manufacturing team in Columbus. Almost all other lat bars in the industry are made overseas, and the ones made in America are rarely stainless steel. Measurements: 48" in length and 1.125" in diameter.

3

Quality Rogue Manufacturing

This is NOT the sort of lat pulldown machine you'll find in a sporting goods store. Made in the USA, from 3x3" 11-gauge steel, our machine is heavy-duty but also carefully refined from our own original designs, with precision-machining and in-house testing by experienced, high-performance athletes. The machine's 6" aluminum pulleys and 300 LB weight stack are both now machined in-house, and the ¼" cable itself is made to the same military specifications as aircraft cable; jacketed in nylon for superior flexibility and durability. The standard finish is a classic MG Black powdercoat.

4

Comfort and Custom Adjustments

The Monster Lat Pulldown 2.0 includes a 16.5" long x 11.75" wide foam seat along with a new swing-arm style foam leg roller assembly (8 adjustment positions spaced 0.83") and flip-down foot pegs for the low row (8 adjustment positions spaced 2"). This means the machine can be quickly customized to any athlete. New weight stack shrouds add both protection and custom opportunities, too, as a gym, team, or company's branding can easily be added to them.

5

Recommended Accessories

Rogue offers an assortment of optional Monster add-ons and accessories, sold separately, that athletes can incorporate with the Monster Lat Pulldown, including the Multi Grip Cable Attachment, Monster Grip Triangle (for use with the low row or close-grip pull downs), Leather Tricep Strap, Tricep Push Down Attachment, and a wide array of Monster Resistance Bands.

6

Fast Rogue Shipping

The Monster Lat Pulldown / Low Row machine ships fully assembled from our Reflex Factory in Milan, Illinois. The unit ships freight, bolted to a skid, with custom metal brackets included for added protection. Once you've placed an order, the Rogue Shipping System allows you to track it from our factory floor all the way to your door. Order today, track today.
Add to Registry

Please choose the registry you want to add this product to:
Rogue LP-2 Lat Pulldown / Low Row
is rated out of
5
by
5
.
Rated

4

out of

5
by
RobbieD
from
Great quality - Needs wrenches
Overall, this is an excellent piece of equipment. Solid build and quality components. Not sure you'll find a better Lat Pulldown. As others have mentioned, it arrives bolted to a long pallet with shipping bolts and components to hold it in place. That leads to the first gripe, it doesn't come with any rogue wrenches. This means unless you own 1.5" socket or a wrenches big enough, you can't use the eqpt until you source them. That's good to know I'm advance as my previous rack arrived with wrenches, I assumed the LP2 would also. I spoke with Rogue who said "it comes fully assembled so we don't send wrenches." Unfortunately that's not accurate. It comes with Monster shipping bolts that need to be removed to use it and it requires the same wrenches to attach the stabilizing feet. So, once I source some wrenches to get it up and running , I'll be able to update this review. A note to Rogue, wrenches are required for this piece of equipment, either include them or update the info page so people know in advance they'll need them. They come with $3000 racks, you should prob include them on a $4000 lat pull down.
Date published: 2021-06-09
Rated

5

out of

5
by
mareaux
from
Beyond expectations...
First and foremost... like every other review here, DO NOT UNDERESTIMATE THIS THING. You WILL need a forklift. If you don't have one, UPS will not be able to get it off the truck due to the length. They assured me that delivery would be possible without it (even though I informed her of the exact warning that Rogue sends prior to processing the order explicitly stating that a forklift is necessary), but the driver won't likely be willing to take on something this daunting alone, which is why the first delivery attempt failed. You will also need some manpower to get the equipment upright, as it is attached to a pallet laying flat, and the 300 lb. weight stack is at the bottom. That aside - this, as with pretty much everything Rogue makes, has exceeded expectations. This is smoother than any machine I've ever used in a commercial gym, and definitely sturdier than any stand-alone pull down machine I have ever seen. The bar has more than enough knurl, which is usually an issue with most bars. Unfortunately, the grip triangle was missing, but if it's anything close to the quality of the fat grip version that was received earlier, there will be no disappointment. I look forward to DECADES of workouts with this thing. The only question left is when is Rogue going to make a curl bar and single-hand handle attachment?
Date published: 2021-04-17
Rated

5

out of

5
by
Zeeali
from
Tank
This machine is solid! Slides very smooth!! DO NOT UNDERESTIMATE THE SIZE AND WEIGHT OF THIS THING!!
Date published: 2020-12-31
Rated

5

out of

5
by
Rettags
from
Worth the wait and cost!
I was on the fence about buying this for my home gym. I'm extremely happy that I did. This is very well built, sturdy, smooth and versatile. Having the upper and lower attachment points makes this so much more than a lat and row machine. I've adapted this for: leg curls, extensions, incline/decline flys, triceps extensions, press downs, bicep curls, face pulls, front/lateral raises, pullovers and the list goes on. Since Rogue isn't doing any custom work right now, I dressed mine up by painting the nameplate backings orange, which matches some of my other equipment. A cheap, and easy way to give it that custom look. I also grabbed some magnetic hooks from Amazon to hang attachments from. Also note, this comes with an awesome knurled bar and single carabiner. The carabiner provided was too large for my MAG attachments, but was an easy fix with purchase on new ones from Amazon. The machine was a real pain to get unloaded and situated. It arrives laying down on a 10' pallet. A forklift is an absolute must if you're planning to move this up any grade. Getting the machine off the pallet was also tough when doing alone, I would suggest having some help if that's an option.
Date published: 2020-11-16
Rated

5

out of

5
by
8MileNick
from
Like a Tank
Took three months to get this but it was worth the wait and the price. This thing is built like a tank! Super solid, smooth, sleek machine. Had to use a forklift to unload and put this bad boy in place. Members LOVE IT.
Date published: 2020-06-29